American Standard heat pumps are one of the most popular choices in the current industry. With a reliable framework, simple part access for repairs and an affordable price tag, it is easy to see why.
As home climate control systems strive to become more efficient, offer more features and control costs, American Standard is right there in the mix. But are they right for you? This article will examine American Standard as a brand and showcase their heat pump products.
We will also look at features, costs, warranties and compare them to other well-known brands. If you are in the market for a heat pump and are wondering about American Standard, you're in the right place.
Introducing American Standard Heat Pumps
American Standard is an HVAC manufacturer based in Missouri. Created in 1929 as a multi-company merger, the name behind the brand emerged and became official in 1967. Since then, their line of HVAC equipment has grown in both reliability, size and technology.
AccuComfort technology is a communications and temperature control system invented by American Standard that helped to revolutionize the industry. Since its inception, several other brands have created similar systems and communication standards for their own products.
American Standard, owned by Ingersoll-Rand as a part of the Trane, Inc. umbrella, focuses more on the entry-level and budget-friendly market, leaving the high-end models and more advanced features to Trane and the other departments of Ingersoll-Rand.
Factors To Look At When Considering A Heat Pump
Before you head out and buy an American Standard heat pump, you need to consider several factors. Below, you will find the factors worth considering to help you make a more well-informed decision and ensure you get the right model for your needs.
The largest factor, of course, will be the cost of the heat pump. Obviously, each brand, each model, and where you buy will affect the cost. With American Standard, you won't pay as much as with many other brands.
However, this doesn't mean that any budget fits with American Standard models. While most of the options are highly affordable, entry-level budgets may have a more difficult time purchasing the higher-end models. Proper budgeting will need to be assured.
One thing that can help with the budgeting is deciding on the minimum SEER and HSPF ratings (read about the difference here). Higher ratings mean a more efficient machine, but also represent a higher price.
While you may be inclined to go after the highest SEER rating, any improvement over your current system can be a significant cost savings without breaking your budget from the start.
On top of the unit costs, you also need to consider the installation costs. Some types of heat pumps come with a DIY install option, though this generally isn't recommended. Professional installation is required for the federal tax credit. It may also be required to uphold or activate a warranty.
Installation can get expensive, with the average cost ranging between $2500 and $4000. Larger models, more feature-rich models, and more powerful models will cost more. We will cover professional installation later in the article, but it is something that needs to be on your mind.
Another cost factor is maintenance. You will need to replace air filters, and depending on the type, this can be every 30, 60, or 90 days. Other costs will be in cleaning supplies, which is minimal and may cost $30 to $40 per year.
The most considerable cost is in the annual inspection. Many warranties require professional HVAC inspection yearly. This process takes about 2 hours and will ensure the system is working correctly and identify any possible issues. While these fees aren't expensive, they need to be remembered and calculated.
One of the major non-cost related aspects is noise levels. Noise, measured in decibels (dB), will show as a number. This number will alert you to how loud the system can be. Most indications of decibel ratings are when the system is on its lowest levels. However, when on high, the noise can rise significantly.
Most heat pumps across all brands will range between the low 40s and high 70s. In comparison, a hairdryer, on high, at 5 feet from your ear, produces about 65 to 67dB. Lower dB levels are better, but noise reduction and suppression measures add to the feature list and can make the system cost much more.
Warranty length is another concern as well. You want to know what is covered and what is not, of course, but for how long is a major purchasing factor. Many brands offer warranties ranging from 1 to 20 years or even lifetime coverage.
American Standard offers a base warranty of 10-years for their heat pumps. However, they also offer registration extensions and purchasable extended warranties if it is needed.
Understanding Tonnage, SEER & HSPF Ratings
The three biggest measurements of a heat pump system are tonnage, SEER and HSPF. These ratings tell you the cooling and heating capacity as well as the efficiency of the system.
Tonnage is a simplified measurement of the BTU output ability of the heat pump. In general, heat pumps range between 1 and 6 tons. One ton is equal to 12,000 BTUs, so a 5-ton unit is 60,000 BTUs, a 2.5-ton unit is equal to 30,000 BTUs, and so on.
The ton rating is equivalent to the home size. For example, a 2 ton unit (24,000 BTU) can effectively heat or cool a home up to 1,200 square feet.
The efficiency ratings measure how efficient the system is during the highest usage months (summer and winter). Seasonal Energy Efficiency Ratio (SEER) measures the wattage input and BTU output during summer month usage. Heating Seasonal Performance Factor (HSPF) then measures the output when the system is in heating mode.
Higher ratings mean more efficient systems. For SEER ratings, heat pump averages generally fall between 14 and 16 SEER. 18 to 19 SEER is considered great while 20+ SEER is excellent. HSPF, a much lower ratio, finds 8 to 9 HSPF considered good with 10 HSPF great and 11+ HSPF excellent.
American Standard Heat Pump Range (Side By Side Comparison)
American Standard is considered a mid-range heat pump and AC company. They don't have the highest-rated models, but they are above the entry-level style of parts and equipment.
The following chart shows you all 8 of the current heat pump models offers by the company. We have compared each style on SEER, HSPF, and tonnage ratings or sizes. We also look at the compressor types.
For cost and installation, we are using a standard middle-of-the-road 2-ton unit. Installation is based on Networx's average price for a 2 ton HVAC model of $3600 in a 1200 square foot home.
| Heat Pump Model | SEER | Ton | Home Size | Compressor Type | HSPF | Cost (Unit Only) | Cost + Install |
| --- | --- | --- | --- | --- | --- | --- | --- |
| AccuComfort™ Platinum 20 | 20 | 2,3,4,5 | 1200 – 3200 sq. ft. | Variable Speed | 10 | $4650 | $8250 |
| AccuComfort™ Platinum 19 | 19 | 2,3,4,5 | 1200 – 3200 sq. ft. | Variable Speed | 10.5 | $4200 | $7600 |
| AccuComfort™ Platinum 18 | 18 | 2,3,4,5 | 1200 – 3200 sq. ft. | Variable Speed | 10 | $3800 | $7400 |
| Silver 15 | 16 | 1.5 – 5 | 900 – 3200 sq. ft. | Single-Stage | 9.5 | $2500 | $6100 |
| Silver 16 | 17 | 2 – 5 | 1200 – 3200 sq. ft. | Single-Stage | 9.6 | $2900 | $6500 |
| Silver 16 Low Profile | 17 | 1.5 – 5 | 900 – 3200 sq. ft. | Single-Stage | 10 | $2850 | $6450 |
| Silver 14 | 14.5 | 1.5 – 5 | 900 – 3200 sq. ft. | Single-Stage | 8.5 | $2100 | $5700 |
| Gold 17 | 17 | 2,3,4,5 | 1200 – 3200 sq. ft. | Two-Stage | 9.5 | $3400 | $7000 |
American Standard Heat Pump In-Depth Reviews
Aside from heat pumps, American Standard also offers an All-Weather Topper. This topper fits all models of heat pump units. It is designed to reduce noise levels and help protect the unit against corrosion and weather damage.
The main heat pump designs are split into three distinct categories. The AccumComfot Platinum models are the higher-end line and provide the highest ratings and most features.
The other two groups, Gold and Silver, are the middle-range models that balance cost and efficiency to bring you a reliable unit for all home needs. Let's take a closer look at the groups and the models in those groups.
American Standard AccuComfort™ Platinum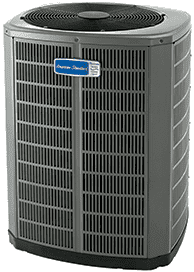 The AccuComfort series has three models. All three are the only models from American Standard that offer variable speed compressors. The AccuComfort technology allows these compressors to run between 300 and 700 speeds.
Accurate within 0.01% of 1 degree, you can run one of the most efficient systems and save a ton of money without sacrificing your comfort. The best of the entire brand is the Platinum 20.
It has the highest SEER rating of 20 SEER, and produces an equally impressive 10 HSPF. This machine is also Energy Star certified, so it qualifies for any rebates and tax credits.
The Platinum 19 is a low profile design and one of only two low profile models from the brand. This is also the highest HSPF rated unit they make, with an astounding 10.5 HSPF.
Along with the 19 SEER and quiet operation, it is a great option for those that don't want the big bulky models.
Unfortunately, the Platinum 19 is not Energy Star rated, so it won't qualify for the tax credit. The Platinum 18 will, though, with a 18 SEER, 10 HSPF rating and Energy Stare certification, you can get premium performance, quiet operation (about 58dB), and an ideal 10-year warranty.
The Silver Line has 4 models, and of them, one (Silver 16 Low Profile) is the same low profile design as the Platinum 19. This is also the quietest model made by American Standard.
Aside from this impressive model, you also get the option of the Silver 16, Silver 15, and Silver 14 models.
The Silver 16 and Silver 15 are also Energy Star certified and come with high enough SEER and HSPF ratings to qualify for all rebates and credits you may be entitled to.
They are quiet, compared to other models, but not as quiet as other brands, with an average of 58 to 62dB, they won't keep you up at night, but you will know when they kick on.
All of these models also start with the base 5-year warranty, but registration extensions and paid extensions are available that can double the warranty coverage.
The only choice you have here is how much money do you want to save versus how efficient do you need your system to be?
American Standard Gold 17 Heat Pump
Finally, the Gold series has a single model. The Gold 17 combines Energy Star certification, 17 SEER and 9.5 HSPF to bring you a quiet, efficient, and affordable machine. The only difference between the Gold 17 and the Silver Line is the compressor.
All other parts and connections are near-identical. However, the Gold 17 uses a two-stage compressor for increased efficiency and a more stable run time.
It will outperform the Silver series on all benchmarks, but does cost a bit more.
The base 10-year warranty is notable here, like with the Platinum series, which are also all able to be extended through registration or purchase.
As with all American Standard heat pumps, professional installation is recommended.
If you are looking for a budget-friendly option that exceeds all efficiency requirements and will last at least a decade with no-hassle performance, it is hard to look past the Gold 17.
Average Power Consumption Of Heat Pumps
Power consumption of heat pumps, central air conditioners, and other HVAC equipment uses the same formula. This basic multiplication formula can tell you an average cost over a period of time.
For example, if you want to know the cost of the system over a month, a season, or even a year, you can use the same formula. There are four variables for that formula.
First, you need to know the wattage intake of the system. This information can be found on the brand website, the information plate on the unit itself, or the owner's manual. Once you have the watts, you need to divide by 1000 to get the kilowatt (kW) intake.
Next, you need to know how much you pay per kilowatt-hour (kWh). This can be found on your monthly electric bill or by calling your electric provider. You also need to know (or guess) how many hours per day (H) that the system is running. Finally, you need the number of days (D) you want to know the cost for.
That formula looks like: kW x $kWh x H x D = $Cost.
For example, a 4000 watt system (4.0kW) running at the cost of 13 cents ($0.13) per kWh 5 hours per day for 90 days over summer would then look like: 4.0kW x $0.13 x 5 x 90 = $234.00.
HVAC Tax Rebate Eligibility
The federal tax credit program of 2018 gives homeowners an incentive to purchase high efficient heat pumps. If you do and install these systems, you can earn a tax credit of $300.
To qualify for the rebate, you need to meet a few requirements.
Be the homeowner and live in the home. Rentals and new construction homes do not qualify for the credit.
The system must be Energy Star certified and professionally installed.
Your split system heat pump must be a minimum of 15 SEER and 8.5 HSPF.
If you purchase a package system, it must be a minimum 14 SEER and 8 HSPF.
You must file tax form 5695.
If you meet all requirements and purchase (as well as install) the system prior to December 31, 2021, the tax credit is yours.
Choosing The Right HVAC Company To Install Your Heat Pump
When the time comes to install your new heat pump, finding the right HVAC contractor is critical. There are a lot of factors that go into finding the best company. You need a licensed and certified technician that will perform the install correctly.
This will also extend to your safety and the safety of your home, equipment, and structure. Not only will a professional ensure proper installation, but they will also inspect and measure your home to ensure you receive the correct model, size, and performance from your heat pump.
When choosing a professional, you should get at least three quotes, ensure the pros are local, licensed, certified, and efficient. Keep in mind that professional installation is also generally needed for warranties and the tax credit.
Troubleshooting Tips & FAQs
American Standard troubleshooting is crucial to the performance, upkeep, and longevity of the system. This section will cover troubleshooting steps for common issues and answer some of the more frequently asked questions.
American Standard heat pump trips breaker or freezes up
When the system is running, it draws power. Each heat pump has a set power draw limit, and this is the amount of electricity that flows through the breakers. If the system is malfunctioning or has other issues, it can draw too much power, resulting in a tripped breaker.
You want to check airflow first if this happens to your system. A clogged, dirty or damaged air filter can reduce airflow, causing the system to work harder than it should. If the airflow is fine, you want to check the fan and blower for movement. A burnt motor can cause the system to function but not move air, resulting in tripped breakers.
Assuming all of those aspects are functioning well, the last thing you can check is the outside unit. You want to look for ice on the refrigerant lines, compressor, or coils. If you do notice ice (and the airflow is free and open), you need to shut the system off to start defrosting and call an HVAC technician.
Ice can accumulate because of improper airflow. Since we already checked that, the other main reason is low refrigerant, which can only happen when there is a refrigerant leak. This is not a DIY repair, though, as refrigerant work, repairs, and handling require EPA 608 certification. Calling a professional will locate and repair the leak and refill the refrigerant to proper levels.
American Standard heat pump blower doesn't run
If your blower isn't moving air as it should, a few things could be the problem. The most likely aspect is a burnt motor or burnt power wires leading to the motor. You can check this yourself by visually inspecting the power wires to and from the capacitor. If the wires are broken, loose, or charred, they will need to be replaced.
Next, you can check the motor itself. If the motor is hot to the touch (use the back of your hand to test), it signifies that the motor is fried. It is highly advised to call an HVAC professional to replace the fan motors, though it can be a DIY project if you are comfortable working with motors and 240-volt electrical circuits.
How do I reset my American Standard heat pump?
Like most other brands of heat pumps, American Standard does not have a reset button. Reset switches are common on air conditioners and furnaces, but not so much on heat pumps.
To reset a lockout condition, though, the process for American Standard is a little different than other brands. You still want to turn the power off. However, here you want to leave the thermostat on. The fan mode should be in either auto or off modes but not in the "on" position. The thermostat should also be either in heat or cooling mode with a temperature set.
Next, you want to find the breaker that controls the outside unit (most heat pump systems use two breakers). Switch the breaker that controls the condensing unit off, on, off again, and finally back on. You want to wait about 5 seconds between switching and complete the double cycle within 30 seconds.
American Standard heat pump replacement parts
If you find that you need replacement parts for your American Standard heat pump, you have a few options. Any HVAC retailer that sells American Standard or Trane equipment will either have or can order the parts you need.
You can also contact the contractor that installed the system, and they can get the parts for you as well. If you want to do things yourself, though, your best option is to shop online at sites like Amazon or Sylvane. Ensure you have your serial and models numbers to verify the correct parts when ordering.
What is the difference between American Standard and Trane?
Trane is the parent company that American Standard works under. Aside from the name on the ID plate, there aren't many differences in the equipment, though. However, this doesn't mean that American Standard is a cheap way to own a Trane.
Trane uses premium equipment, the newest technologies, and the most durable and reliable parts off the line. American Standard uses the same parts but usually has the parts from Trane's previous year.
Similar to a branded cellphone, newer technology is found in the better equipment (in this case, Trane), and the older technology or less durable parts are in the off-brand (in this case American Standard).
At what temperature is a heat pump not effective?
Most heat pumps lose a lot of efficiency and reliability when ambient temperatures drop below 35 degrees Fahrenheit. However, they are still effective at heating even in temperatures below 20 degrees.
For cooling modes, heat pumps are highly effective and work great until temperatures reach about 107 to 108 degrees outside. While they will still cool your home, the systems run longer and more frequently, reducing their energy efficiency.
American Standard heat pumps are a budget-friendly and easily accessed brand. You can find American Standard installed in every region of the country and performing well in all temperature ranges.
While they aren't the quietest models, or the most efficient, they are highly affordable and easy to install, making their overall cost much lower than most other brands. This, coupled with the efficiency that is good enough to qualify for tax credits and rebates, makes them popular for many homeowners.
Our Rating:
(4.1 / 5)