It's summer; time to leave the office early, spend some time in the sun and enjoy long warm evenings with family. But before long, the skyrocketing temperatures become unbearable leaving you a bit hot under the collar.
Research shows that you're not alone if you feel like this, a recent study found that 87% of homes in America have some form of air conditioning, a big jump from 1993 when only 68% of housing had AC units. Cooling represents around 6% of the average household's energy use, and AC units are more common than dishwashers, garages or dining rooms!
With new technological innovations, even eco-conscious consumers can comfortably invest in a central AC unit that is reliable and energy-efficient, meaning they cost less to run while also keeping you fresh in summer and cozy in winter. Compared to systems ten years ago, a new central air conditioning system can deliver a saving of 20 – 40% in energy costs.
There are numerous brands of central ACs on the market, many of which offer a great variety of products. Our guide will help you understand more about the various central air conditioner options as well as highlighting some of the top brands in the market to help you determine which one suits your needs best.
A central air conditioner is an air system that uses ducts to channel cooled air throughout the house via one or more fans. It features a compressor that makes the process of air conditioning possible and straightforward. The compression of the refrigerant gas allows the system to discharge heat out of the house then it brings in the cooler air.
Through extensive testing, the Goodman brand is the best overall performer because it is highly-efficient, inexpensive, quiet and sturdy AC. It comes with an efficient ECM condenser fan motor that makes the system very effective.
Let's Get Technical!
If you're feeling a bit hot and bothered, or getting cold feet, or if you are looking for a way to make your environment greener, then it is time you get yourself a reliable central air conditioning system. Before buying it is important to understand how these complex systems function.
How Do Central Air Conditioners Work?
Central air conditioners are energy-moving or converted machines that are equipped to either cool and heat up your house. It works like a giant refrigerator in your home by moving and expelling heat from your home.
Every AC has a thermostat that signals the air-conditioning system to lower air temperature, which triggers a sequence of events. To start, the air conditioning unit kicks on, drawing room air in from a number of rooms in the house through return-air ducts. The air is pulled through one or more filters, where unwanted particles like dust and lint are removed and then passed through an evaporator coil to cool the air. The evaporator coil is cold and works on refrigeration principles. The air is then routed to air-supply ductwork through which the blower pushes it back to the rooms.
Every air conditioning system has three key components: a condenser, an evaporator, and a compressor. The condenser and compressor are usually located in the outdoor units while the evaporator is placed on or inside the air-handling unit (which is often a forced-air furnace). With a "complete package system," all of the components are combined in a single outdoor unit that one can place on the ground or the roof.
The refrigerant circulates via copper tubing that runs between the evaporator and the condenser. It receives and releases heat as it increases and decreases in temperature, turning from liquid to gas and then back to liquid. It becomes cold when it begins to circulate through the indoor coil.
It also works together with the air handler. As the handler pushes warm air across the coil, the refrigerant then absorbs a significant amount of heat from the air that it turns into vapor. The vapor then moves to the outdoor compressor, where it is pressurized and then moves through the outdoor coil.
There, it ejects the heat via coils or thin metal, or fins. A fan in the compressor also assists in the dissipation of heat. The refrigerant then passes through an extension device that changes it to a low-pressure, low-temperature liquid, which goes back to the indoor coil. And so the cycle continues.
Central air conditioners do not only cool your home but heat it up during those chilly winters and the rainy seasons. The system employs the same forms of constituents, materials, and systems as a refrigerator, including a refrigerant that converts from liquid to gas and back to liquid as it moves via a system of tubes and coils or sometimes fins that amass and give off heat.
As it goes through this continuous cycle, it gathers heat from one part of the room and transfers it to another, and the cycle continues. Howstuffworks.com states that this is also known as 'phase conversion'.
The air conditioner also possesses an air handler or furnace that is located out-of-the-way (such as in a basement or attic). It pumps chilled air throughout the house via a system of air ducts—every so often the same system used by a forced-air furnace when in the heating season.
There are also the thermostats that control the cooling system, turning it off and on as room temperatures rise and fall. So, next time you need to either heat or cool your home during when the temperatures are too much to handle, make sure you utilize the services of a central air conditioner.
Cost Expectations: Complete Price Guide Breakdown
Summers heat up fast, especially when all you can rely on to offer you some cool air is a semi-working fan. Switching to the services of a central air conditioner will help you solve your sweat problems, but the initial investment depends on the size of your home, the percentage of energy efficiency you require and brand of the system.
Typically, you might pay around $2000-$4000 for a reliable central air conditioning depending on the ton you need, the level of energy-efficiency you require, and the number of filters you use.
Installation & Maintenance
Installation costs depend on the contractor's rates, the number of days he/she will take to install the system if you need your pace ducted or not, and the size and complexity of the job.  Therefore that will add about $1000 to $3000 to your initial costs.
Moreover, keep in mind that the system will require regular maintenance which will require inviting a contractor in (as well as if you need repairs), which means additional labor and repair costs.
When purchasing a central AC, you need to consider the running costs. They run on electricity and thus, in areas where the temperatures are too hot to bear, the system must run frequently, this can push energy costs up.
The amount of electricity needed to run a central AC depends on two things: cooling capacity and energy efficiency (measured by a SEER), so one needs to inquire about both before making your purchase. The more energy-efficient the air conditioning system is, the less it will cost in the long run.
Moreover, since air conditioners are heavy-energy users, most governments offer tax credits for buying high-efficiency equipment.
12 Central Air Conditioners Brands Reviewed
1. Goodman Central Air Conditioners (Best Overall Brand)
| | |
| --- | --- |
| Installation | Complex |
| SEER Rating | 14 + |
| Maintenance | Regular |
| Price | Starts at $1100 |
| Noise Levels | Up to 70 dBA |
The Goodman Air conditioners top our list because of their impressive features. They generally offer a two-stage Copeland scroll compressor and built-in diagnostics which make the system reliable and convenient enough to heat up and cool your house. They designed for quiet performance due to an efficient variable-speed ECM condenser fan motor, a high-density foam sound blanket to muffle compressor noises and a wire fan discharge grille.
They have an advantage over other Central ACs due to their impressive lifetime compressor warranties. If your compressor fails, the company will replace it free of charge provided that you are the original purchaser, still own the home it's installed in and that your system has been registered.
One of the most popular Goodman models is the Goodman GSX14 Central Air Conditioner, which is a three-phase 13 SEER split-system model with a capacity of 3 tons and producing anywhere from 36,000 to BTU/H, thus making it an ideal option for office and home installation.
Goodman air conditioners are available on Amazon making them a convenient option; Amazon also offers Home Services for reliable installation.
It is the best overall central ACs brand because of its reliability and price. It is also energy-efficient, noise-free, quick to assemble and secure.
The system fails occasionally, but when they are installed correctly, they perform reliably.
2. The Carrier Central Air Conditioner (Quietest Brand)
| | |
| --- | --- |
| Installation | Easy and Quick |
| SEER Rating | up to 21 SEER |
| Maintenance | Requires regular check-ups |
| Price | Not available |
| Noise Levels | 67 dBA |
There are a number of reasons why most office workers, homeowners, and businesspersons refer to Carrier Central Air Conditioners as one of the best air conditioner brands. After all, the curators of the Sistine Chapel use the Carrier brands to preserve the artistic masterpieces that line their walls.
They generally feature a SEER rating of up to 21 SEER, and they use a two-stage compressor system. This effectively regulates the speed and temperature of airflow throughout the home.
They are also one of the quietest systems as compared to most of their competitors, and they have acceptable energy consumption levels.
In addition, with their innovative Weather Armor protection systems, these impeccable units can stand up to the punishment of being outside year-round. They also feature the Infinity touch control that offers you accurate temperature and humidity management.
They do cost you more than other systems, but the extra price is worth the money because they are efficient and built to last.
One of the leading Carrier central ACs is the Carrier Infinity 21 Air Conditioner that possesses two-stage scroll compressors with a filter drier system to safeguard it from contaminants and moisture, and a Silencer System II feature, along with a compressor sound blanket and forward-swept fan blades, that assist in effective minimization of sound levels.
It is the most noise-free central AC. It is also eco-friendly practical, versatile, convenient, simple to put together and cools the room within seconds.
The system is pricey, but despite these issues, it is energy-efficient, quiet, and easy to use.
3. Trane Air Conditioners (Best Mobile Home AC)
| | |
| --- | --- |
| Installation | Easy Installation Kit |
| SEER Rating | 18 SEER Rating |
| Maintenance | Easy and annual |
| Price | From $1000 |
| Noise Levels | 60dbA |
Trane ACs are often referred to as the "Cadillac of central air conditioning systems" because they are one of the most reliable brands in the business. They create high-performance central air conditioning units that can maintain a comfortable temperature in your home, regardless of the weather.
Their systems are also eco-friendly with the R-410A refrigerant, which is environmentally friendly and doesn't harm the ozone layer, and durable designs that stand up against the harsh elements and with SEER ratings of as high as 22, making them one of the most energy efficient central AC units available.
They feature the TruComfort features, which help with the reduction of humidity and they also have a longer run time (at lower speeds) than other central ACs, which assists in the elimination of excess moisture from the air.
They also have aluminum coils that incorporate fins, which augment airflow and prevent corrosion and leaks incredibly than the copper coils.
One of the best products in the Trane range is the Trane XL16i air conditioner which has an efficiency rating of up to 18 SEER and comes with a Climatuff compressor, advanced fan system, and sound insulators to provide one with noise reduction capabilities. It also has baked on powder paint and Weather guard fasteners to resist rust, and the Dura Tuff base pan that helps in the war against corrosion rust, and warping.
It is the best mobile central air conditioner on the market. It is also simply-constructed, sturdy, efficient functional, durable and eco-friendly.
The AC has a complicated installation process, and it is noisy.
4. Lennox Central ACs (Top Energy Efficiency)
| | |
| --- | --- |
| Installation | Complex |
| SEER Rating | Up to 26 SEER Rating |
| Maintenance | Requires regular inspection |
| Price | Not available |
| Noise Levels | Up to 76dB |
The Lennox C.A.C brands have the highest Seasonal Energy Efficiency Ratio ratings of as high as 26 SEER, compared to the other brands which have up to 22 SEER.
They also generally design models with two-stage air compressors, but some models have compressors that run at several speeds; the more speed settings, the better units can precisely control the cooling in your home. This is one of the most notable reasons why Lennox's top-tier models are more energy efficient than their competition.
Lennox's central AC units can also hold up in most weather conditions since most are made from galvanized steel and also have a zinc-coated steel base. The central air conditioners are quiet, with some models registering only 59 decibels, which is about as loud as a normal conversation. However, some of their systems are louder than average, which is 76 decibels.
Most Lennox air conditioner brands also have a 10-year limited warranty that covers the compressor and most components. Unfortunately, these warranties are not as reliable, convenient and robust when compared against the lifetime warranties a few central air conditioning brands offer.
One of the most popular Lennox central air conditioner products on the market is the Lennox XC21 Air Conditioner which is Energy Star qualified and is rated for up to 20.5 SEER and with noise levels of 62dB.
It is the most energy-efficient central air conditioner. It is also lightweight, convenient and offers you a powerful and three-speed fan motor.
5. American Standard Central ACs (Smallest and Most Portable)
| | |
| --- | --- |
| Installation | Complex |
| SEER Rating | Up to 16.7 SEER Rating |
| Maintenance | Requires regular inspection |
| Price | Not available |
| Noise Levels | Up to 69.9 dB |
The American Standard Central AC brand is one of the most reliable brands in the business. They are one of the smallest and lightest central ACs. They are also efficient because they have a compressor that adjusts in small increments rather than turning on and off like older models.
They have a SEER rating of up to 16.7, which is also the industry average, thus making them mid-level options.
American Standard central air conditioner units are also quite remarkably quiet, with an average of just 69.9 decibels of sound. They feature a sound insulation system that helps block the small amount of noise they do produce.
They are home AC units since they are sturdy, light, portable, and they blend nicely into many home landscapes. They also have air conditioners' panels made of louvered steel, designed to secure the coil while still promoting airflow, and the rust-resistant screws that are zinc-coated and designed to prevent corrosion, and an appliance-grade finish assists in helping keep the elements away from the system's important parts.
One of the best American Standard Central AC models is the American Standard Silver 14 which is a single-stage air conditioner with a SEER rating of up to 16.00 SEER. It features a single-stage Duration compressor and an all-aluminum Spine Fin coil which is corrosion-resistant and offers optimal heat transfer.
It is the smallest air conditioner. It is also lightweight, attractive, versatile and convenient system.
6. Bryant Central Air Conditioners (Best Value for Money)
| | |
| --- | --- |
| Installation | Easy and Quick |
| SEER Rating | up to 21 SEER |
| Maintenance | Regular |
| Price | From $ 700 |
| Noise Levels | 71.4 dBA |
The Bryant central ACs are the best value for money and one of the quietest systems in the market. They have a SEER rating of up to 21 SEER, thus exceeding the minimum seasonal energy-efficiency ratio of 13.
These central air conditioning systems provide their users with average noise levels as well with an average sound output of 71.4 decibels.
They also feature the Puron refrigerant, which is designed not to harm the ozone layer and is considered very eco-friendly. Some Bryant AC units also possess an eight-pole fan motor and a two-stage scroll compressor, which one can support through a standard thermostat, and you will find high- and low-pressure switches on it.
A unique feature that these models offer is the DuraFlow louvered grille that covers the coils and DuraGuard protection that protects the AC from Mother Nature's tempers through harsh weather elements, while also enhancing reliability and increasing their durability.
One of the most recognized Bryant models is the Bryant Preferred which has an efficiency rating of up to 17.7 SEER and uses Puron refrigerant for eco-friendly cooling of up to 5 tons. It is also as noise-less as a dishwasher operation with noise levels as low as 72 dB, making it perfect for office use.
It has the best value for money. It is also lightweight, convenient and it is highly energy-efficient.
It is not suitable for large rooms.
7. Amana Air Conditioners (Energy Efficient)
| | |
| --- | --- |
| Installation | Easy and Quick |
| SEER Rating | up to 25 SEER |
| Maintenance | Annual |
| Price | Not Available |
| Noise Levels | 70.3 dBA |
One of the best Central Air Conditioner models are the Amana units. They have an average SEER rating of 17.7, which makes them second to Lennox which is the most-efficient brand we have reviewed. They come with a two-speed fan motor, and it one of their most efficient models have a lifetime warranty.
These central air conditioners also feature the R-410A refrigerant, which is chlorine-free and designed to increase an air conditioning unit's durability and reliability.
They are also quiet, reaching about 70.3 decibels, which is lower than the industry average of 71.25 decibels. They are also attractive with their sleek designs and fun color range.
One top-selling model is the Amana AVXC20 Central Air Conditioner. This unit achieves up to 24.5 SEER energy efficiency rating and carries a lifetime warranty. It is also one of the most energy-efficient systems.
They are one of the most energy-efficient models. They are also easy to use and install.
The systems are bulky, but this is not as significant when you consider their effective and energy-efficiency.
8. Coleman Central Air Conditioners (Sturdiest and Quiet)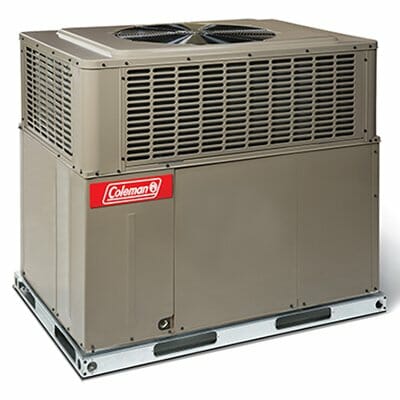 | | |
| --- | --- |
| Installation | Quick and Effortless |
| SEER Rating | up to 20 SEER |
| Maintenance | Require constant inspection |
| Price | Not Available |
| Noise Levels | 70.2 dBA |
The Coleman Central ACs offers models with an energy-efficiency of 13 SEER up to 20 SEER. All of Coleman air conditioners use R-410A which is an environmentally friendly refrigerant and feature the Whisper Drive™ System which enables them to offer you one of the quietest operations with noise levels of about 70.2 decibels of noise.
Coleman's central air conditioners are also among the best for saving you money on energy bills over time, and they are also durable and built to last a long time, with powder-painted steel and slotted inlet coil guards that safeguard the inner components from the elements.
One of the most recognized Coleman AC brands is the Coleman LX Series which is available in three models. The TCJF is a single-phase, with an energy-efficiency of 16.5 SEER; the TCJD with 13 SEER unit and the 15 SEER DEX model. The LX units feature the Micro Channel coil technology, which upsurges efficiency by allowing for a superior heat exchange surface.
It is one of the most noiseless systems. It is also energy-efficient, quick to assemble and secure.
The system is cumbersome. However, it is very energy-efficient and noise-free.
9. York Air Conditioners (Most Reliable and Smallest)
| | |
| --- | --- |
| Installation | Quick and Effortless |
| SEER Rating | up to 18 SEER |
| Maintenance | Require constant inspection |
| Price | Not Available |
| Noise Levels | 60.2 dBA |
The York Central Air Conditioning systems are particularly an economical brand. Their sizes range from 1.5 tons all the way up to the monster systems that aid large commercial buildings. They also feature the new ozone friendly refrigerant R-410A which helps in curbing global warming.
They come with three distinctive models: the Latitude, the LX, and the Affinity. The Latitude is the smallest mode, less efficient and more affordable option with a SEER rating of up to 13 SEER. The LX is more efficient with up to 14.5 SEER, and the Affinity line offers energy-efficiency of 13 to 18 SEER and is known for being extremely quiet.
It is the smallest and most eco-friendly AC due to its refrigerant and the incredible SEER energy star rating. It is also sleek, convenient and straightforward to assemble.
The system is pricey and cumbersome.
10. Daikin Central ACs (Convenient and Excellent Value for Money)
| | |
| --- | --- |
| Installation | Quick and Effortless |
| SEER Rating | up to 25 SEER |
| Maintenance | Require constant inspection |
| Price | Not Available |
| Noise Levels | 58 dBA |
The Daikin central ACs offer air conditioners for residential in the capacity range from 2 to 5 tons. They have one of the most prominent leaders in refrigeration and increasing efficiency with air conditioners and heat pumps. They feature a SEER rating of 24.5 SEER and a high-efficiency two-stage scroll compressor. The systems use the chlorine-free R-410A refrigerant, making them eco-friendly and energy-efficient.
They also feature the diagnostic features with fault code storage to enhance better air conditioner troubleshooting and are engineered to reduce operating noise levels with sound levels down to 58 decibels.
The most popular Daikin model is the Daikin DX20VC with a SEER rating of up to 24.5, putting most efficient central ACs on the market.
It is the most convenient and noise-free air conditioners. They are also custom-designed, cools your room quickly, ultra-high efficient, and they foster the move in saving energy.
The system is expensive and cumbersome.
11. Rheem Central Air Conditioners (Most Mobile)
| | |
| --- | --- |
| Installation | Complex |
| SEER Rating | up to 20 SEER |
| Maintenance | Regular inspection |
| Price | Not Available |
| Noise Levels | 70 dBA |
Rheem central air conditioners have one the most reliable, mobile and energy-efficient models. They have a sturdy, durable design that easily handles harsh weather and keeps your home cool and snug.
They offer SEER ratings of up to 20 and have one of the most sought out dehumidification features and variable-speed scroll compressors, which are incredible at controlling humidity than the older single-stage units and many modern two-stage compressors.
They also come with a Comfort Control2 System that has 32 onboard diagnostic and fault history codes to assist you to have a good and simpler time trying to detect issues. If it discovers any severe problems, it sends an alert to the thermostat to let you know.
One of the best models of the Rheem C.A.C brand is the Rheem Premium Central AC with the comfort system onboard diagnostic systems and Active Protection to stop the compressor in the event of issues. They also have an energy-efficiency rating of up to 18.5SEER.
It is the quickest to set-up, efficient, functional, durable and eco-friendly.
12. Ruud Central Air Conditioners (Energy Efficient)
| | |
| --- | --- |
| Installation | Complex |
| SEER Rating | up to 20.5 SEER |
| Maintenance | Regular inspection |
| Price | Not Available |
| Noise Levels | 77 dBA |
Ruud air conditioners offer several different central air conditioner models in various sizes for residential and light commercial use. The durable design with corner service access makes them easier and quicker to repair.
The AC units have SEER ratings of between 16 and 20.5, with their premium models offering EcoNet connectivity and variable compressor speed. They are also quieter due to the composite base pan that also works to eliminate corrosion and reduces the number of fasteners needed.
The powder coat paint system ensures that the system is weather-resistant, and all models come standard with high and low-pressure options.
Their premier product is the EcoNet Enabled Ultra Series Variable Speed (UA20). It features PlusOne features that ensure top energy efficiency, expanded valve space and triple service access.
Ruud ACs are among the most energy efficient.
The evaporator coil is likely to break within five years, Ruud systems generally require more maintenance.
Considerations Before Buying Any Central Air Conditioner
According to energy.gov, the size of your central AC is crucial to you having a comfortable home. So you need to ensure that the central A/C is large enough to cool down your house but also not too large that it wastes energy.
An overly large system cycles on and off frequently, consuming too much electricity and reducing energy efficiency. If it is also too small, it will not be able to cool your entire home on hot days.
So, before going on to get yourself a unit, be sure to invite the HVAC contractor to do a more accurate calculation. They will consider the size of your home, the amount of insulation in place as well as other factors to decide on the correct size unit.
Before you head out to buy your AC, you must ensure that you carefully look into the room size. Purchasing a small unit means that you will not get adequate heat or cold air, and a huge one on the other hand also means you will have wasted energy and have issues like temperature fluctuations and failure due to short-cycling.
Therefore, rather than guessing, make sure you seek out the services of an HVAC technician so that they can perform a Manual-J Load Calculation test to properly size your room and the ductless system required for that space.
SEER Rating (Energy Efficiency)
The SEER rating is the Seasonal Energy Efficiency Ratio, and the SEER rating you need depends on the size of the room. Considerably, larger spaces require having an AC system that automatically increases the energy.
So, be sure to check out the specs of the unit and check out the SEER rating, and the higher the number is, the better the A/C unit will perform regarding overall energy use.
When it comes to choosing the right size of the central AC, consider factors how high your ceilings are and the type and thickness of your insulation. So, how can one calculate the size of the AC that they need for their home? Well, there are two quick and easy ways to do so, without getting too technical. The first option is to use the 'old school method' which will give you a rough estimate of the size of unit that you need based on this calculation: (House Square Footage x 30 / 12,000) – 1.0 = Required Tonnage. Alternatively, there are a number of automated online programs that will help you calculate precise AC size (doing all of the work for you).
Another essential factor to consider is the ductwork and airflow. If you are perhaps looking to replace an existing central air conditioner, then it means your house will have a system of ducts in place. So, you might not need to budget for all the process.
You, however, need to consult your contractor so that he/she can check out the ducts to make sure they are in good condition. Ensure that you also inform them of any issues you might face with the airflow or uneven cooling with your existing system, since it may be a sign of poorly designed ductwork.
If you, however, need to add a new central AC to your home with forced-air heating, you may be able to connect it to the existing ductwork as well, although it may need some modifications.
Central air conditioners are an investment – most cost between $1,000 and $3,000.
So, if you need one that works reliably and is powerful enough to handle you temperature issues, you will need to budget accordingly.
You also need to consider the installation, on-going energy costs, and maintenance fee which may be high depending on the type of central AC that you install.
Most noise levels are given in dBA, which are decibels attuned to reflect the ear's response to different frequencies of sound.
So when it comes to noise levels, you need to be careful; you do not want a system that keeps you up all night and gives you a headache during the day. So make sure that you ask the technician to test the unit beforehand so that you can see check out if you can tolerate the noise emitted.
A thermostat helps one keep their home snug and to control energy usage effectively. A perfect thermostat choice depends on the type of heating and cooling system you have in your home, how you want to use your thermostat and the features you want to have available.
So before going ahead to choose a thermostat option you need to consider its compatibility with your heating and cooling system. The most common system type is the central heat or central heat and air, which is usually 24V.
Maintenance, Repairs & Options
Most central AC manufacturers recommend yearly maintenance. If you fail to consider at least having an inspection and maintenance visit by your HVAC contractor every year, your unit may void the warranty.
Regular maintenance may extend the lifespan of your air conditioner, but only 42% of homeowners use a professional to carry out maintenance on their ACs. Of those who do, 40% reported a longer lifespan for their air conditioners.
Types Of Air Conditioners Compared
Central Air Conditioning Systems
A central air-conditioning system uses ducts to distribute cooled air throughout the house. It consists of a refrigerant that circulates between an indoor coil and a matching outdoor condenser with a compressor.
It consists of an evaporator, condenser, and compressor. The refrigerant works to cool the air, (as well as dehumidifying it in the process), then a blower circulates the air throughout the house using ducts. The thermostat maintains the temperature according to the settings you select.
The central air system serves as a great choice since it is inexpensive, virtually invisible, improves the home value and requires annual maintenance rather than monthly. It does have a few drawbacks which include having a complicated installation process making it difficult for DIY home-owners to do their own installation, most brands are not energy-efficient, and it requires lots of ductwork.
Ductless Mini Split Systems
Split ductless systems have an outdoor condenser and compressor, and one to four or more indoor blower units, called air handlers that are usually mounted high on the wall and distributes air. The indoor and outdoor units are connected by a thin conduit that houses the power cable, refrigerant tubing, and a condensate drain.
The conduit runs through about a 3-inch hole found behind each air handler which then cools your room in by setting the temperatures using a remote control. They can be a more expensive alternative to window air conditioners especially because they require professional installation and maintenance. It is, however, a more recommended choice since it is the easiest to install, most energy-efficient, compact and flexible and the most incredible part is that it does not require any ductwork.
A portable air conditioner is a self-contained system that is easily moved, used for cooling humidified rooms. It comes with a convenient installation kit that provides you with quick assembly, and most of them come with wheels making them maneuverable room one room to another.
Portable air conditioners operate through drawing indoor air and ousting it via a single duct. It, however, does cool and heat up your home in accordance with your preferences. It also dehumidifies your room thus making it convenient and of course, adding a snug feel to your room. They also vary in noise levels so be sure to look for a quiet model.
Portable ACs feature a convenient installation kit, and you can store it when not in use. They are also lightweight, cheap to maintain and are the best suited for small rooms. They, however, have some drawbacks like they have low power levels, are noisy, and they tend to be more expensive than the central air conditioner systems.
According to Energy Star, a window unit is a cooling device that one installs directly to their window, or through-the-wall depending on the brand and type of AC model.
It is the most affordable and the easiest to install as some models are very small in size. You may need to hire a contractor to install it due to its cumbersome nature, but you can always do you DIY installation only by ensuring that you follow the laid down instructions.
It might block natural light and your scenic views, but when you consider how inexpensive, easy to maintain, does not take up floor space and versatile it is, you might consider getting one for yourself. These types of ACs vary in efficiency so beware and choose an energy saving option. Some brands can be loud and noisy so finding a window AC with a low dBa level is often something people consider.
Self Installation
Its installation is even easier and can be done by following the installation process carefully:
Make sure all you turn off the electricity circuit beforehand
Set a concrete pad outside to support the air conditioner, or install rooftop supports for a packaged system installation
Connect both the indoor and outdoor units carefully by thoroughly checking out all the tubing and ducts are placed correctly,
Carefully connect the thermostat
Use a vacuum to get rid of the unwanted contaminants from the refrigerant lines
Charge the new central air conditioner with refrigerant
After ensuring that all these processes are carefully followed, you can now switch on the AC and run it efficiently
If you don't have experience in air conditioner installation, instead seek out the services of a certified HVAC contractor.
Choose The Right Contractor
It doesn't matter if you are replacing an old central air conditioner system or you are about to install a new one. You will need a reliable contractor that you can trust to install and service your air conditioning system.
Here are some things you need to consider:
Ask for Referrals: Be sure to seek advice and referrals from neighbors, friends, AC store attendants or business associates. It is also wise to ensure that you get the price quotes from at least two to three contractors to have a variety of options. You can also seek help from Modernize and Amazon Home Services for an excellent contractor option and to compare quotes so that you can get that experienced HVAC contractor.
Do Your Due-Diligence: Contractors who bid to do an installation for you should offer proof of verification of bonding and insurance, plus any other needed and essential contractor's licenses.
Be sure to concur with your local Better Business Bureau and consumer affairs office for complaint records. It is a plus if the technicians are certified by a trade organization, as the HVAC Excellence, so that he/she can service residential heating and cooling equipment. Those, among other similar programs, help in assessing the technician's knowledge of particular forms of equipment and their appropriate service modes.
Be sure that you get the specifics. Contractors who bid on your installation program need to calculate the required cooling capacity by using a recognized mode like the ACCA's Residential Load Calculation Manual, the Manual J, and an additional reference for assessing ductwork needs, the Manual D.
The calculations offer a detailed, room-by-room analysis of cooling needs, so you need to make sure that you are adept with all these.
Request documentation of all calculations and assumptions, as well as the ductwork design and ensure that you are wary of a contractor whose estimates are not based on in-depth calculations.
Common Problems With These Air Conditioner Units
You wake up one morning drenched in a layer of sweat, and you opt to immediately peel the covers off, but you still don't find any relief, and to make matters worse the AC is rattling and sounding somewhat ill, but you are not sure what is happening.
These are some of the typical AC issues and easy solutions to help diagnose and solve them:
Dirty filters: A clogged filter curbs airflow through the system thus reducing its efficiency and impeding its ability to efficiently cool your air. If you have not cleaned the filters on your central AC unit, you need to ensure that you either seek help from the contractor or replace the filler with a new one. Central AC unit filters require monthly replacement especially if your system is continuously running or if you have pets.
Blocked registers: If you have a forced-air heating and cooling system, make sure that you vacuum the records often to get rid of any dust buildup. You should also ensure that the furniture and any other objects are not blocking the airflow.
Thermostat is on the incorrect setting: If you own a programmable thermostat, ensure that you programme it so that your home is at a comfortable temperature when present and a bit higher when out. You also need to keep in mind that for every degree you raise the heat, you will save at least 3% on your air-conditioning costs.
Going green, having plants, is crowding the compressor: The outdoor compressor of the central air conditioning system requires adequate airflow to work sustainably, so you need to ensure that there is at least two to three feet of space between the unit and any plant. You should also ensure that there are five feet of clearance between the top of the unit and any trees above.
Perhaps you forgot to have an annual check-up: An inspection by an HVAC technician can spot a serious problem before it gets worse leaving you hot and bothered at the peak of summer. So be sure to have him/her assess your AC year or biannually.
One of the most recommended ways to ensure that you properly maintain your air conditioner is to make sure it is clean. That merely means you need to change the filters regularly and that no debris amasses around the outdoor unit. Here is some guidance from our experts:
When not sure, consult the services of a pro: To be sure and exercise safety, make sure that you have a licensed professional clean and flush the coils, the drain pan, and drainage system. He/she might also need to vacuum the blower compartments and check the refrigerant charge and mechanical components.
Make sure that you seal and insulate the ductwork: Up to 40% of cooling energy can be lost. This is often due to leaks or when ducts that are not insulated pass via uncooled spaces such as the basement and the attics.
Ensure that you conduct seasonal checks: Make sure that you have the debris cleared and that the vegetation is at least two feet away from the outdoor unit. Also, ensure that the indoor grills and filters are cleaned monthly.
Invest in a programmable thermostat: You can lessen your cooling costs by up to 30% by programming the thermostat. It can raise the temperature when you are at work and lower it when you return home. Also consider using a ceiling, table, or floors fan in occupied rooms so that you can set the thermostat to a higher temperature.
Frequently Asked Questions
How Long Does A Central Air Conditioner Last?
A central air conditioner typically lasts from 12 to 15 years. Its lifespan can be reduced if its capacity is not appropriately matched to the cooling load of in your home. Many larger air conditioners "short-cycle," thereby turning on and off rapidly, imposing excessive wear and tear on the compressor.
When Is The Best Time To Buy A Central Air Conditioner? (Not Necessarily Winter)
According to most online sites and research, the most popular time of year to buy an air conditioner is in the winter. Unfortunately, according to most HVAC experts, the best time to purchase a central AC is the off-season (spring and fall). Contractors often have more available time and may be more affordable, and brands run specials to promote their products.
How Many Watts Does A Central AC Use?
Trying to understand how many watts a central air conditioner uses is not entirely straightforward. The precise and accurate answer will depend on elements like the model, mass, and age of the system, the setup of your home and the season. In summer, a central AC uses 3500 Watts per hour.
Do Central Air Conditioners Need To Be Recharged?
Under normal circumstances, central ACs do not require any recharging. However, in the case of a leak, or if the vents are blowing room temperature air, then you may need to recharge it.
How Do You Recharge A Home Central Air System?
There are a number of steps you need to take to ensure that your system is completely recharged and these include:
Inspecting the unit.
Plugging in the service valve: it is located in the Freon kit: the large connector valve found amongst the kit's other contents.
Plugging in the tap valve: this is the small valve connector in the Freon kit.
Adding Freon: all you have to do is to attach the Freon container to the two valves that you have just fixed. Then follow the instructions set in your Freon kit to secure the container between the two valves.
Charge the Freon: You do this by turning on the unit and turning it up to the highest setting which will force Freon into your unit, effectively recharging your air conditioner in the process.
It is always advisable to contact a reputable aircon technician if you are unclear about how to proceed.
What Is An AC Capacitor?
It is an essential part of a central AC. It's a small cylindrical container inside your air conditioner whose primary function is to store and supply energy. When your air conditioner starts up, it needs more power than your home electrical system can produce—and that's where the capacitor comes in.
How Do You Clean Central Air Coils?
You first need to access the coils by shutting off the power to the AC.
Trim foliage so that it isn't closer than 2 feet (0.6 meters) to the AC system.
Remove the air conditioner's cover.
When the cover is off, pull the cover and fan from the system (where applicable). Some central air conditioning systems have a grill with a fan attached to it mounted on the top. So unscrew them and then pull out the grill from the top of the unit. The fan is usually attached, so be sure to support it as you take off the assembly. Don't let it hang by its electrical connections.
Clear out the drain line and remove any large debris from inside the unit with your hands.
Check out for any signs of oil spillage.
If your unit is outside, be sure to spray the coil with water.
Apply a foaming coil cleaner and let them soak in there for around five to ten minutes.
Using a fin comb, clean and unbend the coil fins, and then ensure that you use a hosepipe to rinse cleaner off the outdoor units.
Once you are done with all that, reassemble the unit and turn the power back on for the air conditioning unit.
Why Is There Ice On My Central Ac Unit?
There are two main reasons why this occurs, and one of them is that there is reduced airflow to the inside unit thus causing the refrigerant coil to freeze up. The second reason is that you have a leak, meaning your unit is low on refrigerant. When this occurs, the pressure drops causing the evaporator coil to get abnormally cold. So when returning air hits the coil, humidity/moisture from the air beads ups on the coil and it quickly freezes.
Can I Add Freon To My Central Air Conditioner?
Yes, you can by attaching the Freon container to the service and tap valves, then following the instructions set in your Freon kit to secure the container between the two valves.
What Should You Do If Your Central Air Conditioner Smells Like Chemicals?
There are three reasons why your CAC would smell like chemicals and these include:
A refrigerant leak
Mold on your evaporator coils
Open containers of chemicals near the indoor air handler
In such cases, you need to seek the services of a professional so he can deal with the issue expertly.
What Should You Do If Your Central Ac Making Loud Humming Noises?
Humming sounds are usually related to the steady drive of the outside fan blade of your central AC and the motor. However, in most cases, this humming or buzzing sound indicates a mechanical or electrical issue. So, whenever you are faced with such a problem be sure to:
Check the Condenser fan motor: It could be seized (unable to spin) but power is still going to it, creating resistance that produces a loud and noticeable hum.
Check the Contactor relay switch: in the outdoor unit, the air conditioning contractor serves to turn on the outside unit when the temperatures rise to the level where cooling is needed. This contractor can fail mechanically or electrically and will produce an electrical murmuring sound at failure.
The top central air conditioner system brand is Goodman Central Air Conditioners which we wholeheartedly recommend you try. It is the most energy-efficient, noise-free and inexpensive central air conditioning system on the market. They are available on Amazon and can be installed using Amazon Home Services making them the most convenient option.
If you feel that the summer heat or winter chill is becoming unbearable, be sure to get this system, and you will enjoy clean air throughout your home at the perfect temperature.