Considerations Before Buying an Infrared Heater
It's really helpful to know the size of the space you intend to heat before you buy. Most heaters are set with a maximum heating coverage area of 1000 sq ft. There are lower capacity heaters available, though, so if you have a much smaller room it could be more economical to choose one of those. There's no point in using more energy than you need, after all, from either a planet-friendly or pocket-friendly perspective. If the space you're wanting to heat is over 1000 sq ft, then be sure to choose a higher capacity infrared heater to ensure that your space is kept warm and toasty.
The terms Watts and BTUs can be confusing for some people. To keep it simple, the higher each number is will mean the more heat output the system will produce. The most common wattage of infrared heaters is 1500 Watts, although the TaoTronics (#2 on our list) will work at a maximum of 1000 Watts. BTUs vary greatly depending on the type of power source the heater uses. On the low end of the scale, the Heat Storm (product #9) emits approx. 5000 BTUs while larger propane heaters (such as product #5) will radiate upwards of 35000 BTUs. This just means more heat and greater chances of warming a bigger area.
As with any form of heating, thermostatic control is essential to ensure efficiency and economy. Most heaters allow a temperature setting of 50 to 86 degrees. This means you can adjust the temperature to your particular needs at any particular time, without overheating your space and using expensive energy unnecessarily.
Naturally, these will vary according to each unit, according to its specification. Fire is a risk with any type of heater, however, so it's advisable to choose one which offers protection against overheating, so that the heater automatically shuts off before it becomes too hot. This is an essential feature if the heater is going to be left on when the space is unoccupied and especially at night.
This is such a useful feature, allowing you to target heat exactly where and when you need it around your home, in the workshop or the garage. Some heaters are more easily maneuvered than others and you need to consider the weight of the unit if you're planning to move it from place to place. Always be sure to follow manufacturer's instructions and always switch the heater off before moving it anywhere for safety's sake.
One of the key features of infrared heating is that it is silent but some are fitted with a blower to speed up delivery of warmth to all areas of the room and ensure it's evenly distributed to avoid any hot and cold spots in the room. It's worth checking the noise levels of these blowers. If you're keen to benefit from this feature but don't want unnecessary 'white' noise in your home, look for a noise level of around 39 decibels which is super quiet.
As with any appliance for your home, this is always a matter of personal choice and depends on what purpose you need the heater for. With the vast range of styles and types of infrared heaters, designed for a multitude of purposes around the home – everything from traditional fireplace heaters to sauna heating systems – the number of special features and options available is almost limitless.
The lifespan of the quartz bulb in an infrared heater will vary from unit to unit, so it's not possible to give an accurate length of useful life. Do bear in mind that replacement bulbs can be costly, so the best value heater will have the longest lasting bulb.
Most infrared heaters will be sold with some form of warranty but they will vary from product to product and manufacturer to manufacturer. The rule of thumb is that if the manufacturer is confident in their product, they'll be back this up with a satisfactory policy for refunds/returns and a longer warranty.
Types Of Radiant Infrared Heaters
Small & Portable Space Heaters
Whether powered by gas or electricity, depending on the intended purpose, the location and the available power source, there are a wide range of options when it comes to small and portable infrared space heaters. Each one has a different specification and operational features designed to target warmth where it is needed on demand. They can be particularly useful as an additional heat source to top up heat where the conventional heating system is insufficient or has failed for some reason. Being portable, they can be used wherever and whenever they're needed.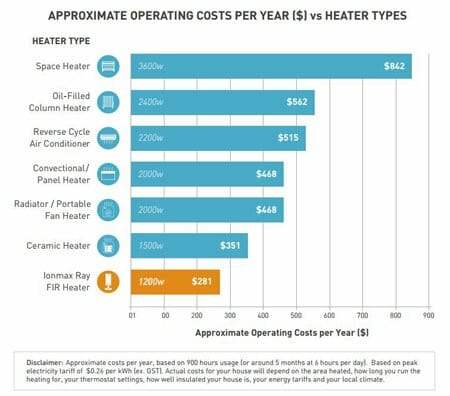 Imagine being able to heat your garage or workshop in the winter months so that DIY or craft projects become a pleasure instead of a pain? Infrared heaters, whether electric or propane gas-powered, provide a fast-working, efficient source of heat, targeted exactly where you need it.
Better yet, if you're working on a project with wood, for example, infrared heaters won't raise dust or keep dust airborne. To save you wasting energy and your hard-earned cash, if you plan on heating your garage this way our tip is to make sure your garage walls and ceiling are insulated (minimum of 4" thick in the walls, 6" thick in the ceiling). We have researched the top rated garage heater brands in a separate article here.
If you're aiming for a traditional look and want to retain the idea of the hearth being the centre of the home or the focal point of your living room, you won't be short of infrared options to choose from. Depending on the style you have in mind, there's everything from classic coal or wood effect fireplaces to highly contemporary funky wall-mounted flame effect heaters.
We're all familiar with these patio heaters which are often found outside cafés and bars and bring comforting warmth during the cooler months. But why not consider having one at home, extending the season for using your outdoor space? Your patio could become an attractive, warm and comfortable place for entertaining all year round. We have reviewed and rated all the top brands here.
Ceiling & Wall Mounted Heaters
There are many types of ceiling and wall-mounted heaters available which perform really well in a wide range of environments. To take one example, there are super-slim infrared panel heaters which are to all intents and purposes invisible – a heat source hidden in plain sight. They can blend in perfectly in a kitchen or bathroom environment, adding heat without space being taken up by a bulky radiator or an inefficient portable heater.
Infrared saunas are rapidly replacing traditional saunas (hot rock and steam saunas) for several reasons: efficiency, comfort, safety, durability, ease of maintenance and economy. There is considerable evidence, gathered over the past 30 years, that an infrared heat source offers health benefits which exceed those associated with using a traditional sauna.
Where Can I Use These Radiant Heaters?
These heaters are effective in a variety of spaces around the home, office or workshop. As we have discussed above, different models will be better depending on the area. These are just some of the places you can use an infrared heater.
Loungeroom
Bathroom
Bedroom
Outdoors
Garage
Basements
Offices
Industrial Buildings
Are infrared heaters safe to leave unattended or overnight?
For safety reasons, it's not advisable to leave any supplemental heater unattended, whether infrared or otherwise. If you choose infrared heating, though, this shouldn't be a problem since one of its most significant benefits is how quickly it warms the environment when it's switched on. You'll feel the warmth and comfort within minutes of walking into a room and flicking the switch on the heater.
You'll save a lot of expensive energy too, by not heating an empty room. To avoid inadvertently leaving the heater on when you go out or go to sleep, it's worth considering a heater with an automatic shut-off timer to ensure that the heater isn't left on when it's not needed.
How efficient are infrared space heaters?
This ultimately comes down to the size of the heater you're using, its wattage, the size of the area that you're heating and the way you move around in and use the space. On the whole, they're more efficient than traditional convection heaters because of the way that infrared waves heat objects rather than heating the air.
This warmed air is easily lost when people open and close doors to the outside, whereas the heated objects (including walls, floor, and furniture) have absorbed heat and act a little like radiators, continuing to warm the space around them, without the heat being lost to the great outdoors.
Remember that the efficiency of any form of heating is affected by factors such as the level of insulation, ceiling height, and type of construction.
Will an infrared heater save me money?
The answer to this question greatly depends on the heater that you choose. Before browsing the options, it's important to calculate the size of the space you're heating and choose a heater with a sufficient output to heat it. If the heater is under-powered for the space, you'll never feel the complete benefit of its warmth. The flip side of that is to make sure that you don't buy an infrared heater which is too powerful for the smallest space you're planning to heat, or you'll be wasting valuable and expensive energy.
On the whole, having an infrared heater is great for saving energy, as the infrared waves that are used to warm the atmosphere don't rely on convection currents like other heaters do. With convection heating, the warmed air naturally rises and circulates around the room, potentially escaping through air ventilation and open doors and windows and resulting in your ceiling being a lot warmer than the rest of the space. Infrared, on the other hand, warms up objects and people rather than the air, so the warmth can't simply escape out of the window. Various studies have shown that this can save you up to 50% on energy bills.
Are infrared heaters bad for your health?
Infrared heating can in fact be more beneficial to health than other forms of heating. Remember that human skin is designed to receive heat in the form of infrared waves from the sun, so this kind of heat feels more natural and more comfortable to the human body. Infrared waves gently heat your body as opposed to heating the air around you and there is evidence that this type of warmth can boost blood circulation which is of particular importance in the elderly or the less mobile.
Furthermore, growth of indoor mold, which can cause significant health problems, is deterred by infrared heating. This is because the walls themselves are heated by the infrared waves (objects get warm, not the air) which reduces the chance of harmful mold developing. Lastly, infrared heaters don't dry the air in the way that other forms of heating tend to do. This is a benefit since dry air has been found to exacerbate some health conditions such as bronchitis and sinusitis.
Do infrared heaters dry out air?
No, they don't dry the air in your home and they maintain the natural humidity so there are no detrimental effects to your skin or respiratory system. In fact, some people do prefer a little more humidity in their environment, especially in more arid areas. To answer this need some infrared heaters come with a built-in humidifier to increase humidity for added comfort.
Is infrared heater better than ceramic?
The way that infrared heating functions, by heating objects such as people, furniture, walls, and ceiling, means that it's a great way to get fast, targeted heating. Ceramic convection heaters, on the other hand, have a ceramic core which is heated by electricity or gas and a built-in fan to blow the warm air around the room. They both perform their function in completely different ways, therefore.
In a situation where you are constantly moving from one position to another, or in a large room with multiple people who all need to benefit from the heat, a ceramic convection heater may be the most suitable option. Where you require targeted heat, then an infrared heater has the edge.
Can infrared heaters heat a house?
This would depend on the size of the home you're proposing to heat. If you live in a small apartment, where you don't move around so much from room to room and need heat targeted in particular zones, then infrared can be a practical option. You just need to position your heater carefully where you'll get the most benefit from its warming rays or invest in a portable infrared heater which you can move from room to room.
If you live in a larger property with a number of rooms, you'd need to have a number of infrared heaters targeting heat in different zones to ensure that your whole house is comfortably warm.
On the whole, infrared heaters for home use are intended to be additional to a central heating system, to target extra warmth in a particular area rather than having to adjust the thermostat for the whole house in order to increase the heat in just one room.
If you're looking for efficient, effective, economical and safe heat for your home or workspace, especially to top up existing heating, then an infrared heater could be just what you need. They're particularly effective where you need targeted, supplemental heat.
The most significant difference between convection and infrared heating is that the first heats the air and the second heats objects. If you want targeted warmth delivered quickly and consistently, then an infrared heater could be the answer. Be sure to check out our top pick from all the products we've reviewed: the Dr Infrared Portable Electric Space Heater.