How Do Infrared Heaters Work?
The simplest way to explain how infrared heaters work is to compare the heat they produce to the way we experience the heat of the sun, known as radiant heat. Infrared light isn't visible to the human eye as it's outside the spectrum that we can see.
Even though we can't see it, that invisible light is absorbed by our skin, by our clothes and other objects all around us. Infrared heaters work in the same way. Popular home website The Spruce refers to this as 'zone heating' and we agree that it commands a more natural feeling of warmth. The infrared rays heat the objects in the home rather than simply heating the air in the way that traditional convection heaters do. In turn, these objects give off heat and effectively become a 360 degree radiator, heating the area around them.
The main benefit of infrared heaters is the more consistent and comfortable heat that they produce. This is because objects retain heat better than air, so residual energy maintains the temperature in the environment for longer. For example, if a door is opened to a colder room, the temperature won't plummet. It's often possible to set the thermostat to a lower air temperature because it is the environment that heats up first, not the air.
The warmth in your home is also more balanced and the air doesn't become stuffy once the desired temperature is reached. One thing you may have noticed when you use conventional heating is that the room heats from the top down, so the ceiling gets the benefit of the warmth before you do.
Infrared heat, on the other hand, spreads via the objects and surfaces in your home, so you'll feel the benefits more quickly and the temperature of your floor and your ceiling are likely to be similar instead of vastly different. Gradually, as all of the walls and objects in your room begin to warm up, they'll naturally release heat on their own. In no time you'll be toasty warm.
Infrared heaters are becoming an increasingly popular way for people to heat their homes and workplaces during the colder times of the year. It's definitely a heating option worth considering but there are so many different specifications of infrared heaters that it's difficult to make generalizations about them. Different heaters will be controlled in different ways, have different maximum output levels depending on their purpose, and different designs.
We've done plenty of research to save you doing the hard yards, though, and we've reviewed a wide range of the best infrared heaters for many different purposes which should help to narrow down the choices for you.
Infrared Heaters Compared
Image
Model
Dr Infrared Heater Portable Space Heater,...
Mr. Heater F232000 MH9BX Buddy...
PuraFlame Western Electric Fireplace Insert...
Mr. Heater F270700 MH35LP 35,000-BTU Propane...
AirNmore Comfort Deluxe with Copper PTC,...
Image
Model
Dr Infrared Heater Portable Space Heater,...
Image
Model
Mr. Heater F232000 MH9BX Buddy...
Image
Model
PuraFlame Western Electric Fireplace Insert...
Image
Model
Mr. Heater F270700 MH35LP 35,000-BTU Propane...
Image
Model
AirNmore Comfort Deluxe with Copper PTC,...
Electric Vs Propane Vs Natural Gas
You'll be able to find infrared heaters which are powered by these three different fuel sources. Electricity is the most likely to be available, but natural gas may also be an option where you are. Propane gas is a third alternative, especially in isolated locations or construction sites.
Different heaters have different maximum output levels, different controls, and different designs and therefore the running costs will vary according to the way they're used.
When considering the differential in the cost of operation for each method, it's not easy to make a comparison between these three fuel sources because they're measured in different ways: Natural Gas is measured in cubic feet or hundred cubic feet (CCF) but it is sold by the therm; Propane Gas is sold by the gallon or weight; Electricity is sold by the Kilowatt-hour. With three such different ways of measuring and selling these types of energy, combined with the huge variations in sizes of heaters, calculating the comparative costs is difficult.
However, a US Department of Energy study from 2008 concluded that natural gas was the cheaper option by some margin, followed by propane gas and then electricity as the least economical option.
Energy Type
In Common Therms
$ per million BTU
(British Thermal Unit)
Electricity
10.8 cents per KWh
$31.65
Natural Gas
75.3 cents per therm
$13.28
Propane
2.42 dollars per gallon
$26.50
Considerations Before Buying an Infrared Heater
It's really helpful to know the size of the space you intend to heat before you buy. Most heaters are set with a maximum heating coverage area of 1000 sq ft. There are lower capacity heaters available, though, so if you have a much smaller room it could be more economical to choose one of those. There's no point in using more energy than you need, after all, from either a planet-friendly or pocket-friendly perspective. If the space you're wanting to heat is over 1000 sq ft, then be sure to choose a higher capacity infrared heater to ensure that your space is kept warm and toasty.
The terms Watts and BTUs can be confusing for some people. To keep it simple, the higher each number is will mean the more heat output the system will produce. The most common wattage of infrared heaters is 1500 Watts, although the TaoTronics (#2 on our list) will work at a maximum of 1000 Watts. BTUs vary greatly depending on the type of power source the heater uses. On the low end of the scale, the Heat Storm (product #9) emits approx. 5000 BTUs while larger propane heaters (such as product #5) will radiate upwards of 35000 BTUs. This just means more heat and greater chances of warming a bigger area.
As with any form of heating, thermostatic control is essential to ensure efficiency and economy. Most heaters allow a temperature setting of 50 to 86 degrees. This means you can adjust the temperature to your particular needs at any particular time, without overheating your space and using expensive energy unnecessarily.
Naturally, these will vary according to each unit, according to its specification. Fire is a risk with any type of heater, however, so it's advisable to choose one which offers protection against overheating, so that the heater automatically shuts off before it becomes too hot. This is an essential feature if the heater is going to be left on when the space is unoccupied and especially at night.
If your heater keeps shutting off, you can check a guide we created to troubleshoot this issue and some suggested to-dos.
This is such a useful feature, allowing you to target heat exactly where and when you need it around your home, in the workshop or the garage. Some heaters are more easily maneuvered than others and you need to consider the weight of the unit if you're planning to move it from place to place. Always be sure to follow manufacturer's instructions and always switch the heater off before moving it anywhere for safety's sake.
One of the key features of infrared heating is that it is silent but some are fitted with a blower to speed up delivery of warmth to all areas of the room and ensure it's evenly distributed to avoid any hot and cold spots in the room. It's worth checking the noise levels of these blowers. If you're keen to benefit from this feature but don't want unnecessary 'white' noise in your home, look for a noise level of around 39 decibels which is super quiet.
As with any appliance for your home, this is always a matter of personal choice and depends on what purpose you need the heater for. With the vast range of styles and types of infrared heaters, designed for a multitude of purposes around the home – everything from traditional fireplace heaters to sauna heating systems – the number of special features and options available is almost limitless.
The lifespan of the quartz bulb in an infrared heater will vary from unit to unit, so it's not possible to give an accurate length of useful life. Do bear in mind that replacement bulbs can be costly, so the best value heater will have the longest lasting bulb.
Most infrared heaters will be sold with some form of warranty but they will vary from product to product and manufacturer to manufacturer. The rule of thumb is that if the manufacturer is confident in their product, they'll be back this up with a satisfactory policy for refunds/returns and a longer warranty.
Types Of Radiant Infrared Heaters
Small & Portable Space Heaters
Whether powered by gas or electricity, depending on the intended purpose, the location and the available power source, there are a wide range of options when it comes to small and portable infrared space heaters. Each one has a different specification and operational features designed to target warmth where it is needed on demand. They can be particularly useful as an additional heat source to top up heat where the conventional heating system is insufficient or has failed for some reason. Being portable, they can be used wherever and whenever they're needed.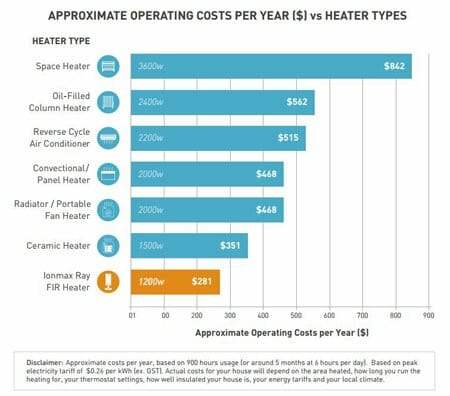 Imagine being able to heat your garage or workshop in the winter months so that DIY or craft projects become a pleasure instead of a pain? Infrared heaters, whether electric or propane gas-powered, provide a fast-working, efficient source of heat, targeted exactly where you need it.
Better yet, if you're working on a project with wood, for example, infrared heaters won't raise dust or keep dust airborne. To save you wasting energy and your hard-earned cash, if you plan on heating your garage this way our tip is to make sure your garage walls and ceiling are insulated (minimum of 4" thick in the walls, 6" thick in the ceiling). We have researched the top rated garage heater brands in a separate article here.
If you're aiming for a traditional look and want to retain the idea of the hearth being the centre of the home or the focal point of your living room, you won't be short of infrared options to choose from. Depending on the style you have in mind, there's everything from classic coal or wood effect fireplaces to highly contemporary funky wall-mounted flame effect heaters.
We're all familiar with these patio heaters which are often found outside cafés and bars and bring comforting warmth during the cooler months. But why not consider having one at home, extending the season for using your outdoor space? Your patio could become an attractive, warm and comfortable place for entertaining all year round. We have reviewed and rated all the top brands here.
Ceiling & Wall Mounted Heaters
There are many types of ceiling and wall-mounted heaters available which perform really well in a wide range of environments. To take one example, there are super-slim infrared panel heaters which are to all intents and purposes invisible – a heat source hidden in plain sight. They can blend in perfectly in a kitchen or bathroom environment, adding heat without space being taken up by a bulky radiator or an inefficient portable heater.
Infrared saunas are rapidly replacing traditional saunas (hot rock and steam saunas) for several reasons: efficiency, comfort, safety, durability, ease of maintenance and economy. There is considerable evidence, gathered over the past 30 years, that an infrared heat source offers health benefits which exceed those associated with using a traditional sauna.
Where Can I Use These Radiant Heaters?
These heaters are effective in a variety of spaces around the home, office or workshop. As we have discussed above, different models will be better depending on the area. These are just some of the places you can use an infrared heater.
Loungeroom
Bathroom
Bedroom
Outdoors
Garage
Basements (More "Best Basement Heaters" choices here.)
Offices
Industrial Buildings
If you're looking for efficient, effective, economical and safe heat for your home or workspace, especially to top up existing heating, then an infrared heater could be just what you need. They're particularly effective where you need targeted, supplemental heat.
The most significant difference between convection and infrared heating is that the first heats the air and the second heats objects. If you want targeted warmth delivered quickly and consistently, then an infrared heater could be the answer. Be sure to check out our top pick from all the products we've reviewed: the Dr Infrared Portable Electric Space Heater.
Do check our guide on the "The Most Energy Efficient Space Heaters" to get more choices on how to heat your home with the least consumed electricity.
Last Updated on January 19, 2022