If you are an HVAC technician or are training to be, you will need to know about (and own) high-quality refrigerant scales. Whether you are filling, refilling, or recovering refrigerant, you need to know the weights and measures for accuracy and correct pricing.
This article will explain what we use refrigerant scales for, how to utilize them best, and what to look for when making a purchase. We will also offer you a list of the best HVAC refrigerant scales to choose from.
You may know some refrigerants, but it is doubtful that you know them all. There are four main types of refrigerants, and each type has dozens of different refrigerants. All told, there are well over 200 known refrigerants available. As an HVAC technician, you will most likely only deal with two or 3 of these.
Refrigerants (commonly referred to as Freon, which is a trademark name much like we use Kleenex for tissues) are chemical compounds used in machinery and appliances to provide a cooling method capturing heat and moving it to a location where it can be released. In automotive work, the common refrigerants are R-134a and R-12.
For HVAC systems, you will work with R-22 and R-410a the most. However, some systems use other refrigerants like R-404a, R-407, R-32, R290, and R-600a. The numbers after the "R" (which stands for refrigerant) is the molecule makeup or compound of that refrigerant.
These refrigerants need to be added to systems by using charging hoses and metered manifolds. They also need to be recovered for system repairs or replacements using vacuum gauges and recovery machines. Knowing how much refrigerant you are adding or recovering comes down to the weight. This is why refrigerant scales are so important.
Refrigerant Scales Compared
Image
Model
Robinair TIF9010A Slimline Refrigerant...
VIVOHOME High Precision Electronic Digital...
Fieldpiece SRS3 Wireless Scale with Remote
Mastercool 98210-A Electronic Refrigerant...
F2C Refrigerant Digital Electronic Charging...
Elitech LMC-200 Refrigerant Scale HVAC Freon...
Image
Model
Robinair TIF9010A Slimline Refrigerant...
Image
Model
VIVOHOME High Precision Electronic Digital...
Image
Model
Fieldpiece SRS3 Wireless Scale with Remote
Image
Model
Mastercool 98210-A Electronic Refrigerant...
Image
Model
F2C Refrigerant Digital Electronic Charging...
Image
Model
Elitech LMC-200 Refrigerant Scale HVAC Freon...
Choosing a Quality Refrigerant Scale
What is it that makes a refrigerant scale high-quality? The perfect model for you will be durable, accurate, and affordable. It will also weigh to the measurements you need (how many digits after the decimal?) as well as have a platform large enough for the tanks you use in the field.
The first concern is obviously the accuracy of the scale. There isn't a point to having a refrigerant scale that doesn't weigh accurately. All scales will have a build-in fault, but the lower the fault, the better for you.
Precision will be more of a personal choice, though. If you want to know to the thousandth of a pound, you can find a scale that will measure that precisely. More often than not, though, a tenth of a pound will be sufficient. If you are charging by the pound, making a customer pay for a thousandth isn't very customer-friendly, if you are recovering, though, you may need that extra precision.
The decimal readings are known as resolution. Meaning that if a scale has a resolution of hundredths or thousandths, that is the lowest change the scale will record.
There are a lot of different display types out there to choose from, and you need to find the one that works best for you. High-intensity illumination on a digital screen will do well in direct sunlight. You can also find wireless displays that use Bluetooth or WiFi to send the measurements to a handheld device or even your smartphone.
High-quality scales will offer more than just the weight on the display as well. Some will allow you to store weights to recall later, so you don't need to do the math on the fly. Find the type of display that meets or exceeds your needs.
Charging Capabilities and Safety
Most scales will run on batteries. Some models plug into an outlet and come with a power cord. Obvious safety concerns arise with each type. Battery models, for example, should have the batteries checked regularly for moisture, corrosion, and debris.
Electric models need to be grounded with an appropriate ground plug. Since you will work outdoors, it is also unlikely that the power cord will reach an outlet, so you will also need to invest in a suitable extension cord.
Platform Size & Weight Capacity
The one feature that leads to the most disappointment after purchase is the platform size. Refrigerant tanks come in all shapes and sizes, and each has its own weight capacities. If you get a less expensive model, you may find that the platform size is too small for the tank styles you use the most.
You also need to pay attention to the maximum weight capacities of the scales. While most refrigerant tanks for R-22 and R-410a are less than 60 pounds, many tanks can double or even triple this capacity. If your scale only goes to 100 pounds, for example, it could be a wasted investment.
In order to try to gain as many customers as they can, and to stand out from the crowd, manufacturers will sometimes add additional features to their scales.
One of the biggest add-on features is a non-slip platform. These will have a textured rubber surface that will grip the tanks and keep them from slipping off while filling, even when conditions aren't the greatest.
Some models will come with extra batteries, or offer a recharging option for their rechargeable battery packs. If you get a battery-operated model, this is something to look for, so you won't have to scrounge for another battery when the ones in use die out.
You will also find smaller features that may not be so obvious to you. Carrying cases, for example, make transporting your scales and setting them up much easier. Some cases will have adjustable feet, so your scale is always level.
You may even find helpful literature in the scales or cases, too. Things such as conversion charts, weather and pressure data, and differences in weights of various refrigerants will all come in handy when you are taking the before and after weights.
Finally, you will want to accommodate your budget and find the best refrigerant scale within your price range. Like most other HVAC equipment, there are standard price ranges, low-budget ranges, and professional/commercial quality price ranges.
Each scale should also come with a warranty. You should ensure that you understand the terms, duration, and requirements of the warranty so that if you need to make a claim, you are prepared to do so.
6 Best Refrigerant Scales Reviewed
Below you will find our list of the 6 best refrigerant scales, reviewed, compared, and evaluated just for you. Take your time as you scroll through and find the perfect scale that meets all of your needs.
1. Robinair TIF9010A Charging/Recover Scale
| | |
| --- | --- |
| Display | Handheld digital |
| Storage Temperature | 0°F to 122 °F |
| Battery Life | Up to 30 hours |
| Battery Type | 9-volt |
| Warranty | 2-year |
The Robinair 9010A is a TIF scale that improves over the previous model. This scale is our top pick for many reasons. First, the scale is easy to use. From initial set up to the on-site performance, there is little else on the market that compares.
The resolution will take you to 0.005 pounds for highly accurate and precise measurements. While this may be more than the average tech needs on a daily basis, this high resolution is available when needed.
If you need to measure in ounces or kilograms, the handheld display will accommodate these as well. The Robinair TIF 9010A is also super slim. You can use the scale in or out of the included carrying case, which comes with all the literature you need to use, measure, and contact Robinair for any reason (even the warranty information is provided in the case!)
All of the controls are touch-key, and it comes with an auto-zero feature to help you speed along your repair times. You also get a full 2-year warranty should anything go wrong with it for the first 24 months. Robinair is also easy to get a hold of in case you do need to make a claim; however, we will bet that you never need to call them with regards to this simplistic and efficient refrigeration scale.
Pros
Slim design goes anywhere
Carrying case included and scale can be used inside or outside the case
Manages up to 110 pounds
Wide enough for standard tanks
Cons
No automatic shut off to save battery
Best Cheap Refrigerant Scale
| | |
| --- | --- |
| Display | Handheld digital |
| Storage Temperature | 4 °F to 158 °F |
| Battery Life | Up to 40 hours |
| Battery Type | 9 volt |
| Warranty | 1-year |
VIVOHOME offers you the best cheap refrigerant scale on the market. It comes packed with extra features to assist you in your daily scale tasks. The no-slip grip on the 9-inch base will support most refrigerant tanks with ease. It also comes in a sturdy case that can hold the scale while in use if needed.
This battery-operated model uses a 9-volt battery to power the scale and display. It also offers an automatic shut off if the scale isn't being used (10-minute stand by), which helps to increase the life of the battery.
While you won't get a lot of measurement features (no tare weight, for example), you do get easy push-button controls on the slim handheld LCD display. It also comes with a stand for easy viewing and a backlight making it viewable in all light conditions.
The sturdy aluminum frame will support refrigerant tanks up to 220 pounds as well, making it one of the more versatile models available. While it isn't as precise as some of the other models on this list, you will get an accurate measurement to the thousandth of a pound.
For the price, the value is underrated, and there aren't much better on the market in this range and capability.
Pros
Hold up to 220 pounds.
Measures to the thousandth of an inch
No-slip scale surface holds tanks while filling or draining.
Cons
No as precise as some models
No option to manually calibrate the scale.
3. Fieldpiece SRS3 Wireless Scale
Best Wireless Refrigerant Scale
| | |
| --- | --- |
| Display | Handheld wireless |
| Storage Temperature | 10°F to 135 °F |
| Battery Life | Up to 200 hours |
| Battery Type | AA (6 needed)/ 9-volt |
| Warranty | 1-year |
The Fieldpiece SRS3 is a wireless remote operated scale. This has a wide base to accommodate most refrigerant tanks, but it does come at a cost. The overall weight that can be measured is only 252 pounds. For most residential systems (R-22, R-410a), this won't be a problem. However, with a recovery tank used multiple times, it may exceed the capacity.
You will measure to the hundredths (two decimal places) instead of thousandths, so your accuracy isn't as high as some of the other models on this list. It also doesn't come loaded with extra features.
While you can auto-zero and get the tare weight, there isn't a carrying case to store the scale in. This makes it more susceptible to damage and fatigue. With the wireless remote, though you can view the readings on the easy to see display screen from up to 100 feet away.
To conserve battery life, the unit will automatically shut off. However, it stores the previous measurement, even after shut off, so you won't have to remember the weights or lose your calibration.
If you are looking for a wireless model to prevent cord disruption, this is the model for you. The 1-year warranty and peace of mind from owning a product made by Fieldpiece is enough for most pros and techs alike.
Pros
Auto shut off won't lose previous measurements
Tare and increment weights available
Display can be used up to 100 feet away
4. Mastercool 98210-A Electronic Refrigerant Scale
| | |
| --- | --- |
| Display | Handheld digital |
| Storage Temperature | 4 °F to 158 °F |
| Battery Life | Up to 40 hours |
| Battery Type | 9-volt |
| Warranty | 1-year |
If you are dealing with larger tanks, higher capacities, and industrial systems, you need a scale that can keep up. The Mastercool 98021-A is the model for you. This beast will maintain accuracy and precision to 243 pounds, with a plus/minus of 0.05 pounds.
The carrying case comes with all the literature you need and includes instructions for on-site, manual calibration. There is no need to send this unit off to a professional calibration unit when you can do it with ease at home or on the go.
The non-slip tank pad is 9-inches wide to hold most tanks in place. There is also a leveling bubble on the pad to ensure you are weighing on a level surface. In the event you can't find a level surface, the feet are adjustable to help you out.
The remote isn't wireless, but the longer cord will prevent you from having to crouch or kneel while taking measurements. It does have an auto shut off, but it won't recall data. The shut off is programmed for 3-hours though, so you shouldn't run into any issues while using it and losing information.
The 1-year warranty is a little short for a scale that will get as much use as this one, but the claim process is simple and straight forward, should you need to use it. While the warranty isn't the make-or-break item for this model, it can be a concern for those needing a scale for heavy, daily use.
Pros
9-inch pad accommodates most tanks
Auto shut off and tare weights available
Adjustable feet for easy leveling
Alarm for when system or tank is near full (programmable)
| | |
| --- | --- |
| Display | Handheld digital |
| Storage Temperature | 2°F to 140 °F |
| Battery Life | Up to 35 hours |
| Battery Type | 9-volt |
| Warranty | 1-year |
F2C brings you a refrigerant scale that is quite possibly the simplest model to operate. It will hold up to 220 pounds and measures with a resolution to three decimal places. The no-slip scale top and corded handheld digital control display store neatly in the carrying case.
You can zero your weights and get the tare weight with the push of a button, and once the scale is level, you are ready to go. The adjustable feet and ability to use inside the case help you level the scale on any terrain.
The platform is 9 inches wide, which will accommodate most residential and commercial tank needs. The higher weight capacity can also benefit more recovery options. The accuracy is the key factor in this model, and with thousandths increments, you won't have to guess if the system (or the tank) is full.
While this simple model from F2C does come with a 1-year warranty, it can be frustrating trying to make a claim. Compared to most other companies and manufacturers on this list, F2C is rather stingy and challenging to get a hold of. You will need to carefully read and understand the warranty and claim process before making the call.
Pros
Turn on and go style readings
Carrying case can accommodate the scale and tanks if needed
Accurate to 0.005 pounds
Cons
Batteries are not included
Warranty claim can be a hassle
| | |
| --- | --- |
| Display | Handheld LCD |
| Storage Temperature | 40°F to 135 °F |
| Battery Life | Up to 200 hours |
| Battery Type | AA (5 needed) |
| Warranty | – |
The Elitech LMC-200 is one of the best budget models available. However, there are a few reasons the scale is so affordable. While it does boast a capacity of 220 pounds, the scale doesn't adjust for leveling. If you don't have a level place to set the scale, you may not get an accurate reading.
The non-slip grip tread on the scale platform will hold most standard sized tanks. There are also two other models with higher weigh capacities (up to 330 pounds) if you need a larger weight for recovery.
One of the most significant downsides is that there isn't a hard carrying case. It does come with a transportation bag that the unit fits in, but it doesn't do anything to protect the unit. You also have to purchase the batteries (it requires 5 AA batteries for operation). It is recommended that you purchase rechargeable batteries and a small charger to carry with you.
The good news is that the support, warranty claims, and all concerns are handled in the US by trained technicians. While you may be on hold for a while, you don't have to go through automated means or frustrating claims services to get a person who understands whats going on.
Pros
High visibility LCD with battery level indicator
Control box stores on back of unit
Rugged and durable aluminum design
Cons
No hard case for storage
Not adjustable for leveling
How Refrigerant Scales Work
Refrigerant scales work much like a bathroom scale on the basic level. You place the refrigerant tank on the platform, and a display will show you the weight of the tank and the refrigerant it contains.
If you are filling a system from the tank, you can watch as the weight of the tank on the scale decreases, knowing exactly how many pounds or ounces you have added to the system. Likewise, if you zero out the weight with an empty tank on the scale, you can see how much refrigerant you have recovered from a system.
These numbers will give you precise measurements (usually to either a tenth or hundredth of a pound), so you know how much to charge the customer, how much refrigerant is left in your tanks, and how much you need to use to fill the system to proper levels.
While you can use the pressure on the gauges to get close to the correct amount, a scale will tell you exactly. Having the exact amount of refrigerant in the system will prevent overheating, prolong compressor life, and make the entire system more efficient.
All About EPA Regulations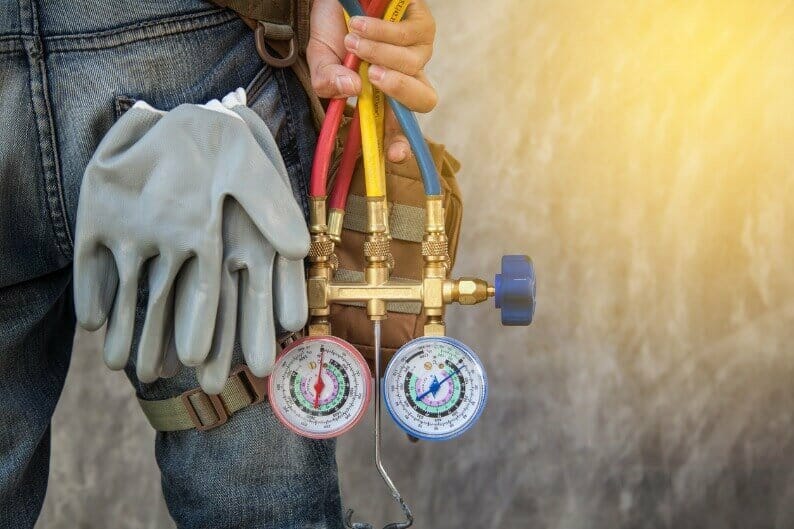 If you are going to work in the HVAC field as a technician, you will need to be EPA certified.
The most common certification is the EPA 608, which has four tiers. If you are in the automotive AC field, the EPA 609 certification is the one you need.
To become EPA certified, you will need to take and pass the written exam.
This exam is offered as a part of most HVAC technician certifications and offered through most of the HVAC technician schools near you.
Passing the exam means you can purchase, use, collect, and dispose of refrigerants.
The EPA 608 Types tell you which refrigerants you can work with. Type I deals with small appliances, while Type II deals with high-pressure refrigerants (except motor vehicles and small appliances).
Type III certification allows you to work with low-pressure systems. If you pass all three sections, you will be Universal certified, meaning you can work with any refrigerant (except motor vehicles, that is the 609 certification) or system that uses refrigerants.
You can self-study for the exams and take them on your own without going to a tech or trade school. Esco Institute, for example, sells all the required study materials and has the proctors to perform the exams to get you certified. There are others as well if you prefer to go elsewhere.
If you are interested in being certified as an HVAC technician (beyond the EPA certification), you can read about the process and how to enroll in our HVAC training and classes article.
How to Weigh Refrigerants
There are two types of weight for refrigerant work, weigh-in, and weigh-out. The weight is compared to the system, not the refrigerant tank. So weighing-in means you are adding from the tank to the system, where weighing-out means you are taking from the system into the recovery tank.
To weigh-out you need to connect your manifold and gauges with your refrigerant hoses to the system and your recovery tank. With the tank on the scale, you can open the valves to remove the vapor or liquid and determine how much is being removed. This is a great way to diagnose a system to find out if the fault was due to over or undercharging the compressor.
For weighing in, the system should be completely vacuumed to 30Hg, or 500 microns, and hold a vacuum for at least 10 minutes. You will want to fill with liquid refrigerant instead of vapor as much as possible.
In the tanks, the refrigerant is split into a gas and a liquid. When you put the tank upside down, the liquid will come out first.
As you fill the system, the weight of the tank will change. You read the display to find out how much of the refrigerant has left the tank and entered the system. Of course, you need to know how much refrigerant (in pounds) the system needs. A 2-ton R-410a system, for example, may need 12 or 12.5 pounds.
Knowing this number will allow you to add the correct amount of non-pressurized (liquid) refrigerant before starting the system.
Safety Tips When Handling Refrigerants
All refrigerants are chemicals. As such, there are inherent risks when using them. These risks, both to you and the environment, are why EPA certification is required.
Aside from chemical burns, you can suffer frostbite symptoms if exposed to the vapor or liquid; the high pressure can also cause cuts and abrasions to your skin.
Because some refrigerants are CFC-based (R-22, for example), they pose a threat to the environment and the ozone layer. Always make sure your connections are secure before opening any valves.
When using electrical equipment, you will want to ensure the power cords are grounded, dry, and free of rips, tears, and frays.
Standard chemical safety is suggested as well. Gloves and eye protection are a must, and you may prefer to wear a filter mask to protect from inhalation, too.
What's the difference between HVAC EPA certification and Refrigeration EPA certification?
There is no difference in these terms. Both are the same EPA 608 certification, and since the 608 covers refrigeration, the refrigeration certification is included. However, beyond the 608, you can specialize in specific refrigerants. The R-410a certification, for example, is a thorough and all-inclusive certification for that refrigerant only.
Why do technicians use electronic charging scales?
Technicians use electronic charging scales for accuracy in filling HVAC systems with the required amount of refrigerant. Each system will need a specific amount of the refrigerant, and the only way to know for sure how much you have added is by weighing-in the amount. For diagnostic purposes, you can weigh-out the refrigerant as you evacuate the system to find out if it was over or undercharges.
Why is refrigerant recovery necessary and when is it performed?
Recovery is needed when you are opening the system, replacing components that the refrigerant flows through (such as the compressor), repairing leaks, or when changing the system. It is performed with the system off and powered down and usually before any other repairs are made.
What happens if you put too much refrigerant?
Over-charging the system will make the compressor build-up the liquid, which can flood the compressor, shorting out the electrical components. It can also create too much pressure (known as sub-cooling), which shortens the life of the compressor and can cause other problems within the system.
What are the signs of an AC system overcharged with too much refrigerant?
There are several signs of an overcharged AC system. The most notable comes from the condenser unit and the compressor. The compressor could cycle on and off intermittently, have high-pressure readouts, sub cooling, shut down, or shorting of the system.
Finding the right refrigerant scale for your specific needs is an essential requirement for all HVAC technicians. The scale will allow you to know how much refrigerant was added, so you can properly charge the customer. It also allows you to know how much refrigerant was removed to diagnose further any issues the system has or had.
While the perfect scale is a judgment call for each tech, there are many to choose from. If you don't know which one to pick, we suggest you start with the top pick, the Robinair TIF9010A. It offers you a value for the price, easy to use, and a carrying case to prevent damage and increase portability.
Last Updated on July 16, 2021
Latest posts by Ian Haynes
(see all)