Winters aren't getting any easier: high winds, extreme drops in temperatures and cold, overcast days. Keeping warm in winter can be expensive. Outdated or older HVAC systems may keep your temperature up, but they also raise your energy bill quite a bit.
Heat pumps are economical solutions to both problems. Not only can they control the temperature in your home, but they also do so more efficiently than almost any other HVAC system around.
While there are many brands, styles, and types of heat pumps, one of the most notable are made by Bosch. If you are interested in what heat pumps are or want to know if Bosch is the answer, you're in the right place. Let's review Bosch heat pumps and find out if they make a solution perfect for you.
Overview Of Bosch Heat Pumps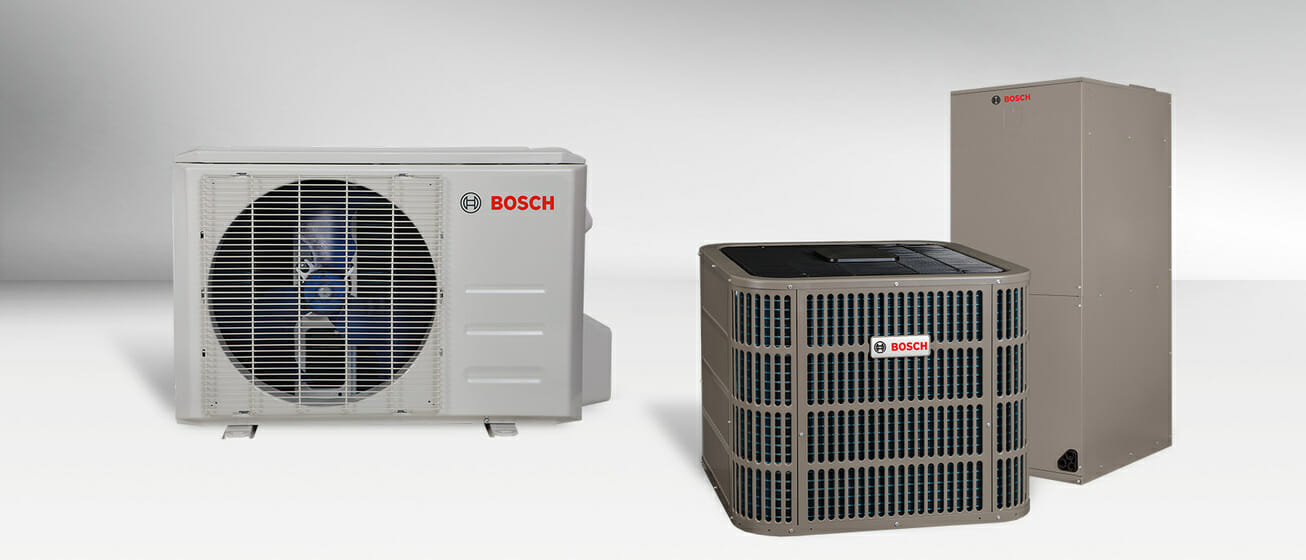 Bosch is the name brand behind the company The Bosch Group. The heat pumps are manufactured by the Bosch HVAC division that also houses Buderus Broilers and Florida Heat Pumps.
While the company may not be as easily recognizable as Goodman or Carrier, they aren't without their own clout. Bosch has served residential and commercial HVAC needs for decades and each year continues to produce new and innovative systems.
Their products are durable and affordable, with costs throughout the entire lineup (which is extensive) hovering equal to or slightly higher than the industry average. While their warranties are also about average, you can expect between 5 and 20 years of coverage, depending on what type of system you buy and how it is installed.
Bosch also produces some of the most efficient systems for their price range, with a company-wide SEER average of 17.5, which is quite high.
You will also find value in their selections with ducted and ductless mini-split systems, air to water, air to air, and water to air setups. If you need a heat pump, Bosch definitely has what you need.
Understanding Heat Pump SEER Ratings & Tonnage
Most HVAC systems are rated on their energy efficiency. One of the most popular rating systems is known as SEER, or Seasonal Energy Efficiency Ratio. It is the comparison between the wattage intake and BTU output of the system. A higher rating means a more efficient machine.
Heat pumps, though, are also measured in HSPF, or Heating Seasonal Performance Factor. Like the SEER, the HSPF is also the ratio of heat output over electrical input. HSPF is a smaller rating, usually between 8 and 10 HSPF, where SEER ratings average between 16 and 22.
Bosch heat pumps are all over the spectrum, with higher-end models seeing over 20 SEER and 10 HSPF and more budget-friendly models coming in much lower (around 14 SEER and 8 HSPF).
Another factor of measurement is called tonnage. A ton is the equivalent of 12,000 BTUs, or how much energy it takes to melt 1 ton of ice, at sea level, in 245 hours. Most HVAC systems range between 1 and 5 tons, or 12,000 to 60,000 BTUs.
When measuring your home for the properly sized unit, a contractor will perform what is known as a Manual J inspection. This will calculate the exact sized system needed. If you are looking for a more general guide, you can find your size by going with the general formula of 20 BTU per square foot.
Bosch Heat Pump Range (Side by Side Comparison)
Bosch heat pumps run the gamut from style, size, and capabilities. The main categories are ductless mini-split systems, inverter ducted systems, standard heat pumps, or entry-level HVAC heat pumps.
The following chart shows how each model offered by Bosch differs. We showcase the size range, SEER and HSPF ratings, as well as cost with and without installation. You can find all of the information here to help you make the best decision possible.
| Heat Pump Model | SEER | Ton | Home Size | Compressor Type | HSPF | Cost (Unit Only) | Cost + Install |
| --- | --- | --- | --- | --- | --- | --- | --- |
| Climate 5000 Ductless System | 22 | 1 to 4 | Up to 1250 sq ft | Two-stage | 9.6 | $1980 – $2500 | $4000 – $4500 |
| Climate 5000 Ductless System (2.0) | 25 | 1 to 4 | Up to 1250 sq ft | Two-stage | 10.8 | $2135 – $2650 | $4135 – $4650 |
| Inverter Ducted Split System (IDS) | 18.5 | 1 to 4 | Up to 2400 sq ft | Two-stage | 9.5 | $1500 – $4000 | $3500 – $6000 |
| Inverter Ducted Split System (IDS 2.0) | 20.5 | 1 to 4 | Up to 2400 sq ft | Two-stage | 10.5 | $1700 – $4200 | $3700 – $6400 |
| Inverter Ducted Packaged Unit | 19 | 3 or 5 | Up to 2400 sq ft | Two-stage | 10 | $1500 – $4000 | $3500 – $6000 |
| Greensource CDi Series SM Rev C | 30 | 2 to 6 | Up to 3200 sq ft | Two-stage | 4.7 COP | $3500 – $5600 | $13500 – $30600 |
| Greensource CDi Series SM Rev A/B | Up to 32 | 2 to 6 | Up to 3200 sq ft | Two-stage | 5.1 COP | $2,700 – $5,600 | $10270- $30600 |
| Greensource CDi Series SM Split | 33 | 2 or 5 | Up to 3200 sq ft | Two-stage | 5.1 COP | $2,700 – $5,600 | $10270- $30600 |
| Greensource Si Series CE | 28 | 2 to 6 | Up to 3200 sq ft | Two-stage | 4.5 COP | $2,700 – $5,600 | $10270- $30600 |
| Greensource i Series SV | 18 | ½ to 6 | Up to 3400 sq ft | Single-Stage | 5.2 COP | $2,700 – $5,600 | $10270- $30600 |
Bosch makes several residential heat pump solutions. They are split into primary groups (air to air and geothermal–water to air– systems). Each primary category also has several models within its line.
Most of the models are updated versions of a previous model, and the latest version is the one you will find the most information for. However, because of the warranties and part replacements available, each unit listed below is still currently offered through online sales, contractors, and installers.
Bosch Air To Air Heat Pump System
Air to air systems are the most common type. These are the units with a condenser model on the outside and an air handler or wall cassettes inside. The Climate 5000 series is the most popular of them all, and the Inverter Ducted Systems (IDS) have split and package models available. Let's take a look.
Climate 5000 Ductless System
The climate 5000 series has two options to choose from. The original model is an efficient ductless system that can be used as a single unit or a multi-zone system. Each wall cassette can handle between 9,000 BTUs and 48,000 BTUs allowing you to cool spaces and rooms up to 1250 square feet.
The Climate 5000 can also handle up to 4 cassettes per condensing unit (outside heat pump portion) for a total of 4 ton capacity. One of the best features is how efficient the model is. With up to 22 SEER, you can see a drastic drop in your energy bill each month compared to your normal central air conditioning unit.
These models are also extremely quiet. With a noise range between 24 and 56dB, the Climate 5000 is one of the quietest operating systems on the market. Wireless communications, smart thermostats, and multiple-unit install capable, the Climate 5000 system is among the leaders for those that can afford it.
Climate 5000 Ductless System (2.0)
The newer model, Climate 5000 2.0, has been out for a couple of years now. It takes an already great system and makes a few small improvements. While most of the system is identical to the original Climate 5000, the 2.0 version has some notable upgrades.
First, it is even quieter. With a low-speed volume of only 20dB and a high speed reaching only 54dB, it is even quieter than before. To put it in context, a normal conversation in a quiet room will rate about 42 to 45dB.
The other significant improvement is in efficiency. Jumping from 22 to 25 SEER, you get even more savings in the summer. It also increases the HSPF from 9.6 to 10.8, making this one of the highest efficiency units year-round.
There is more, though. Aside from the higher price tag, which is the only downside, the 2.0 system also allows for the use of the Bosch HyperHeat System. This is a unique system that allows for heating and cooling in temperatures down to -22 degrees Fahrenheit.
All Climate 5000 systems come with a 10-year warranty and allow for wired or wireless thermostat use, compatible with the Follow Me feature to read and maintain temperatures in occupied rooms.
Inverter Ducted Split System (IDS) & (IDS 2.0)
If you currently have a standard central air conditioner and are looking for an upgrade, the ducted heat pumps from Bosch are your best bet. These models can replace your current system and will utilize your existing ducts and vents for airflow.
Both the IDS and IDS 2.0 are exceptional machines, and in this case, the 2.0 is not a version upgrade but a completely different model. However, they share a lot of similarities.
Both models use inverter technology. This is a fully modulating inverter that takes all temperature readings (internal, external, humidity, etc.) and adjusts the entire system's speed to be more efficient and run smoother.
The pumps, refrigerants, and lines are all the same, and there are only a few minor differences between the IDS and IDS 2.0. The biggest difference is in the evaporator coils. The original model uses copper coils with aluminum fins, where the 2.0 uses all aluminum.
The other main difference is in the fans of the outside units. The 1.0 model uses a standard permanent split capacitor (PSC) fan motor. This 2-speed fan is efficient enough to cool the coils as needed but not as efficient as the Electronically Commutated Motor (ECM) of the 2.0 model. This fan motor has a variable 10-speed function to better cool and runs more efficiently.
This also translates to energy efficiency differences. The 1.0 is excellent, with a SEER of up to 18.5 and an HSPF up to 9.5. The 2.0 model, though, is slightly better with a 20.5 SEER and 10.5 HSPF ratings.
Inverter Ducted Packaged Unit
The Inverter Ducted Packaged heat pump (IDP) Is similar to the two IDS systems with a few exceptions. First and most important, this is a packaged system. That means that the entire unit from the pump, condenser, and evaporator are all located in the same cabinet. The fans work to cool all the coils at once, and the system is smaller, easier to install.
It still connects to your home's ducting, replacing your existing central system. It is also highly efficient. With up to 19 SEER and 10 HSPF, the IDP is one of the most efficient packaged systems available. Like all other Bosch systems, it will qualify for the tax credit (more below).
The downside is that the IDP isn't designed for every home. It only comes in two sizes, either 3 or 5 ton. If you need a smaller system or happen to fall in the middle at 4 or 4.5 ton, you won't see as much efficiency with these units.
Both models, though, utilize the 10-speed ECM motor and offer extra-quiet operation. If your home can use this size, it is a decent option, especially for upgrades or replacement of other HVAC ducted systems.
Bosch Water-to-Air Geothermal Heat Pump Reviews
Geothermal systems use water to cool or heat the air. As the water circulates, it removes heat from the air. The air is then pumped through the system, pushing hot air through your vents. While these systems are expensive to install and set up, requiring professional installation, they save you a lot of money.
In most cases, the efficiency is so high and running costs so low you can see up to 70% (or more) drop in your annual energy bills. Bosch makes several water-to-air heat pump systems, as we have outlined below.
Greensource CDi Series SM (Rev C) & (Rev A/B)
Greensource is the name of Bosch's most popular and well-reviewed geothermal heat pump line. There are several models in the line up including the CDi series. This series features two major revisions, Rev C and RevA/B.
The Rev A/B is the older version that focuses on heat recovery, low maintenance, and high output. With this model, you get a two-stage pump that can produce warm air down to temperatures of -22 degrees. This means you won't need a supplemental heat source in the coldest part of winter.
Rev C is a slightly more advanced model with improved communications through a dedicated mobile app, thermostatic controls, and extremely low operating costs. Once installed, you can save up to 70% of your annual energy bills with this system alone. However, keep in mind that geothermal install is not cheap, with prices ranging between $10,000 and $25,000.
Greensource CDi Series SM Split
The CDi Series SM Split model is also highly efficient, with SEER ratings topping 30 and HSPF over 10. However, the downside here is that this model only comes in two sizes, either 2 or 5 ton. Unless you fit these two sizes, you will have a unit that is too small or too large for your space, and that won't save energy or money.
The system, for those that can use 2 or 5 ton, will utilize the 2-stage high-efficiency compressor. This scroll compressor is among the most efficient compressors on the market, and not only does it save energy, but it has one of the lowest fail rates of any compressor type.
The Si Series CE is a package heat pump that comes in a compact cabinet for easier install and maintenance access. Not only that, but you can install this model horizontally, vertically, or counter-flow configurations. One of the biggest draws is the savings on energy costs. With up to 65% return, the system can pay for itself in as little as 5 years.
The Si Series also uses the Bosch Unit Protection Module, which not only helps prevent errors but helps you located and troubleshoot when they do occur. This makes repair calls minimal and, when needed, shorter and less expensive. Note that the Si Series CE is only available in 2 or 6 ton sizes.
The I Series SV is one of the older models that still stands tall today. It has multiple sizes to meet your needs from ½ ton to 6 ton and comes in a compact cabinet for an easier install. This package unit uses both scroll and rotary compressors (depending on tonnage) and still manages to produce over 18 SEER.
While it may not have the active filter cleaning features of the CDi Series, it does feature enough maintenance and installation features to keep costs down and is among the cheapest water to air heat pumps available.
What To Look For When Buying A Bosch Heat Pump
There are several things to consider before you pull out your credit card and buy the first heat pump you find. Bosch is among the leaders when it comes to options and models, and no other company has the variety and size lineups that they do.
The size of the heat pump is one of the most important factors. Other brands stick to the more normal 1 to 5 ton range like central ACs; Bosch has models that are 0.5 ton up to 6 tons on certain models. With single and multiple zone capabilities, you must get the right-sized unit for your space.
With size generally comes noise. Larger systems and heavier loads make more noise than smaller machines. However, Bosch is also a leader in noise reduction and management. Even the largest package unit will maintain between 54 and 60dB on high settings.
Of course, the brand model and type of heat pump will come into play. You want a reliable unit, one with the backing of a brand name. The model and type are also important, and choosing the right one will mean knowing capacities, costs, and installation methods.
The costs will vary significantly with Bosch models and types. Air to air systems will have a more standard installation cost. Similar to central air units, the average labor costs range around $2000. For geothermal water to air systems, though, the installation is much more intense.
With geothermal models, you can expect installation costs to range between $10,000 and $25,000.
Finally, you want to understand warranties. Bosch warranties vary between models and types, as is expected. Each individual model will have a slightly different warranty coverage and terms. Make sure you understand the warranties for the model type you select.
On average, though, Bosch offers a limited warranty of 5- to 10-years for parts and compressors, which is about the industry average.
Tax Credits When Buying A Heat Pump
The 2018 Federal Tax Credit program is designed to offer a tax credit for those that purchase high efficient systems for their homes. Heat pumps are a part of the program, which has been extended through 2021.
More than half of the available Bosch air source heat pump models qualify. That qualification list of requirements is short.
Unit must be new and installed in an existing home. New construction does not qualify.
Owner must live in the home of installation. Rental properties do not qualify.
Heat pumps must have a minimum of SEER 15 for split systems and SEER 14 for package systems.
Heat pumps must also have a minimum HSPF 8 (split) or 8.5 (package). Because of the HSPF minimum, geothermal water to air units do not qualify.
If you meet all of the requirements, you simply need to fill out tax form 5695 and submit it with your annual income tax paperwork. The tax credit for air course heat pumps is a flat rate of $300.
Calculating A Heat Pumps Power Consumption
Heat pump power consumption is something that a trained technician can figure out for you if you don't have the time or knowledge. However, with basic math and a simple formula, you can get a good idea of the cost of running the heat pump.
That formula takes into account the wattage, cost of electricity, hours, and days of use. A far more accurate formula used by technicians will also account for ambient temperature, humidity levels, and other changing variables. However, for a basic cost analysis, the standard formula is ideal.
You need to know the wattage (in kilowatts). This is found on the product label. If it is not listed, you can multiply the volts and amps to get the watts. Divide the watts by 1000 to get the kilowatts.
Next, you need to know how much you pay for each kilowatt-hour (kWh) of electricity. This number is found on your monthly electric statement or by calling your electric provider. US average is currently about $0.13.
Finally, you need to know how many hours per day the unit is running (not just turned on but actually running) and how many days you want to see the cost for.
The formula looks like this: kW x $ per kWh x hours run per day x days run over a period.
So, for example, if you have a 4200 watt system running at 13 cents per kWh for 4 hours per day and you want to know the cost for 90 days, you just plug in the variables and solve.
4.5 kilowatts x $0.13 x 4 x 90 = $210.60
Bosch Heat Pumps Vs. Other Brands
How does Bosch stack up against other well-known brands of heat pumps? Very well, as it turns out. In this section, we will compare Bosch to heat pump manufacturers Trane, Carrier, and Goodman.
Trane Vs. Bosch Heat Pumps
Trane produces some of the highest-end models of heat pumps and ACs on the market. With a high SEER rating across the board and low sound levels, they are performance machines at reasonable prices.
Trane's top models are all ducted or ductless mini-split systems. There are a couple of package units, but all of them are air to air heat pumps. If you need a geothermal solution, Bosch is your go-to.
Bosch heat pumps comparable to the Trane air to air models are slightly quieter, though they have a lower performance. The high-end Bosch system (Climate 5000 2.0) utilizes HyperHeat technology to run in temperatures as low as -22 degrees, though, where Trane models don't work so well below 20 degrees.
Bosch Vs. Carrier Heat Pumps
Carrier matches Bosch on performance and SEER ratings but has fewer models to choose from overall. However, Carrier is a more well-known name, making their models slightly more popular.
With Bosch, you will get performance and value but at a higher cost. While neither Carrier nor Bosch charges as much as Trane, Bosch is still higher than Carrier. Still, with that additional cost, you get a better warranty and more installation and model options.
Bosch Vs. Goodman Heat Pumps
Goodman is well known for their budget-friendly models. They only have 5 current heat pumps to choose from, and none are water to air geothermal. However, you will save a lot of money on costs (both unit and installation) compared to Bosch.
Goodman also comes with a 5-year warranty standard, but registering the purchase will extend the warranty to 10-years for all parts and lifetime for the compressor, something Bosch doesn't match. For savings, though, Bosch has higher SEER and HSPF averages and has more models that qualify for the tax credit.
Reasons To Hire An HVAC Professional To Install Your Heat Pump
Being a certified HVAC technician allows you to install, inspect, repair, and remove HVAC systems. This training and knowledge are extensive and well worth the tuition. However, if you have not been trained in HVAC systems, installing a heat pump may be well beyond your abilities.
It is also important to note that most (but not all) heat pumps come precharged with R-410a refrigerant. While this does allow for DIY install, if more refrigerant is needed or any needs to be removed, you must be certified by the EPA.
There are other reasons, though, that you should hire a professional to perform your installation.
Correct Model Will Be Supplied
When you work with a professional contractor, they will ensure that you receive and install the correct model. This goes beyond just the name brand and type of heat pump. Correct size, wattage, and BTUs for your space are also measured.
When it comes to safety, you have a lot to think about. Personal safety is always a top priority, but equipment and structure safety are also paramount. A professional contractor will ensure your safety and the safety of the heat pump and your home.
Increased Efficiency Due To A Correct Setup
All HVAC equipment will lose efficiency over time. As parts begin to wear out and age, the system will become less and less efficient. However, you shouldn't start out that way. An improperly installed system will not run as efficiently as it should, and a professional will ensure it is installed correctly.
Bosch recommends professional install and makes it a part of their warranty. While you won't lose warranty coverage for a DIY install (except with geothermal models), you get more coverage terms with a proper professional job. It is also worth noting that the Bosch warranty does not cover labor, which the contractor with their installation will cover.
Troubleshooting Tips & FAQs
In this section, we will look at common issues with Bosch heat pumps (and how to fix them) and answer some of the common questions.
Who makes Bosch heat pumps?
Bosch is the primary brand in the Bosch Group. They make and manufacture their own brand and oversee a few smaller brands like Buderus Broilers and Florida Heat Pumps.
Bosch heat pump not heating or cooling correctly
If the heat pump is not working properly, there are several causes for the issue. Some of these you can check or fix yourself. First, you want to check the filter. A clogged filter will block airflow, making the system not cool or heat.
You also want to check the thermostat, make sure it is working properly, and the fan selection is not in the on position. A fan running all the time can cause problems with the cooling of the coils and make the system not heat properly.
After that, you can check the outside unit and check for freezing. Generally a sign of low refrigerant or a leak, frozen condenser coils and compressor pumps will cause this issue. At this point, if it is frozen or not, you need to shut the system off and call a technician for diagnosis and repair.
Bosch heat pump trips breaker
If the breaker continues to trip, is it most likely a limit switch issue. This will require a trained HVAC technician to diagnose and repair, but you can try a couple of things first. Check that the room registers and ensure they are open. Slowing airflow can cause the system to draw more power.
Second, check the outside unit for freezing. This may mean low refrigerant, but it could also be a sign of the defrosting mechanism and sensor are malfunctioning or blocked. As before, if you see ice build-up, it is time to call a professional. The HVAC tech will be able to find the cause of the freezing and make any needed repairs.
Bosch heat pump blower doesn't run
If the blower pump isn't running, it can be a sign of a worn motor, bad electrical connection, or frozen condensing unit. Most of these will need to be checked and diagnosed by a licensed technician.
However, before you make the call, ensure the thermostat is on and working properly and that the temperature is set to a suitable range for the mode (heating or cooling). Also, check the air filter and vents for clogs or blockages.
How do I reset my Bosch heat pump?
To reset a Bosch heat pump, you have to power cycle the entire unit. First, shut the system off at the thermostat. Make sure the fan is set to OFF or AUTO and mode is set to OFF. Next, find the power switch on the heat pump and turn it off.
Finally, locate the electrical breakers (usually two breakers) that control the heat pump and turn them off. You will need to wait for the residual electrical charge to stop and the system to return to fail-safe mode. This takes between 3 and 5 minutes. After the waiting period, turn the breakers on, the heat pump switch to on, and then the thermostat controls can be turned back on.
Are Bosch heat pumps quiet?
Bosch heat pumps, either air to air or water to air, are generally quiet. They aren't the most silent on the market, but an average decibel rating of about 54dB across the board (and in all modes low through high) make them some of the quietest heat pumps available.
Bosch manufacturers and produces the largest range of heat pump systems on the market. With both ducted and ductless split systems, packaged units, and geothermal water to air (and a few water to water) heat pumps, you are sure to find what you need.
You will pay a little more for the brand, but you get a durable, reliable, and low maintenance system for your money. With an average 10-year warranty and excellent customer service, Bosch is a brand worth considering for your heat pump HVAC upgrade needs.
Our Rating:
(4.5 / 5)
Was This Article Helpful?