When winter rolls around, the last thing you want to worry about is the heating system in your home. You expect it to work, perform well and not raise your electric bill too much.
Installing a heat pump is a great way to have year-round comfort with high energy efficiency. A heat pump works to remove cold air from the home, replacing it with warm air. In the summer, the pump will reverse and work to cool the house. As a great alternative to central air conditioners, heat pumps are efficient, long-lasting, and economical.
Goodman heat pumps are among the leaders in the heating and cooling game, and you can enjoy the warmth they offer at virtually any temperature. This article will examine Goodman heat pumps to help you determine if the brand and style is a good fit for you.
Overview Of Goodman Heat Pumps
Goodman is known for their excellent residential air conditioners. What you may not know is that their mini split systems are also excellent. While they may not have the selection of other brands, their models still outperform many other options.
With a focus on affordability, Goodman uses copper piping and aluminum fins to better distribute the heat. They also have above-average SEER and HSPF ratings, with many models qualifying for the government tax credits.
The Goodman warranty is also one of the best. The standard limited warranty covers the entire unit for a period of 5-years. However, if you register the purchase online within 60 days, the warranty is extended to a lifetime for the compressor and 10-years for all other parts.
Not only will you get an economical heat pump, but you also get one that is simple to install, has a high SEER rating (up to 21 SEER), and can perform without supplemental sources in temperatures down to 25 degrees.
Understanding Heat Pump SEER Ratings & Tonnage
We've already talked about SEER ratings in this article, but exactly what is a heat pump SEER rating? It is essentially the ratio of electrical input (wattage) and BTU output of the machine. Better ratios make more efficient systems.
One thing that all heat pumps have in common is the ability to have extremely high SEER ratings. Compared to similar-sized central air conditioners, a heat pump will have a higher SEER rating and cost less to operate.
A good SEER rating for a heat pump is anything above 16 SEER. However, most mini split systems will see ratings between 18 and 22 SEER, which is much higher than the average AC.
When doing your research, you will also learn about tonnage. An air conditioner or heat pump is measured in tons. This is a simplified method of expressing the BTU output capabilities of the unit.
To understand, a British Thermal Unit (BTU) is the amount of energy it takes to melt 1 ton of ice in 1 day. 12,000 BTUs equal 1 ton. Heat pumps are measured in half-ton increments, from 1 to 5 tons (on average).
When you ask, "what tonnage heat pump do I need?" what you want to look for is the square-foot equivalent in performance. 1 ton units are great for spaces less than 500 square feet. A 2.5 ton unit is optimal for spaces up to 1600 square feet and so on.
Your installer, HVAC technician, or contractor can help you determine the ideal sized unit for your needs. Essentially, though, you should look for about 20 BTUs per square foot of space. This will give you an average BTU need, which you can then convert to tons.
Goodman Heat Pump Range (Side By Side Comparison)
Goodman has a wide range of home climate control systems. Best known for their affordable and durable central air conditioners, Goodman heat pumps are just as durable and reliable.
There are two series that offer different models. The GVZ series is the newest and offers higher SEER ratings and a more durable system. The GSZ series offers more affordable and easier to install. Below, we compare all 6 models from both series, side by side, to give you a better idea of the best model for you.
Note: The DSZ series is no longer offered by Goodman directly. As such, it won't be reviewed here. However, you can still find these models in sales and online. They have been replaced by the newer GVC model, which offers the same components, but has a much higher SEER rating.

If you are interested in the DSZ models, note the review for the GVZC20 will be identical with the exception of the 20 SEER model (compared to 18 and 16 SEER of the DSZ models).
| Heat Pump Model | SEER | Ton | Home Size | Compressor Type | HSPF | Cost (Unit Only) | Cost + Install |
| --- | --- | --- | --- | --- | --- | --- | --- |
| Goodman GVZC20 | Up to 21 | 2 to 5 ton | 1000 -3200 sq. ft. | Variable Speed Inverter | 10 | $2540 | $4985 |
| Goodman GSZC18 | 18 | 2 to 5 ton | 1000 -3200 sq. ft. | Dual Stage | 10 | $1885 | $4275 |
| Goodman GSZC16 | 16 | 1.5 to 5 ton | 600 -3200 sq. ft. | Dual Stage | 9.5 | $1475 | $3655 |
| Goodman GSZ16 | 16 | 1.5 to 5 ton | 600 -3200 sq. ft. | Single Stage | 9.5 | $1450 | $3522 |
| Goodman GSZ14 | 14 | 1.5 to 5 ton | 600 -3200 sq. ft. | Single Stage | 9 | $1120 | $3188 |
Goodman Heat Pump Reviews
Goodman offers the two series of heat pumps. Entry leveled GSZ models are more affordable and easier to install.
As one reviewer stated, "I am extremely happy so far and compared to other units that were evaluated it performs on PAR if not better. I have 2 zones installed and [the GSZC18] works perfect!"
The single model (so far) in the GVZC series (GVZC20) is a higher price point, a slightly more difficult install, and a much better energy efficiency. We detail the two lineups, their pros and cons, and features below.
The top of the range GVZC series only has a single model. The GVZC20 is the first Goodman heat pump with a SEER value over 20. In certain circumstances, the GVZC20 can see a SEER 21 rating.
While this isn't the highest on the market, it is among the leaders, and combined with the copper coils and aluminum fins, it becomes one of the most economical as well. Everything about this model is aimed at efficiency.
The condenser fan is fully adjustable with 0 to 100% speed controls. Two-wire communication allows thermostat inclusion without running new wires and connection to ComfortBridge WiFi controls.
One of the best things about the higher-end model is the variable speed scroll compressor. With a variance in speed from 0 to 100%, the compressor is one of the most efficient designs in the industry. Now that it is in a Goodman heat pump, you can experience the durability of Goodman and the efficiency of the best technology.
You also receive the Goodman warranty. This is a standard 5-year warranty on all parts if the purchase goes unregistered. However, if you register the purchase within 60 days, the warranty is extended to 10-years on all parts and lifetime protection for the compressor.
The GSZ series offers four models to choose from. However, it is important to note that this series is further split into two sub-categories based on compressor type.
The GSZ16 and GSZ14 are the base models utilizing a single-stage compressor and reaching a SEER 16 and SEER 14 rating, respectively. They are economical and efficient for their stature, but they aren't the best option for southern climates.
With the GSZC sub-category (GSZC18 and GSZC16), you get a dual-stage compressor that is slightly more expensive but offers a much better energy efficiency and lower runtimes. Both sub-categories are still considered entry-level or "basic" condensers.
Noise levels here are slightly higher than the GVZC20 model. However, they still come with a compressor blanket that helps minimize noise when the compressor is running, and most installations will result in less than 55dB when running in normal conditions.
You also get the 5-year warranty from Goodman, which will also be extended to 10-year parts and lifetime compressor if registered with Goodman within 60 days.
Considerations When Buying A Goodman Heat Pump
Before you head out and buy the first Goodman heat pump you find, there are several factors worthy of your time and consideration. While all Goodman units are built durable and with care, they all vary in enough different ways to matter.
Noise levels, for example, are across the board within the Goodman range. The top of the line model, the GVZC20, has a decibel range between 54 and 76dBA. Most of the noise is attenuated through the compressor blanket, but it can still get quite loud.
You also want to figure out how you will have the unit installed. Most mini split heat pump systems are designed in such a way that DIY installation is possible. However, if you are doing a conversion from central AC, or a new construction install, it is best left to the pros.
Professional installation can add as much as $4000 to the total initial cost, so you should make sure you get the highest quality and lowest priced contractor. We utilize Networx for finding local contractors fast and efficiently, and you can too.
You also want to consider the size of the heat pump. The condensing unit needs to be mounted on a slab or flat, level concrete surface. Vegetation, direct sunlight, and other installation factors can also add to the cost of lower efficiency.
Obviously, the initial cost is a factor you should budget for. However, with Goodman, you never have to wonder about the warranty. If you register online, all Goodman heat pumps will have a 10-year parts warranty and lifetime compressor warranty, regardless of cost, install type, or location.
In 2018 the US federal government set up a tax credit system to encourage high-efficiency purchases. Heat pumps are a part of that program which has currently been extended through 2021.
With the tax credit, you can get a flat rate $300 credit applied to your taxes with a qualifying system. To qualify, you must purchase a split system heat pump with a SEER rating over 15 and an HSPF factor over 8.5.
You must also own the home and live where the heat pump is installed, as new construction and rental units do not qualify. All Goodman heat pumps meet qualification standards. All you need to do then is fill out tax form 5695 and submit it with your annual income tax returns.
How To Calculate A Heat Pumps Power Consumption
Power consumption costs are simple to figure out. The formula consists of known variables and basic multiplication. There are a few things you need to figure out about your system and electrical costs first, though.
First, you should know how much you pay for electricity per kilowatt-hour (kWh). This information can be found on your energy bill statement or by calling your electric company. Next, you need to know the wattage intake of the unit. Generally, this will be on the label mounted on the unit itself.
Note: if the wattage is not listed, you can multiply the voltage and amps to get the watts. Multiply this number by 1000 to get kilowatts (Volts x Amps = Watts. Watts x 1000 = kilowatts).
Next, you need to determine how many hours per day the unit is running (on average is fine), and how many days you want to know the cost for (weekly, monthly, yearly, etc.).
Once you have all of that, you just plug in your numbers for the variables in the formula.
kW x cost per kWh x hours per day x days of use
For example, national averages have heat pumps using 4500 watts (4.5 kW) and run for an average of 6 hours per day. Electricity costs $0.13 per kWh. And use for 90 days over winter would look like:
4.5 x $0.13 x 6 x 90 = $315.90 to run the heat pump during the winter months.
| Brand | # Models | Average SEER | Average HSPF | Noise Level | Average Cost |
| --- | --- | --- | --- | --- | --- |
| Goodman | 6 | 16.5 | 9.25 | 56 – 76dB | $1725 |
| Amana | 7 | 16.5 | 9.5 | 56 – 76dB | $1850 |
| Trane | 13 | 17.25 | 10.5 | 49 – 75dB | $2200 |
| Bryant | 11 | 17 | 9.5 | 52 – 78dB | $1950 |
4 Reasons You Should Hire A HVAC Professional To Install A Heat Pump
Many heat pumps are capable of DIY installation, especially the mini split systems. However, without proper knowledge of electrical systems, refrigerant pressures, and other installation concerns, it can be complicated.
Professional HVAC technicians are not only capable and experienced but have the proper certifications and licenses to perform an install. Below we outline the top four reasons to consider professional heat pump installation.
Correct Model Will Be Supplied
When you hire an HVAC contractor, they will perform an inspection known as a Manual J. This will determine the exact sized model you need for best performance and highest efficiency.
While you can get a close estimate on your own, it is much wiser to have a professional explain what you need and ensure you get the right-sized heat pump.
One big concern for all installs is safety. Professional install minimizes danger concerns from incorrect installation, backward wiring, or other issues. While no installation is 100% safe, experience can mitigate the chances.
Personal safety, as well as the safety of the equipment, is vital. Having a professional installation will ensure your safety as well as the safety of the equipment. This extends to the setup and functionality of the system to comply with manufacturers' requirements and recommendations.
Increased Efficiency Due To A Correct Setup
When your system is installed correctly, following all procedures and set up, it will perform at its best. A licensed contractor will ensure that all aspects of the system are working as they should before leaving and that your system is optimal.
A DIY install may miss a few minor aspects that can easily impede airflow or temperature readings, dropping the entire system's efficiency up to a full SEER rating or more.
While Goodman doesn't penalize you for a DIY install, many brands do. It is important to check with the manufacturer's warranty to see if they require a professional install. You will almost always have some sort of warranty coverage, but it can be shortened.
Many brands will encourage professional installation by minimizing the coverage, parts covered, or coverage length. Knowing ahead of time will be your best option. However, your warranty will never be shortened because of a professional install.
Troubleshooting Tips & FAQs
Heat pumps have moving parts and electrical circuits. As such, there will eventually be issues. In this section, we will cover the more significant troubleshooting issues and answer some of the more common questions about Goodman heat pumps.
Goodman Heat Pump Not Heating Or Cooling Correctly
If your heat pump is running but isn't heating or cooling properly, there are a few steps that you can take to remedy the situation. First, check that the thermostat is set properly and make adjustments as needed. You also want to check the air filter and make sure it isn't clogged, dirty, or damaged.
If that fails to fix the problem, your next step is to check any auxiliary heat sources to ensure they are functioning properly. Finally, double check the condenser coils for debris or dirt build-up and clean accordingly. If those steps don't fix the problem, it is time to call in a professional.
Goodman Heat Pump Trips Breaker Or Freezes Up
If your heat pump is tripping breakers or freezing up, it can be a sign of many issues. Most of which require a certified technician and expensive tools to locate, diagnose and repair. However, there are two things you can check.
First, check the room registers to ensure they are clean and open. Second, you want to check the condenser filter for icing. If there is icing, it means the defrosting mechanism is malfunctioning. If neither of these is the solution, you need to shut the system off and contact an HVAC technician for repairs as soon as you can.
Goodman Heat Pump Blower Doesn't Run
When the blower stops moving, it can be a sign of a few things. The blower motor is the most likely culprit and will need to be tested. However, before that, you can check that the fan setting on the thermostat is set to auto or off. If it is set to on the plenum, air can cause overheating, which will shut the blower off.
If the thermostat is set to auto or off already, the limit switch or blower motor are the most likely culprits and will need an HVAC technician to test and confirm or make adjustments to the limit switch.
How Do I Reset My Goodman Heat Pump?
To reset your Goodman heat pump, you can find the reset switch on the control board of the outside unit. If you have a model with ComfortBridge communications systems, you can also turn the system off at the thermostat, wait for at least one minute and turn the system back on. It should reset then.
Are Goodman Heat Pumps Quiet?
Goodman Heat Pumps are quiet. While they aren't the quietest models in the industry, they are among the leaders in noise control. Most models will come with a compressor blanket to help attenuate and muffle any noise.
The result is a decibel range between 60 and 70 in most cases, which is relatively quiet for any HVAC component, including heat pumps.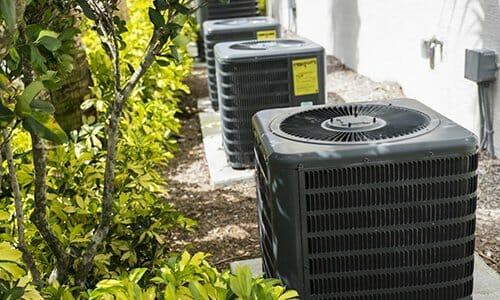 Goodman heat pumps are among the leaders in the industry for durability, reliability, and warranty coverage. However, there are other options, and Goodman may not be the best fit for you.
With only 6 models to choose from, Goodman heat pumps give you enough options to fit most situations. However, the limitation in options may prevent some homeowners from finding the perfect fit. For those that do, the lower initial cost and ease of installation are a great benefit.
Our Rating:
(4.3 / 5)