Searching for a new or replacement air conditioner brand can be difficult. Not only are there a lot to choose from, but each brand offers slightly different features and options to their consumers.
Whether you are looking for great deals, low maintenance, or high efficiency, you have your work and research cut out for you. Hopefully, we can help. In this Goodman vs. Carrier review, we will examine both major brands.
While we discuss the features and options, pros and cons, and what each brand offers in terms of model differences, you can learn what you like or need. Read on to find out if either Goodman or Carrier offers enough to make a purchasing decision.
Goodman Vs. Carrier Air Conditioners Compared: Which Is Better?
Goodman and Carrier are seen as great HVAC brands, but for different reasons. While Goodman is a consumer top pick for affordability, Carrier is seen as a premium brand. Therefore, it can be difficult to put one above the other. Here, we will attempt to show you the better option based on several major factors.
Reliability and Expected Lifespan
Almost all modern AC units will have a multi-decade life expectancy. Even though the warranties will only cover up to about half of that, it is difficult to find a brand or model that isn't expected to last 12 to 15 years or more.
Proper AC maintenance is, of course, critical to that longevity. If you follow the manufacturer's recommendations for how to clean the AC, both Goodman and Carrier can easily last at least 20 years with reliable, efficient service.
Winner: Tie. Both brands can easily last you the expected 12 to 15 years, and with proper care, you can almost double that expectancy.
Being able to communicate back and forth between customer service and the homeowner is a channel that some smaller brands tend to ignore more than they should. Unfortunately, larger companies aren't always the greatest at communication, and you can get a lot of run around.
With Carrier, not only do they give you multiple options and methods of contact, but you can more easily get in touch with an actual human. Carrier also cares a lot about after-sales communications and takes consumer feedback actively to help improve.
Goodman offers email and phone connections to get in touch with their customer service base. You can get your questions answered, warranty claims started, and much more. Pre- and post-sales communications are all available at any time.
Winner: Carrier has slightly more proactive customer service and communications than Goodman.
When pricing a new air conditioner, you will rarely buy the AC unit directly. Instead, the listed prices will include installation, labor, and equipment fees. What they do not include, though, is any extra work that may be needed to fully install the system (ductwork, equipment stands, shielding, etc.).
There are several factors that go into pricing for an individual unit. These factors will vary greatly and include things like where you buy, who performs the installation, the region of the country you live in, the size of the unit, and even the time of year you make your purchase.
With Carrier as a premium brand, you should expect to see higher prices. Their premium models, with installation, can easily top $12,000 or more. Goodman, on the other hand, is well known (and popular) because of their affordable pricing. A similar model from Goodman would range between $6,500 and $8,000.
Winner: Goodman has more affordable pricing on almost all models, sizes, and options.
Along with the price, the warranty is one of the most important factors overall. It is critical that you read through the warranty paperwork to know what is covered, what is not covered, the duration of the agreement, and what it takes to make a claim.
Each brand will be slightly different in their coverage terms, details, and claims processes. You will also find that some HVAC warranties are all-inclusive and have everything in the system covered under one portion of the warranty. Others have split warranties that cover the sealed system (compressor, coils, etc.) separately from the rest of the system.
Carrier uses an all-inclusive warranty coverage, protecting the entire unit for 10 years. On certain top-end models, there is a 12-year option. For Goodman, the warranty is split. In what is arguably the best warranty in the industry, Goodman covers the electronics and parts for 10-years.
However, their coverage of the sealed system covers the coils, refrigerant lines, and compressor. It is also a lifetime coverage (minus labor) in case anything ever goes wrong with the compressor.
Winner: With one of the (if not the) best warranties in the industry, Goodman is hard to beat in this category.
Costs of Parts and Future Repairs
Replacement parts are generally readily available if you know where to shop. Many local HVAC shops will cater to HVAC technicians and contractors but do sell to the public. You can also search home improvement shops, hardware stores, and online.
Replacements and the parts you replace can vary in cost depending on where you buy them, of course, but also who installs them. As a DIY project (most removable parts are capable), you can save a lot of money on the installation.
With both Carrier and Goodman, the replacement parts are affordable, and if added to your maintenance routine, you can save a lot on install fees. As a DIY AC repair project, you can even save more. You need to ensure you have the correct serial, model, and part number, though.
Winner: Tie. Both brands offer replacement parts direct to the consumer that are affordable and simple to replace.
Range of SEER Ratings Available
The Seasonal Energy Efficiency Ratio (SEER) rating tells you the potential energy savings that the unit is capable of reaching. SEER is a ratio of the energy used to run the system versus the BTU output of that system under full load. The higher the SEER value, the more efficient it can run.
With Goodman air conditioners, the range falls between 13 and 24.5 SEER. There are only two models with more than 20 SEER, but reaching 24.5 on a budget-friendly brand is extremely rare, making their top-end models even more worth the initial investment.
Carrier, on the other hand, focuses more on the higher-end models. With fewer low-end models, the range still falls between 13 and 21 SEER. However, with more models over 18 SEER than Goodman, the actual brand-wide average is higher (17.5 SEER vs. 16.6 SEER).
Winner: Goodman has a lower brand average but reaches higher SEER overall.
Humidity control requires sensors and smart home devices (thermostats) that can control a variable speed system to continue running to remove the moisture without changing the home's temperature.
By continuing to run after temp is reached will allow for more humidity removal and greater control over your system. Goodman doesn't include any additional humidity control technologies beyond the natural moisture removal abilities.
Carrier has a few internal technologies on their most premium models, but for the cost, it isn't worth it. Using a slightly cheaper model with a 3rd party smart thermostat will save you more money in the long run.
Winner: Tie. Both brands would require additional, 3rd party devices for further humidity control.
All air conditioner systems will make noise. How much noise depends on the build quality, attention to noise reduction by the brand, and where it is installed. For example, a poorly insulated system installed under a window can be loud enough to disturb daily activity inside the home.
Carrier has a lot of attention put on noise reduction. With rubber stoppers, noise blankets, and sound insulation, Carrier produces some of the quietest models on the market. Brand-wide, the range of noise production falls between 49 and 70dB.
Goodman has a few noise reduction methods in place, but they aren't as great as those from Carrier. However, as a brand, the Goodman models will fall between 70 and 74dB.
Winner: Carrier has a lot of noise dampening technologies in place, making their models some of the quietest in the industry.
Variable Speed Systems (Compressors)
Variable speed compressor systems are among the most advanced and efficient compressor styles available right now. These compressors are "always-on," running between 1% and 100% capacity. This never-off feature prevents the need for major energy draws to get the AC running.
Variable speed systems also run more efficiently because they can run at lower speeds to maintain the correct temperature set on your thermostat. The main downside is that these compressors are more expensive to manufacture and produce, and that cost is generally added to the price tag.
Carrier reserves their variable speed compressor models for the premium end of the line-up. There are two-stage compressors within these models, too, so you need to make sure you choose the right model.
Goodman has a couple of variable speed models also. Like Carrier, these are also found at the higher end of the line-up. While they also mix two-stage models (see below) into the mix, it is a little easier to see which models are the variable speed options.
Winner: Tie. Both brands offer variable speed options in their lines up that are both efficient and affordable.
Single Vs. Two-Stage Cooling Options
If you don't need the additional efficiency (and higher cost), you might want to look at the pros and cons of a single vs two-stage compressor model. While generally not as efficient, they do cost a lot less to manufacture, and that savings can be seen in the pricing.
Carrier offers two-stage compressors in their mid and premium range models that can perform well enough to offset the additional savings of a variable speed model. Their single stage options are still well built and produce a lot of cool air, but they are mostly found on the lower-end models that won't have as much energy savings potential.
For Goodman ACs, you can find single and two-stage compressors from the low-end models up the high-end options. All of them are durable, high quality, and affordable. While the cost savings upfront is highly noticeable, with Goodman, the long-term savings aren't as great as those made by Carrier.
Winner: Tie. Both brands bring you more affordable options in single- and two-stage compressor models.
Technology Integration and Developments
When buying a new AC, it is common to want the biggest and most advanced model available. However, with HVAC systems, the most technological models aren't always the best option for you or your home's needs.
Some brands, like Goodman, focus more on system technologies. This includes ComfortAlerts, which is an integrated diagnostics technology to help identify and prevent problems before they become expensive repairs. There are also user-friendly technologies like ComfortNet that allow smart home integration and mobile app use to take full control over your system.
Carrier focuses on a more universal approach, giving technology to the systems themselves, such as increased sound dampening and weather and corrosion resistance. However, they also incorporate wireless communications, mobile apps, and smart home connectivity.
Winner: Tie. Both brands offer both end-user and system-specific technologies.
Financing Options Available (Via The Brand)
Buying a new air conditioner may be required but isn't always in your budget, especially if it is an unplanned investment. However, HVAC brands realize this, and most make an effort to assist their consumers with financing options.
Carrier offers in-house financing as well as contractor-based financing. You can apply in person at any authorized Carrier dealer, or online. Once approved, you can have your install scheduled and enjoy low monthly payments along with your new AC.
Goodman skips the in-house options and instead lets their approved vendors handle the applications, processing, and payments. You get low monthly payments, split payment options, and even direct loans.
Winner: Tie. Both brands have extensive financing options in place.
When doing your due diligence and research, part of that will undoubtedly be a big part of the process. When you read consumer ratings and reviews, it is best to get as large of a sample as possible. You shouldn't expect similar issues for your installation, but anything listed can be possible.
You can also look to websites that work to collect as many reviews as possible. Carrier, for example, has an average rating of 3.1 out of 5 stars through Consumer Affairs. The overall satisfaction is more 4 stars than any other and holds a total of 107 ratings.
Goodman, also found on Consumer Affairs, has a slightly higher average of 3.3 stars out of 5. This includes a total of 154 ratings, with the majority being close between 4 and 5 stars.
Winner: Goodman has a slight edge in customer satisfaction according to ratings given by actual consumers.
Comparing Popular Goodman and Carrier Model Numbers
Now we can look at the individual models that are popular for both brands. Let's compare Goodman and Carrier on SEER, compressor cooling stages, and potential energy savings.
| Model Number | SEER Ratings | Cooling Stages | Energy Saving (%) |
| --- | --- | --- | --- |
| Carrier 24VNA6 | 26 SEER | 750 | 56% |
| Goodman GVXC20 | 24.5 SEER | 750 | 72% |
| Carrier 24ANB1 | 19 SEER | 2 | 54% |
| Carrier 24ANB7 | 17 SEER | 2 | 52% |
| Carrier Infinity 24 | 19 SEER | 2 | 54% |
| Carrier Infinity® 19VS | 19 SEER | 2 | 54% |
| Goodman GSXC18/DSXC18 | 19 SEER | 2 | 55% |
| Goodman GSX16 | 17 SEER | 2 | 54% |
| Carrier Infinity® 16 | 16 SEER | 2 | 50% |
| Carrier Performance™ 15 | 17 SEER | 1 | 50% |
| Goodman GSX14 | 15 SEER | 1 | 52% |
| Carrier Comfort™ 15 | 16 SEER | 1 | 48% |
| Goodman GSX13 | 13 SEER | 1 | 48% |
Overview of Goodman Air Conditioners
Goodman, as an air conditioner brand, is younger than a lot of the well-known brands we have today. Established in the mid-1950s, there are plenty of brands with 60+ years on them. However, with Goodman's innovations, dependability, and low cost, they quickly grew to one of the largest HVAC names in the business.
By the 2000s, Goodman was one of the most popular and prominent names in the industry and got the notice of several larger companies. In 2012 Goodman was acquired by Daikin in a merger that allowed the Houston-based company to remain in Texas, manufacturing and producing their own brand.
This merger helped establish Goodman as a powerhouse in the field with the backing of one of the wealthiest and largest Fortune 500 companies in the world.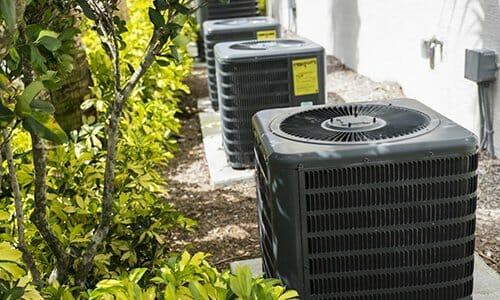 Quick Look At Goodman Air Conditioner Features
Goodman uses fairly high-quality internal parts considering their overall lower cost. Unlike a lot of budget brands, Goodman focuses on the working parts compared to a lot of external features. So while you will find Copeland scroll compressors, you won't find a lot of weather-resistant screws or panels.
However, all Goodman models are powder coated with a corrosion-resistant finish to help them hold up to the elements. Goodman also installs filter driers at the factory, saving you time and money on your installation costs.
The louvered airflow channels help remove heat and increase airflow around the coils to assist efficiency and allow the compressors to work less while maintaining output. All in all, you won't get a ton of exciting new technology, but you will get a powerful AC with long-lasting parts.
Pros & Cons of Goodman AC Units
In this section, we look at the positive and negative aspects of Goodman's air conditioners. It is important to know what to expect, both good and bad, of any significant investment you make.
What We Like
Best warranty in the industry
Corrosion-resistant powder coat
Low install & maintenance fees
3rd party thermostat compatible
Self-diagnosis built-in
High average SEER rating
Made in USA
Things We Don't
Only one model with variable speed compressor
Access panels can be difficult to access
Drain pans have been known to clog easily
Overview of Carrier Air Conditioners
The oldest air conditioner company is Carrier. Willis Carrier is credited with inventing the AC, and his company was the first to produce them back in 1902.
Originally sold to theaters and large department stores in the New Jersey summers, indoor air conditioning quickly grew in popularity and necessity.
As a brand, Carrier continued to revolutionize the industry with technology, efficiency, and performance. As of 2019, Carrier was the leading HVAC brand under the United Technologies Corporation. In April of 2020, Carrier and UTC split ways, and Carrier is once again on their own.
Quick Look At Carrier Air Conditioner Features
Carrier, like Goodman, has a lot of focus on the internal advancements of their models. The first brand to use Puron refrigerant exclusively (R-410a), Carrier also incorporates microtube technology to ensure faster heat transfer and a more efficient system.
Carrier also uses high-quality compressors and utilizes a lot more sound dampening features including rubber footing, sound blankets, and insulation. This creates a quiet system and has put Carrier at the top of noise level production lists.
For end-user benefits, look no further than the Infinity Temperature Control systems, including smart thermostats, routers, and sensors to help maintain your set temperature and run programs to make your system even more efficient.
Pros & Cons of Carrier AC Units
Now, we look at the pros and cons for Carrier. These important points will help you decide if the good outweighs the bad and if Carrier is a brand worth investing in.
What We Like
Available in all 50 states
Excellent warranty coverage
Great customer service
All models qualify for credits and rebates where applicable
Smart technologies included
Corrosion protection and sound dampening
Replacement parts readily available
Things We Don't
More expensive than other brands
Not the most efficient for the cost
Subject to inferior install with wholesale options
Here are frequently asked Goodman & Carrier AC questions.
Who makes Goodman air conditioners?
Goodman is still the brand that manufactures and produces Goodman HVAC systems. Goodman is now a part of the Daikin group, but their name, production plants, parts, and services are all retained by Goodman.
How long does a Goodman AC compressor last?
Goodman compressors come with a lifetime warranty, which implies they can last virtually forever. You should expect at least 20 years of service from your Goodman model, but well-cared-for units can last even longer.
What kind of compressor does Goodman use?
With such a great warranty, it should come as no surprise that Goodman uses Copeland scroll compressors almost exclusively. From their low-end models to the premium ones, you will find Copeland at the heart of all Goodman models.
How much does a Carrier Infinity Thermostat cost?
The actual cost for a Carrier Infinity thermostat will depend on several factors. If you are after the core thermostat only, you can find them for about $150. However, if you want the control, remote control, or remote control with router, those options will cost more. Expect to pay anywhere between $135 and $600 depending on the options you choose with the thermostat.
When shopping for a new air conditioner system, it is important to find a brand that offers great choices, high efficient models, and affordable units.
With Goodman air conditioners, you get reliable, durable units that are as efficient as any on the market. The Goodman name also ensures you receive the best warranty on the market (lifetime compressor), all at a highly affordable price.
For those with a larger budget and the need for more features and options, Carrier has a model for you. Whether you are looking for a wireless, smart HVAC system or a standard unit with better efficiency, you can find it with Carrier.
Whatever you decide between Goodman vs. Carrier, you are sure to get an air conditioner for your home that will last at least 20 years and perform as well as any other model out there.
Last Updated on April 18, 2022