There's no question about it – working hands-on is one of the best ways to learn any trade skills. This is even true of the HVAC industry, which remains a lucrative line of work for folks who like a lot of variety in their day to day work. But as you might expect, becoming an HVAC technician isn't a straightforward task. In most cases, you must start as an HVAC apprentice.
To earn that title and position, you'll need to seek out an HVAC apprenticeship program in your area. These programs can help you kickstart an HVAC career by engaging with many of the functions of a full-time technician in a hands-on environment. Apprentice programs also set you on a career track that can one day lead to mastery.
So, what are you waiting for? Check out this guide to learn about the qualifications for and benefits of seeking an HVAC apprenticeship. Soon enough, you'll see why so many tradesmen like you are choosing this productive option to seed a fruitful career.


Why Pursue an HVAC Career?
There are plenty of reasons to pursue an HVAC career.
In addition to the rewarding experience of working in an industrial trade, an HVAC career also imparts the following benefits to all of its participants:
An opportunity to help people and solve their practical problems on a personalized basis
An opportunity to remain active and avoid a so-called "desk job"
An opportunity to work on a wide variety of projects that grow your professional capabilities on the job
An opportunity to grow your desire from freedom and independence into a small business arrangement
2 Ways of Starting an HVAC Career
Currently, there are 2 primary ways to get an HVAC career off the ground. Be sure to consider both of these following options when determining if an HVAC career is right for you:
Being an HVAC Apprentice
Your first option for starting an HVAC career is by entering an apprenticeship program. As with almost all trade work for centuries, these programs provide you with real-world experience as coached by a current HVAC technician. This allows you to learn how to problem-solve in this field effectively while also learning the business of HVAC work. However, you are not likely to be paid for this kind of apprenticeship.
Getting Full Time Training from HVAC School
You can also choose to start your career in a technical school for HVAC work. These academic programs utilize a mix of classroom and laboratory education to build your skillset with the profession's numerous tools. These programs also test your skills in a controlled environment while introducing you to the latest techniques for the profession. Like all higher education, these programs naturally come with a tuition cost.
Becoming an HVAC Apprentice
Before you can become an HVAC apprentice, you'll need to follow these steps carefully:
Finding an HVAC Apprenticeship Program
Your first step on this productive path should involve researching and determining the best HVAC apprenticeship programs in your area. This can be done through several channels, all of which will require you to make personal contact with professionals presently working in the field.
To that end, your search should begin by contacting any and all HVAC-related unions in your area. Trade unions of this kind often offer apprenticeship opportunities with their members, as well as access to academic trade education scholarships. Among others, your local Union Association or SMART (Sheet Metal Workers Union) chapters are a great place to start on this front.
From there, you might consider contacting local HVAC business owners to see what opportunities they offer. While speaking with these professionals, be sure to ask about opportunities to act as an apprentice or assistant to one of their current team members. When combined with some formal education, these placements can be just as good as a standard apprenticeship.
HVAC Apprenticeship Qualifications
Once you've found an HVAC apprenticeship program that meets your needs, you should research any listed qualifications for that position. While precise qualifications will differ between groups, these are the most common qualifications you'll need to meet to become an HVAC apprentice:
Possess a high school diploma or GED
Be 18 years of age or older (some groups offer apprenticeships to high schoolers who are under 18)
Demonstrate some basic math and algebra skills
Possess a valid driver's license
Pass an initial drug test
Demonstrate the capability to work in a physically demanding environment
Provide proof of employment eligibility (potentially including proof of citizenship, transcripts, military discharge, or birth certificate)
Functions of an HVAC Apprentice
An HVAC apprentice may be assigned a variety of tasks when working alongside an HVAC master. Here are just a few of the most common functions performed by HVAC apprentices while on the job:
Installing, relocating, building, and servicing HVAC equipment
Installing and maintaining refrigerators
Installing and maintaining exhaust fan systems
Installing and maintaining hot water boilers and steam generators
Fabrication of minor sheet metal projects
Maintaining equipment and tools
Maintaining record keeping, including work and safety logs.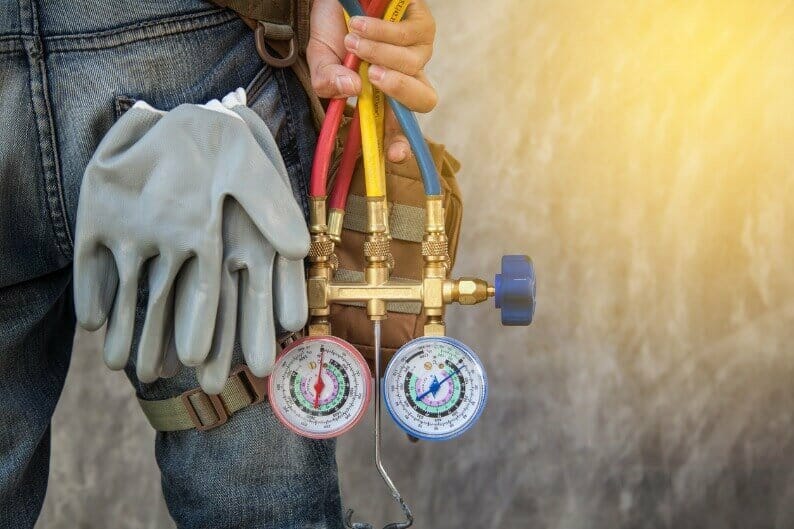 As for pay, a prospective HVAC apprentice should not expect almost any form of financial compensation unless it is explicitly outlined in their working agreement. These positions generally "pay" in their experience and access to master-level knowledge, so compensation pay is uncommon.
Career Options & Opportunities After an HVAC Internship
After completing your HVAC apprenticeship, you can begin to take the important steps needed to enter the HVAC profession. Most former HVAC interns follow this path after successfully completing their program's graduation requirements:
Get a license
Nearly all apprentices should apply for an HVAC work license in their state at the conclusion of their program. Otherwise, you will likely not be able to legally work in this field.
Start or join an HVAC business
Many former HVAC apprentices seek out work with an existing HVAC business after completing their program. This may even include gaining full membership in the team with which the apprenticeship was completed. Alternatively, you could also start your own HVAC business if you feel that your local market is presently underserved in this department.
Continue your practical education
Former apprentices should not rest on their laurels. Instead, they should continue to grow their understanding and seek out Journeyman status in the HVAC field. Over time, this professionalized skill set can even be enhanced to Master status, often through the support of an applicable trade union.
People Also Ask (FAQ)
Is an apprenticeship required for an HVAC career?
Not necessarily. In fact, a fair number of folks today start their HVAC career by attending a trade school. That being said, even those students often engage in some form of apprenticeship before entering the professional field. As such, this path is still considered a best practice.
What essential tools do I need as an HVAC tech trainee?
There are a wide variety of tools that any HVAC apprentice should own and use when necessary. These include:
Assorted screwdrivers
Pliers & Hammer
Headlamp
Assorted wrenches
Cutters
PPE (gloves, goggles, earplugs, face mask)
Drills
Can I get hired as an HVAC apprentice without experience?
This depends on your present position. If you are still a student at a high school or trade school, you may be eligible for an apprentice program sans field experience. If you are not in school, though, some amount of practical experience will likely be required.
How long does it take to become a journeyman HVAC technician?
The precise length of time here will depend on your local and state requirements for attaining this title. However, many certifying groups allow an individual to sit for a Journeyman exam after 4-5 years of experience in the field.
How do I join an HVAC union?
To join an HVAC union, you'll need to contact a local chapter of a trade union that covers HVAC work. This may include established groups like the Union Association or the Sheet Metal Workers Union. From there, ask about their joining requirements and be prepared to pay several fees for access to their resources.
Conclusion
As you can see, there are lots of benefits to seeking out an HVAC apprenticeship. After all, this path remains one of the most popular for folks who want to enter the HVAC installation and repair industry. Now's a great time to pursue an apprenticeship in this field, so be sure to take this opportunity to look for programs in your area. So long as you meet the qualifications, this guide could be the start of your next engaging and prosperous career.