HVAC Certification Requirements in California
California doesn't hold any certification requirements for HVAC technicians. This means that you can feasibly become a technician with little more than a high school diploma and the EPA 608 certification. You can study for these exams in virtually every area of California, including Los Angeles County (Pasadena), Berkeley, and Anaheim.
EPA 608 certification is a federally regulated requirement for every state, California included. This means even in San Jose, Modesto, or San Diego, you still need to pass this exam.
Once you hold this certification, you can technically start your career. However, it is highly recommended that you become officially certified in HVAC.
How To Become An HVAC Technician
The steps to becoming an HVAC technician in California, there are only a few steps to follow. The first of which is to obtain your high school diploma or GED. From there, your path can go one of two ways.
First, you can study for and pass the EPA 608 exam and become EPA certified. From here, you are free to try and get hired as an HVAC tech and begin your career. You can also skip the applications for now and head into an apprenticeship or internship for some experience.
The second path is to attend a trade school or college for proper HVAC training. These schools are designed to get you ready for the exams, proctor the exams, or offer you a degree in HVAC.
After graduation, you can also attend an apprenticeship or internship for more experience. After this, you should ensure you obtain your EPA 608 certification. At this point, using trade schools that offer post-grad programs can help you find work or apprenticeships.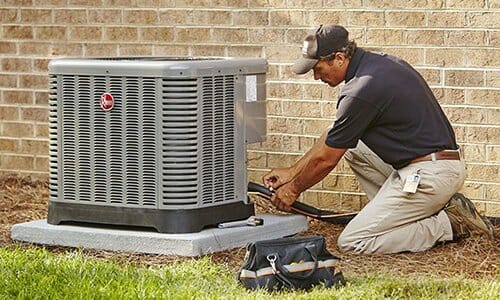 Quick Guide in Choosing Your HVAC School
There are several considerations to cover before you make your final decision. Below, those considerations are laid out and explained for you, so you know what to look for in a high-quality HVAC school.
The physical location of the school is important. You want to ensure that you have close proximity so that you can actually make it to class and get there on time. Schools close to your home also tend to have a more familiar atmosphere allowing you to feel more comfortable the first few weeks you attend.
However, close doesn't always mean great. A few extra miles away might be a better school in other areas that make it worth the extra drive time.
School accreditation is the process of systematically proving to the government bodies that the school maintains and offers a certain level of education standards. While schools are encouraged to go above and beyond these standards, the minimum is set and must be reached.
Non-accredited schools aren't viable when transitioning to the workforce, and their credits rarely transfer to another school. If you want to get a good foothold in your career or expect to transfer to a 4-year university and take your credits with you, make sure your school is accredited.
The education standards need to be pretty high to get accreditation status. However, this isn't the end-all tell of a high-quality school. Other factors go into the education you receive. You can discover these factors on your own by doing some research.
One of the best ways to determine if the school is a good fit for you is to visit the campus when classes are on-going. Talk to the staff to let them know of your interest in attending. Talk to instructors between classes and talk to current students to find out their take on the school after spending the money and attending themselves.
If all else fails, you can read online reviews. If you go this route, try to stay off of sites that are affiliated with the school (or the school's site itself) as they can easily be filtered to only show positive reviews.
Hands-on training is a must for HVAC technicians. No matter how much experience you may have, the industry always has something new. From tools to equipment, the lab work will give you the experience you need to be comfortable in the field.
If you plan to transfer your experience and education to another state, you may be required a specific number of lab hours. For example, Michigan mandates how many hours of hands-on education are required for state certification, as do many others.
Connects you to an Apprenticeship/Internship Program
One of the most important features a school can offer is post-graduate programs. These will include your internship or apprenticeship placement programs. Some schools even have job placement, too.
These programs are generally for life for all graduates, so you can always have that extra help finding a job or getting placed in an apprenticeship program whenever you need it.
Offers Customer Service Skills Training
Customer service skills are crucial to the HVAC tech. You will deal with customers that are mad, too hot or too cold, and most of the time, too busy to constantly explain things to you.
Learning how to talk to and handle your customers in the field is a skill you should possess, and the schools that offer a class or two in customer service are going to be better for you versus the ones that don't.
13 Best HVAC Schools in California
Below you will find the 13 best HVAC schools covering all of California. With a few scrolls, you will be able to find your next HVAC school and know what to expect when you attend.
HVAC Training School Costs in California
The national average for HVAC training has a wide range of $3,000 to $35,000. This large discrepancy is due to the various types of schools and certifications available. Trade schools usually run a few months and offer no certification or full certification.
In California, these schools cost an average of $3,500 to $8,000. However, you also have the option of attending a college or university to obtain an associate's or bachelor's degree.
The cost for these schools will depend on state residency, type of degree, and the number of credit hours needed for the degree. On average, in-state residents can expect to pay about $3,000 to $8,000 per semester, requiring 4 to 8 semesters to graduate.
Is HVAC a Good Career Choice in California?
In California, the HVAC career is taking off and not looking to slow down any time soon. The national average growth rate is 13% over the next ten years. In California, based on location, this will range between 9% and 14% growth over the same time period, according to Indeed.com.
California Entry Level HVAC Salary
Entry-level salary for HVAC techs in California range from $22 to $28 per hour. High-end companies do pay some technicians as much as $53,000 per year, according to Salary.com, but this is generally reserved for those that have more years of experience within the company.
California HVAC Tech Salary
For experienced techs with at least 5 years under their belt, you can expect the California wage range to be between $38 and $50 per hour. A lot will depend on the company you work for and the area in California where you are based out of.
For example, Los Angeles and San Diego average about $28 to $30 for experienced techs. However, Concord and Irvine will almost double that amount.
With an average of 9% higher wages than the national average, California pays well for their HVAC technicians. This makes the return on investment much greater than almost anywhere else. Washington State, Michigan, and most of New England will have a better cost to value ratio, but not by much.
Demand for HVAC Jobs in California
With a 9% increase in HVAC jobs, California is better than almost every other state in that regard. The demand for highly trained and well-qualified technicians is at an all-time high, and the next 5 to 10 years are trending towards even more growth.
With newer technologies pushing for advancement, trained techs that understand green and solar technologies will be in even higher demand.
In California, becoming an HVAC technician is a straightforward path, with only a few options on how to obtain your credentials. You can obtain your EPA certification and head directly into the workforce. However, it is a lot easier to get hired if you have proper training and are fully HVAC certified.
This article covered methods for finding the best HVAC school in California that meets your needs and time frame. Hopefully, you have been able to narrow down your choice and are working towards starting your new career today!
Last Updated on July 16, 2021