California is a large state that covers multiple climate zones and has vast regions of single seasons as well as mountains that experience all four seasons. The need and demand for qualified HVAC technicians has never been higher.
This article will cover the best HVAC schools in California. However, we will go deeper. You will learn what to look for to identify high-quality schools and what you can do to become a fully certified California HVAC technician.
HVAC Certification Requirements in California
California doesn't hold any certification requirements for HVAC technicians. This means that you can feasibly become a technician with little more than a high school diploma and the EPA 608 certification. You can study for these exams in virtually every area of California, including Los Angeles County (Pasadena), Berkeley, and Anaheim.
EPA 608 certification is a federally regulated requirement for every state, California included. This means even in San Jose, Modesto, or San Diego, you still need to pass this exam.
Once you hold this certification, you can technically start your career. However, it is highly recommended that you become officially certified in HVAC.
How To Become An HVAC Technician
The steps to becoming an HVAC technician in California, there are only a few steps to follow. The first of which is to obtain your high school diploma or GED. From there, your path can go one of two ways.
First, you can study for and pass the EPA 608 exam and become EPA certified. From here, you are free to try and get hired as an HVAC tech and begin your career. You can also skip the applications for now and head into an apprenticeship or internship for some experience.
The second path is to attend a trade school or college for proper HVAC training. These schools are designed to get you ready for the exams, proctor the exams, or offer you a degree in HVAC.
After graduation, you can also attend an apprenticeship or internship for more experience. After this, you should ensure you obtain your EPA 608 certification. At this point, using trade schools that offer post-grad programs can help you find work or apprenticeships.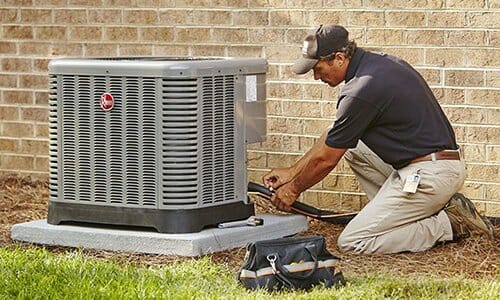 Quick Guide in Choosing Your HVAC School
There are several considerations to cover before you make your final decision. Below, those considerations are laid out and explained for you, so you know what to look for in a high-quality HVAC school.
The physical location of the school is important. You want to ensure that you have close proximity so that you can actually make it to class and get there on time. Schools close to your home also tend to have a more familiar atmosphere allowing you to feel more comfortable the first few weeks you attend.
However, close doesn't always mean great. A few extra miles away might be a better school in other areas that make it worth the extra drive time.
School accreditation is the process of systematically proving to the government bodies that the school maintains and offers a certain level of education standards. While schools are encouraged to go above and beyond these standards, the minimum is set and must be reached.
Non-accredited schools aren't viable when transitioning to the workforce, and their credits rarely transfer to another school. If you want to get a good foothold in your career or expect to transfer to a 4-year university and take your credits with you, make sure your school is accredited.
The education standards need to be pretty high to get accreditation status. However, this isn't the end-all tell of a high-quality school. Other factors go into the education you receive. You can discover these factors on your own by doing some research.
One of the best ways to determine if the school is a good fit for you is to visit the campus when classes are on-going. Talk to the staff to let them know of your interest in attending. Talk to instructors between classes and talk to current students to find out their take on the school after spending the money and attending themselves.
If all else fails, you can read online reviews. If you go this route, try to stay off of sites that are affiliated with the school (or the school's site itself) as they can easily be filtered to only show positive reviews.
Hands-on training is a must for HVAC technicians. No matter how much experience you may have, the industry always has something new. From tools to equipment, the lab work will give you the experience you need to be comfortable in the field.
If you plan to transfer your experience and education to another state, you may be required a specific number of lab hours. For example, Michigan mandates how many hours of hands-on education are required for state certification, as do many others.
Connects you to an Apprenticeship/Internship Program
One of the most important features a school can offer is post-graduate programs. These will include your internship or apprenticeship placement programs. Some schools even have job placement, too.
These programs are generally for life for all graduates, so you can always have that extra help finding a job or getting placed in an apprenticeship program whenever you need it.
Offers Customer Service Skills Training
Customer service skills are crucial to the HVAC tech. You will deal with customers that are mad, too hot or too cold, and most of the time, too busy to constantly explain things to you.
Learning how to talk to and handle your customers in the field is a skill you should possess, and the schools that offer a class or two in customer service are going to be better for you versus the ones that don't.
13 Best HVAC Schools in California
Below you will find the 13 best HVAC schools covering all of California. With a few scrolls, you will be able to find your next HVAC school and know what to expect when you attend.
Best Choice For: The top HVAC school in California
Brownson Technical is one of the top HVAC schools in all of California. They boast a high graduation rate and have working relationships with many of the top HVAC companies in the state.
Graduates are fully certified and prepared for entry into the workforce upon course completion. The graduates are sought-after by many companies because of the rigorous training the school provides.
With some of the best equipment and instructors in the business, your education will offer you opportunities in the industry that other schools don't have.
Best Choice For: Multiple HVAC certifications
When it comes to certifications, few industries are as diverse as HVAC. The required EPA certification combines with several other certifications to have you prepared for all current and future standards.
NATE, HVAC tech, as well as green, solar, and R-410a certifications, can all be obtained throughout your career. Or you can attend the NATC trade school for HVAC and start your career off with a majority of the recommended certifications.
The state of the art facility gives you hands-on training and offers you the chance to obtain all the needed certifications for a rewarding career.
Best Choice For: HVAC training for commercial use
Commercial HVAC systems aren't much different in theory to residential systems. However, they are generally much larger, more powerful, and have heavier load demands.
It takes a certified technician to work on these systems reliably, and ATI has the solution.
While everything you learn here can be used in the residential HVAC world, the school is geared towards teaching you theories, advanced technologies, and system requirements for commercial-grade HVAC systems. If you plan to run with the big guns, this school will get you prepared.
Best Choice For: Corporate HVAC career training
Another commercially focused school, NCE has labs and equipment learning to gear you for a career working for corporations.
If you ever thought about working directly for an HVAC manufacturer such as Trane or Goodman, NCE is the school for you.
You will learn about the tools and equipment needed for a rewarding career, but you will also find certifications for all commercial aspects. Their job placement and post-graduate programs are some of the best in the state.
Best Choice For: Hands-on training and learning
Limited book work and classroom time is a huge benefit to a lot of students. If you are the type that learns by doing instead of reading, the HVAC/R Training Institute might be your best shot.
They feature a sizeable lab-focused curriculum that teaches by doing. Their instructors are there to walk you through every step of the process, and you will learn about diagnostics, repair, installation, and removal.
There is classwork to be done, of course, and you can take your exams right on campus. Leaving with a full certification is only the first step in your new career.
Best Choice For: All around HVAC training
Modesto Technical College offers you a comprehensive course for HVAC certification with a hands-on approach. All HVAC aspects are covered, including refrigeration, commercial, residential and industrial systems.
Your job options open up when you graduate to include working in the foodservice industry with walk-in coolers and freezers, or storefronts with refrigeration cases.
You can also work in the standard HVAC repair field or head out to work in the commercial sector. With the all-around training provided by MTC, you can go anywhere.
Best Choice For: Exam prep and current HVAC standards
IBT has courses that bring you up to speed with the current state of heating and air conditioning. The classes are small in size and don't last too long.
You can graduate, take your exams, and begin working in the industry in the first year. If you need more time, flexible scheduling allows you to attend classes and do the lab work on your schedule.
Upon graduation, you will have all the tools you need to pass the EPA and HVAC tech exams, including those for OSHA and R-410a.
Pasadena, CA (Los Angeles County)
Best Choice For: Fast track to a new HVAC career
Capstone College has been in the game for over three decades. With that kind of loyalty to the industry, it is no wonder many local companies seek out their graduates to fill open positions.
With an individualized learning program, you get 1-on-1 training from some of the leading instructors in the area. Even with a full class, you feel like you are the only one attending, and the attention to detail will have you prepared for anything the real world can throw at you.
With a 9-month course, you leave the school ready for full-time employment in one of California's leading HVAC industry areas.
Best Choice For: Flexible schedules and online learning
San Diego City College has learning down to a science. With their HVAC career path class, you will get everything you need to start your career as an HVAC technician.
The classwork and book time are more prominent in this school compared to others. But don't let that fool you.
The lab and hands-on work here is some of the best in the industry, and you will get to work on current systems that you will come across on a daily basis when you start work.
Their flexible learning programs mean you can attend class online, in the evening or during the day, and most of the work is completed as you progress, so there is less stress and more time for learning.
Best Choice For: Financial aid and tuition assistance
If you are worried about how you will pay for school, look no further. UC Berkely has one of the best tuition assistance programs in the country, and they will go out of their way to ensure your education is paid for.
This includes grants, scholarships, and financial aid for those who qualify. Once enrolled, your career begins.
Lab and classwork learning are mixed in one of the most beautiful settings imaginable. By the time you graduate, you will be ready to work with any HVAC company in the country.
Best Choice For: Continuing education and career preparedness
LBCC wants you to succeed. Tuition is needed, of course, but it isn't the primary goal of this school. They take their students' goals and dreams to heart and see that nothing stands in your way.
They even offer a free tuition program (covers 2-years for LB high-school students) to help get you started.
The HVAC course is not easy, and you are expected to attend every class. Doing so will ensure that you have the needed education for an HVAC career when you leave campus.
The lab work is all hands-on, and most of the classroom work can be completed online if needed.
Best Choice For: Associate's degree programs
Mt. San Antonio College in Walnut, California, has one of the most prestigious programs available.
You can graduate with an associate's degree in HVAC and be well on your way to a rewarding career.
The near-future proof course covers everything from historical HVAC to current standards and includes green and solar futures of the industry.
With a hands-on approach and a classroom small enough to make you comfortable, Mt. SAC is the choice for those looking to get more out of their education.
Best Choice For: Future advancement in HVAC
Riverside City College has one of the fastest degree programs found in California. You can obtain your HVAC certification in just a few months, or continue on to a full associate's of science degree in the field.
Regardless of your choice, you will get a full HVAC education and exam prep for all required and recommended exams.
When you graduate, you will be a fully certified (or degree-holding) HVAC technician ready to apply at the top companies in the state.
HVAC Training School Costs in California
The national average for HVAC training has a wide range of $3,000 to $35,000. This large discrepancy is due to the various types of schools and certifications available. Trade schools usually run a few months and offer no certification or full certification.
In California, these schools cost an average of $3,500 to $8,000. However, you also have the option of attending a college or university to obtain an associate's or bachelor's degree.
The cost for these schools will depend on state residency, type of degree, and the number of credit hours needed for the degree. On average, in-state residents can expect to pay about $3,000 to $8,000 per semester, requiring 4 to 8 semesters to graduate.
Is HVAC a Good Career Choice in California?
In California, the HVAC career is taking off and not looking to slow down any time soon. The national average growth rate is 13% over the next ten years. In California, based on location, this will range between 9% and 14% growth over the same time period, according to Indeed.com.
California Entry Level HVAC Salary
Entry-level salary for HVAC techs in California range from $22 to $28 per hour. High-end companies do pay some technicians as much as $53,000 per year, according to Salary.com, but this is generally reserved for those that have more years of experience within the company.
California HVAC Tech Salary
For experienced techs with at least 5 years under their belt, you can expect the California wage range to be between $38 and $50 per hour. A lot will depend on the company you work for and the area in California where you are based out of.
For example, Los Angeles and San Diego average about $28 to $30 for experienced techs. However, Concord and Irvine will almost double that amount.
With an average of 9% higher wages than the national average, California pays well for their HVAC technicians. This makes the return on investment much greater than almost anywhere else. Washington State, Michigan, and most of New England will have a better cost to value ratio, but not by much.
Demand for HVAC Jobs in California
With a 9% increase in HVAC jobs, California is better than almost every other state in that regard. The demand for highly trained and well-qualified technicians is at an all-time high, and the next 5 to 10 years are trending towards even more growth.
With newer technologies pushing for advancement, trained techs that understand green and solar technologies will be in even higher demand.
How do I get an HVAC job in California?
To get a job as an HVAC tech in California, you need to have your high school diploma or GED. You also need to hold the EPA 608 certification (Type 2, 3, or Universal) and apply for jobs. If you need training, you should attend an HVAC trade school or college. If your potential employer needs work experience first, you can join an apprenticeship or internship to get the required on-the-job hours.
Can I get an HVAC certification license online?
You can take online classes for HVAC certification. However, lab hours may be required, which cannot be completed online. You also need to be in-person to take the required exams for full certification. This means that online certification cannot be obtained. However, you can do the bulk of the training online to help you reach your certification if needed.
Are there HVAC apprenticeships in California?
Through the California government website, you can search for current and future apprenticeships. You will also find apprenticeship listings in most major job search sites, such as Monster or Indeed.
Can I get into HVAC with no experience?
You can start an HVAC career with little to no experience. It is more difficult to find a long-term HVAC job without some experience, though. Expect your first couple of years to be lower-paying while working for smaller companies until you get the expertise required to apply with larger corporations.
How long does it take to get a degree in HVAC?
An HVAC technician degree is obtained through a college or university. Depending on how many existing credits you currently have (and in which field of study), you can expect 18 to 24 months of study for an associate's degree or up to 48 months for a bachelor's degree.
When is online HVAC programs advisable?
Online learning is always advisable. However, you need to know that you will not be fully certified until you complete in-person lab training and pass the EPA 608 certification exams.
What is the highest HVAC degree?
The highest available degree for HVAC/R is a bachelor's degree. Most 4-year universities offer a course, though they may not be degree-granting courses. Certification is almost always available, so check with the school to determine if it provides a degree or only a certificate.
In California, becoming an HVAC technician is a straightforward path, with only a few options on how to obtain your credentials. You can obtain your EPA certification and head directly into the workforce. However, it is a lot easier to get hired if you have proper training and are fully HVAC certified.
This article covered methods for finding the best HVAC school in California that meets your needs and time frame. Hopefully, you have been able to narrow down your choice and are working towards starting your new career today!