HVAC Certification Requirements in Kentucky
The state of Kentucky controls the HVAC trades and licenses through the Department Of Housing, Buildings, and Construction (HBC). The state requires an apprenticeship method of license acquisition that takes anywhere from 1 to 5 years to complete.
To work on your own, you must complete the apprenticeship through the journeyman level licensing phase. For contractors or those wishing to start their own business, you must continue through master license level.
How To Become An HVAC Technician in Kentucky
To obtain your HVAC technician license, you have two options. The first is the most formal, and lengthy process, usually done through a trade Union apprenticeship program. The second method involves trade schools and employment.
For Union Apprenticeship, you must first apply for the apprenticeship program, register your apprenticeship through the HBC and begin the apprentice journey through the union requirements.
This step adds courses, classwork, and hands-on, real-world training and generally lasts about 4 to 5 years. Once this apprenticeship is complete, you will sit for your journeyman license exam where you can then pass and being work as an HVAC technician.
The second method is shorter. You can attend an HVAC trade school (or college course) to get the classwork and lab lessons out of the way. Applying for an apprenticeship under a master HVAC technician who then puts you to work to obtain the required hours until you can sit for the journeyman exam.
The second method lasts anywhere from 1 to 3 years and must be registered through the HBC as well.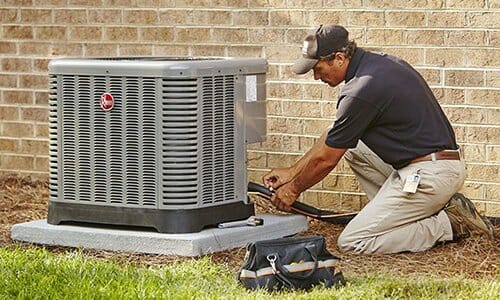 Quick Guide in Choosing Your HVAC School
Before you jump into the short-term programs and pick any school from a list, there are things to consider. Finding the right school matters a lot, and you can make the perfect match by thinking about a few important things before you enroll.
The location of the campus is critical to your success. A school that is further away can be challenging to get to in time, every day, or even during heavy traffic hours. If you have a job already, it may be wise to find a campus near work.
Depending on when the classes are (morning or evening), you may find better opportunities near home or work.
However, this shouldn't be the only deciding factor. A few extra miles up the road may afford you a better school or learning experience. The other following factors are just as crucial.
Accreditation is a process the schools go through with federal and state governing bodies. They must prove that their education system, instructors, lesson plans, and facilities meet or exceed specific minimums.
Non-accredited schools can waste your time and money. Their degrees or diplomas and certificates may not hold up when trying to enter the workforce. For those continuing their education, the credit received at a non-accredited school won't transfer, and you will need to spend the time and money to retake those credit-hour classes.
To find out if your chosen school is accredited, you can search the federal accreditation database at any time.
The quality of education goes far beyond accreditation. It would help if you visited the campus, take a tour, and talk with current staff and students. This will give you a feel of the entire process, let you see how well you fit in with the atmosphere, and if the campus is right for you.
Knowing the type of lab equipment, tools, and resources such as HVAC books and software will go a long way in telling you the school's true value. These are things you won't learn on the school's website.
Hands-on training or hours in the lab instead of the classroom are also crucial. While you are required to have class time to cover things like electrical theory, procedures, and customer service, the lab is even more important.
There should be a mix of classroom and lab hours in the course, with more time devoted to hands-on training.
Connects you to an Apprenticeship/Internship Program
In Kentucky, the apprenticeship is everything. You cannot become a licensed HVAC technician without it. Going it alone can be done, but it is a long and difficult process. Look for a trade school that offers post-graduate programs.
The apprenticeship programs help you apply, interview, and connect with apprenticeship openings in your area. The school has connections that help their graduates get selected first, which can be a significant advantage for you.
Offers Customer Service Skills Training
Finally, customer service is something often overlooked. As an HVAC technician, you will deal with customers daily. You will need to know how to talk to them, how to handle angry customers, and properly walk them through situations, expectations, and outcomes.
If you don't have any customer service training, make sure your school offers a class on customer service so you know what to expect.
5 Best HVAC Schools in Kentucky (Plus 7 Bonus Campuses!)
Below are the best HVAC schools in Kentucky, reviewed, compared, and rated for you. Scroll through and read up on the schools that interest you to make an informed decision about your future.
HVAC Training School Costs in Kentucky
School costs will depend on the type of school you attend and the duration of the course.
Trade schools offer shorter courses than colleges and will generally be a lot cheaper.
However, colleges and universities provide a more comprehensive program and cover more material.
For most trade schools in Kentucky, you can expect to have tuition costs that average about $4,000. Some schools will be shorter and won't offer exam testing, which makes them less expensive.
For college and university courses and degree-granting programs, you should expect to pay full tuition for the degree. This means an average price of $20,000 to $25,000 for an associate's degree and $40,000 to $50,000 for a bachelor's degree.
Is HVAC a Good Career Choice in Kentucky?
HVAC is a good career choice in any state. Kentucky is among the highest paid, though, which makes them an even better choice. The number changes depending on where you get your information, but the averages are the same.
Kentucky Entry Level HVAC Salary
Entry-level positions are part of the apprenticeship program and won't pay the full potential of the licensed HVAC technician. However, you can still expect about $21 per hour, according to indeed.com. This doesn't include bonuses, overtime, or other benefits.
Kentucky HVAC Tech Salary
Glassdoor.com states that the average range for experienced and licensed technicians in Kentucky can earn between $26,000 and $56,000 per year, with the average salary of techs with 2 – 5 years experience at about $38,609.
This will increase with more education and experience—the top 20% in Kentucky report annual salaries above $60,000.
With the cost of tuition, training and tools, the ROI in the HVAC industry is on the rise. You can expect a great wage to offset the initial costs of training, classes, tools, and other fees in Kentucky.
While it may take several years to become truly debt-free from student loans and other career costs, it won't take as long as other trades or career choices.
Demand for HVAC Jobs in Kentucky
The national average growth rate for the HVAC industry is about 13% for the next 10 years. In Kentucky, the state average is the same as the national average at about 13%. However, with the size, density, and population of Kentucky, this works out to a higher than average demand for qualified HVAC technicians.
If you want to start your career as an HVAC technician in Kentucky, now is the best time to get started.
Finding the right HVAC trade school in Kentucky can be a challenge. With so many to choose from, knowing which one is right for you is daunting. Add on top of that the requirement for an apprenticeship and the trouble is compounded.
Hopefully, this article has helped you understand what you need to become a licensed HVAC technician in Kentucky and shown you the best HVAC schools in the state for you to enroll.
Last Updated on July 16, 2021