Heating, Ventilation, and Air Conditioning (HVAC) is one of the country's largest and fastest-growing trade industries. Each state has different rules, guidelines, and laws governing the HVAC technician and their license requirements.
If you want to be an HVAC technician in Louisiana, you will need to find the best schools available. This article will not only showcase the best Louisiana schools but will also cover everything you need to know to be a fully licensed HVAC tech in the state.
HVAC Certification Requirements in Louisiana
When it comes to HVAC technicians in Louisiana, there are no state licensing requirements. As a technician, you are responsible for obtaining the EPA 608 refrigeration certification, but there are no primary requirements beyond this.
It is recommended that you have knowledge and understanding, which you can get through schooling or apprenticeships (see next section). As an entry-level technician, you don't need much more than a desire to work and an application.
If you want to become a licensed HVAC contractor, though, the road is a bit tougher. In Louisiana, you are required to complete the commercial application. Once approved, you will need to show proof of income over the previous year (in HVAC related income) that exceeds $10,000.
The final step is to take and pass all of the required exams. For the complete exam list, you can see The Louisiana State Board of Contractors' Department of Examinations and Assessment website.
You will need to take and pass (70%) the Business and Law and The Air Conditioning Work, Ventilation, Refrigeration, and Duct Work exam. The EPA 608 certification, NATE, and HVAC Excellence exams are also helpful (EPA is required).
How To Become An HVAC Technician in Louisiana
There are two main paths to becoming an HVAC technician in Louisiana. The first route is to go through an apprenticeship. You can find an apprenticeship through job search engines or looking up a national database for your area.
The apprenticeship route will have you working in the field under a master technician, covering classroom hours and leaning the trade and all the things that happen on a daily basis for the technician. This path usually takes 4 to 5 years.
The second path is to go it alone. After you have your high school diploma or GED, you can then attend a trade school, college, or university. Through these schools, you will get the classroom and hands-on lab hours needed to have entry-level knowledge of the HVAC industry.
You can also use the school's post-grad programs to find an apprenticeship, internship, or job as soon as you graduate. Most schools will offer the EPA 608 exam or preparation for taking the exam on your own.
After you have completed schooling, you are ready to enter the workforce. Depending on your goals, this may be enough for you. Or you may wish to transfer and obtain your HVAC degree. Either way, at this point, you can begin working and earning as an HVAC technician.
Quick Guide in Choosing Your HVAC School
Choosing an HVAC school can be challenging. Below are several factors that should be considered before you sign the enrollment papers.
Where is the school physically located? Proximity to home or work is a good choice as it helps you attend classes and on time. Being close to home can make schooling easier. But you also need to consider the route to school.
Traffic, time of day, and frequency of the classes will all play a part. It is also wise to look at schools slightly further away. Just because the school is the closest doesn't mean it is the best, only the most accessible.
The school should be fully accredited. Accreditation is the school's process proving to the governing bodies that it follows strict guidelines and meets or exceeds minimum educational standards.
The fall out for non-accreditation is massive and can impact your future, finances, and plans. Non-accredited credits will not transfer, meaning you need to pay for the credits and attend the classes again.
You may also have your application rejected by potential employers because the school accreditation is not present.
To find the quality of the education, you will need to visit the campus yourself. While you can learn a lot about the school online, you will only get a true feeling for the campus in person.
Most campuses will offer or welcome a tour. You should speak to current students, staff, and faculty to find out about the quality of the system, labs and learning tools used. Once you have a feel for the school and know about its education programs, you will see if it is right for you or not.
Hands-on training is the most important aspect of your education. In the lab, you will get experience with the HVAC tools of the trade, the equipment you will find in the field, and how to diagnose, repair, install, and remove HVAC systems.
Your school should have more lab hours than classroom hours so that you get the proper amount of hands-on training available.
Connects you to an Apprenticeship/Internship Program
Most trade schools and colleges will offer post-graduate programs that connect you to industry professionals to advance your career further. These programs can connect you with apprenticeship programs or internships that will help you get employment and further education.
While you may not be required to attend an apprenticeship in Louisiana, it is never a bad idea. If you want to take these extra steps in your career, the post-graduate programs through your chosen school will be a huge benefit.
Offers Customer Service Skills Training
Customer service is a large portion of the technicians' job duties. If you do not have prior customer service training or experience, you should ensure you get it through these courses.
Not every school will have a class on customer service. If this is something you need, it will be a larger portion of your school decision.
11 Best HVAC Schools in Louisiana
The 11 best HVAC schools in Louisiana are listed here for you, reviewed, and compared. Each one is sectioned by region. Scroll through and find your ideal HVAC school.
Best Choice For: Jump starting your HVAC career or starting your own contracting business
Delgado, arguably the top HVAC school in Louisiana, offers you two course options. The HVAC/R technician program is designed for those looking to enter the HVAC industry and grants you a technician certification. The Master Technician program gets you ready to become a contractor and run your own business.
With either course, you get hands-on training with all major vendor equipment that you will find in the field. You also get classroom instruction that covers electrical theory and customer service. No aspect of the learning is omitted, and you will leave ready for your exams and begin your new career.
Best Choice For: Flexible scheduling of courses
Ayers Career College offers a technical diploma program designed to get you on your way, fast. They have flex scheduling for day or evening courses, and you will be prepped for the EPA 608 exam to take after graduation.
The day courses are 36 weeks long while the evening course is 60 weeks long. At the end of the course, you will get your HVAC diploma. Tuition covers course costs, instruction, and materials. You also learn hands-on in the lab with the most modern systems available.
Best Choice For: Gaining certification while attending
ITI may be one of the best HVAC schools under the radar. They focus on the student giving you ample opportunity to get the knowledge and understanding you need. Through the certification course, you will get hands-on training in one of the state's largest labs.
This intensive course covers theory, diagnosis, repair, and installation. The best part is, though, that you take all required certification exams while in class. EPA 608 and HVAC excellence are included with tuition, and you can graduate ready to work without any further steps.
Best Choice For: Fast-tracking from school to employment
Fortis College is well known around the state for their medical and radiology instruction. In Baton Rouge, though, this little gem offers the HVAC training program to get you prepped and ready for your new career. The course is designed to give you plenty of hands-on training and classroom theory in an easy to follow structure.
Some of the state's top technicians instruct the courses, and with small class sizes, you get a one-on-one atmosphere where you can excel at your own pace. With everything from customer service to certification prep, classroom learning is top-notch. It will be hard to find a more well-rounded instruction anywhere.
Best Choice For: Exam prep and continuing education
Remington College has two campuses in LA to serve you. Both offer the same level of excellence and education. You can attend in either Baton Rouge or Lafayette. Each campus will have you ready to enter the workforce with confidence and training.
If you want to be prepped for the EPA 608 exam, this school is for you. You get hands-on training in a state of the art lab and plenty of classroom learning that results in credits that can transfer to larger colleges for degree programs. Or, you can graduate and be one step closer to starting your new career.
Best Choice For: AAS in HVAC for career or continuing education options
South Louisiana Community College has two different courses for you to consider. Based on your desires or needs, either one is a comprehensive introduction to your career. The technical diploma program will get you prepped for starting your career, take you into the lab for hands-on training, and cover everything else in the classroom.
The AAS degree program is more involved, with more lab hours, and a lot more classroom work. The associate's degree is an excellent start to a contractor career or a continuing education for those seeking a bachelor's degree in HVAC. Upon graduation, you will be ready to step into your career and start earning a great wage, no matter which course you choose.
Best Choice For: Most comprehensive education
Blue Cliff has one of the most complete courses in the state and leaves you ready for EPA certification and HVAC excellence exams. In the classroom you will cover theory, mathematics, design, diagnosis, repair, and installation.
In the lab, you learn all about the tools needed for a career in HVAC, how to use them, and work with some of the most modern HVAC systems out in the real world. Upon graduation, you will receive a technical diploma and be ready for the EPA 608 exam, which is all you need to begin working in the field.
Best Choice For: Course selection and preparedness
Northwest Louisiana Technical Community College doesn't offer a degree program like their South CC counterpart. However, they offer two programs designed to get you prepped, certified, and ready to start working as soon as possible. The Technical Diploma program gives you everything you need to take the EPA 608 exam and enter the workforce.
The certification course is a bit more intensive and includes more classroom theory as well as customer service. Either course will suit your needs in your future career choice, and you can use the credits to transfer for a degree program later if you wish.
Best Choice For: Certification level options
Central Louisiana Technical CC has its own HVAC program designed to offer you choice and options along the way. There is a single course here, broken up into different courses. Each semester gives you a competency certification and depending on how long you attend, you can work through 4 different classes.
You start with the certificate of technical studies (CTS) and can achieve either the domestic AC tech certificate or the HVAC Helper I certificate. From there, you can achieve the HVAC Helper II career and technical certification (CTC). Finally, going through each course of each semester will award you the Technical Diploma. Each class is stand-alone, of course, and will transfer credits to other schools.
Best Choice For: One-on-one instruction experience
Another technical diploma course is offered by Delta CC in Monroe. This course is complete, thorough, and intense. With plenty of hands-on training, you will end with a full understanding of HVAC systems, tools, and equipment.
The classroom theory and education are designed to give you all the knowledge you need to interact with customers and conduct interviews. The lab hours are plentiful and give you the chance to work one on one with some of the best instructors in the state. After graduation, you will be ready for all the required exams and your next step into the HVAC industry.
Best Choice For: HVAC skill improvement
Rounding out our list is Nunez CC. This college offers you the chance to get your hands dirty and learn from the best. The CTS program teaches you classroom theory, hands-on lab work, and real-world work experience.
With this certification course, you can use the post-graduate programs to look for work, apprenticeships, or continuing education opportunities. Once you finish the course, you will be ready for whatever your next step will be.
HVAC Training School Costs in Louisiana
School costs in Louisiana will run through a wide range. There are a lot of factors to consider when looking at tuition.
Type of school
Trade schools are generally cheaper than colleges and universities.
Type of certification
Courses offering a diploma typically cost less than those offering a certificate, which usually runs cheaper than a degree.
Length of course
The longer the term, the more expensive it tends to be.
Exams/Certification testing included
Some schools offer required certification exams (EPA 608, NATE, etc.) in-house and will charge more than the schools that do not.
Residency
Most colleges and even some trade schools will be cheaper for local residents than for students from out of town.
On average, across the state of Louisiana, trade schools will average between 4 months and 12 months long, costing you between $2,000 and $7,000.
Colleges and universities with degree-granting courses will charge per-credit-hour, and for the associate's degree program, this means an in-state tuition fee of about $22,000. For the bachelor's degree programs, you can expect to pay closer to $45,000.
Demand for HVAC Jobs in Louisiana
Louisiana will always need qualified and exceptional HVAC technicians. The current national growth rate, according to the Bureau of Labor and Statistics, is 13%. This is a much higher growth rate compared to the 6 to 9% of most other technical jobs.
In Louisiana, the growth rate over the next decade is expected to see a 14% increase. With newer technologies such as solar and other green solutions coming into play, there has never been a better time to start your HVAC career than right now.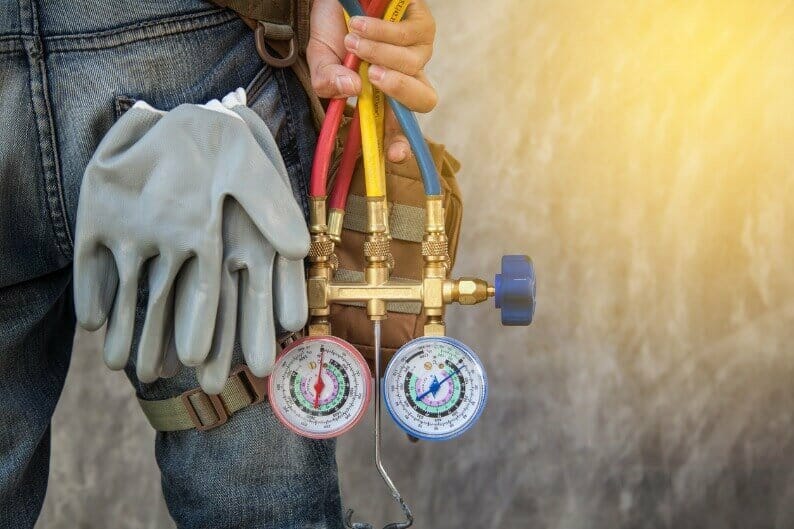 How do I get an HVAC job in Louisiana?
To get a job as an HVAC technician in Louisiana, you need to have some knowledge od the industry and obtain the EPA 608 certification. Once you have that and are of age, you can begin working in the field. Trade schools, apprenticeships, or college courses will help you get a better foothold, though, and are highly recommended.
Can I get an HVAC certification license online?
While many trade schools are moving to a hybrid learning format, you will still be required to attend in person from time to time. Lab hours and hands-on training cannot be completed over the computer. For this reason, the best thing you can hope for is a certification of course completion. However, if you struggle to get to the campus or have other circumstances preventing you from attending, it is a great way to get the classroom portion of the courses out of the way.
Are there HVAC apprenticeships in Louisiana?
You can get into an HVAC apprenticeship in Louisiana. There are several companies, unions, and contractors that hire for apprentices all the time. You can search your favorite online job board site, or search through the PHCCLA website for openings.
Can I get into HVAC with no experience?
You can get into the trade with no experience. This will be tougher, but it is possible. The best option is to attend a trade school and get some hands-on experience in the field. However, you can also start as a parts store clerk or in a field such as housing maintenance, which deals with HVAC.
How long does it take to get a degree in HVAC?
There are two options for HVAC degrees possible. The associate's degree is a 2-year degree offered by most community colleges and some 4-year universities. The other option is the bachelor's degree. This is a 4-year degree offered by some universities. Depending on any prior credits, credit-hour transfers, or fast-track options, you can complete the AAS degree in 18 to 24 months or 36 – 48 months for the BAS.
What makes Louisiana a great place to start an HVAC career?
Louisiana is a great place to start an HVAC career because they have simple entry-level requirements that almost anyone can meet. The pay is competitive, and the job market is expecting a lot of growth in the industry. All of these factors combined would be a great career start anywhere. In Louisiana, you can make a livable wage right from the start, and it only increases from there.
Finding work as an HVAC technician in Louisiana can be difficult. The jobs are there, but there is also a high demand for those positions. To better your chances, you should attend a 4 or 5-year apprenticeship or get hands-on training at a qualified trade school.
Finding the right school is also tricky. This article gave you everything you need to figure out which path is right for you and how to identify your ideal school. With luck, you will be enrolling soon and starting your new career as an HVAC technician.