Michigan is a spot in the Northern US that has cold winters, mild springs, and summers that can be scorching or mundane. As an HVAC tech in Michigan, you will experience some of the most extreme conditions in one of the most rewarding careers.
This article will examine the best HVAC schools in Michigan and determine the factors you should consider when making your final decision.
HVAC Certification Requirements in Michigan
The state of Michigan doesn't have any requirements for HVAC technician certification. However, almost every contractor or HVAC company will require that you be certified before considering your application.
You are required by federal law to hold an EPA 608 certification that matches the type of refrigerant systems you work on. There are three types of EPA 608 certification, or you can pass all three sections of the exam to become 608 Universal certified. This certification doesn't expire.
If you plan to be an HVAC contractor to start your own business or work freelance, you are required by the state of Michigan to pass an HVAC contractor's exam and become certified through the state.
How To Become An HVAC Technician
Becoming a tech in Michigan isn't difficult. Because they are more relaxed on technician certifications, you basically only need to have your high school diploma and hold your EPA 608 certification. However, Michigan also has some of the highest paying HVAC careers (more details further below), and as such most companies will require tech certification.
The path is simple. After you obtain your high school diploma or GED, you should seek out an HVAC trade school for certification, or a college or university for a degree.
During the course of your studies in these schools, you should obtain your EPA certification, along with any other certifications you may desire. Oil burner, solar heating, green HVAC and EPA r-410a certifications are the most common.
At or just after graduation, it is also recommended that you attend an apprenticeship or internship to gain work experience and become comfortable with the lessons, tools, and systems used in schooling.
Most internships lead to a full-time position offer, and apprenticeships can lead you directly to companies that are currently hiring. From there, you can enjoy your new career as an HVAC tech.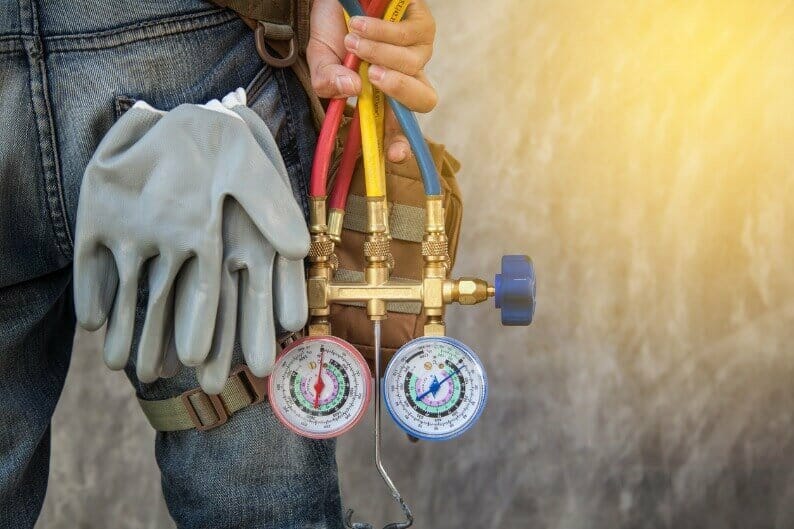 Quick Guide in Choosing Your HVAC School
Choosing the right school for you and your specific needs doesn't have to be a challenge. Using the guide below, you can find out what you should be looking for, why, and how to determine if the school is a good fit.
The first thing to consider is location. Distance between the school and your home is going to play a factor in how often you can attend class. Traffic, time of day, other obligations, and various other factors go into the time it takes to get to the campus.
Schools further away from you may be challenging to get to on a regular basis. However, that doesn't mean you should just pick the closest school to your home. A few extra minutes of driving may be worth it for a better education.
You also need to check that the school is accredited. Accreditation is a process that schools need to go through to prove to the government and other agencies that they offer high-quality education.
Non-accredited schools usually charge more, may not be around in a few years, and are rarely accepted in the workforce as a creditable education system. This makes your certifications or degrees worthless, yet you will still owe the money to the school or to repay loans.
Beyond being accredited, you should check that the school offers a high-quality education that meets your requirements. You can visit the school, talk to faculty, students and staff, or even check out reviews online.
Quality education is not just lectures and learning. It also includes the right equipment to get the job done. This will include the proper books, software, and tools needed.
Hands-on training is crucial. This will be the lab work you go through to familiarize yourself with the tools used in the HVAC trade. You also work on repairs, diagnosis, and installations of modern HVAC systems.
The more lab hours the school offers, the better off you will be. The classroom is needed for learning theory and going over the book work, but the lab is where you want to spend most of your time.
Connects you to an Apprenticeship/Internship Program
Post-graduate programs like job placement and apprenticeship placement programs are also something you will need to consider. Having these programs in place will help you find the right fit for your next step in your career, and most schools that have these systems offer them for life.
Offers Customer Service Skills Training
Customer service is another skill you need to have when working in this industry. If you don't have any prior customer service training or expertise, you need to see if the school offers them.
A lot of schools look past this crucial aspect to help you graduate faster. However, it is one of the most essential skill sets you can possess, and it should be included in the curriculum offered by your chosen school.
11 Best HVAC Schools in Michigan
Below, you will find a listing of the best HVAC schools in Michigan. Using what you know of your local area along with the guide considerations above, you should be able to find the ideal HVAC school for you in no time.
Best Choice For: Job placement opportunities
Detroit Training Institute of Technology (DTIT) is a state-certified and accredited school that offers small class sizes, tools for the job, and a great mix of book and lab learning.
Through DTIT, you will learn exactly what you need to know to start your HVAC career without a lot of fluff or filler.
Not only do you receive the hand tools needed for your trade (yours to keep), but you also automatically enter their job placement program upon graduation.
While you don't receive the HVAC tech certification or the EPA 608 certification, you are prepared enough to take the exams on your own when you are ready.
Best Choice For: Associate's degree completion
In Lansing, your best HVAC opportunity lies with Lansing CC. The community college offers a certification course in HVAC that combines classwork and theory, along with electrical code and hands-on training.
LCC offers six different certifications and degree-granting programs. Each one is upfront, thorough, and gives you everything you need to become a fully certified technician.
With financial aid, job placement, and other post-grad programs, you are set for the rest of your career.
Best Choice For: Full-credit AAS degree in HVAC
The 64 credit-hour course from Oakland CC is one of the best degree programs available.
Like LCC (listed above), you can complete a certification granting program or stick with the AAS HVAC degree.
With either option, you are given every opportunity to learn in a small class size, get plenty of hands-on training, and leave with an actual degree or certificate.
This fully accredited school offers plenty of flexibility to meet your scheduling needs.
Best Choice For: EPA certification
NTI is one of the few trade schools that only teach one thing. Their hands-on approach is the most complete and active class you can find.
With minimal book work, HVAC theory and expectations are learned in the field, not in a classroom. The 10.5-month course will also grant you four certifications.
You can opt for the EPA 609 certification (automotive) if you plan to work in the vehicle industry or stick with the EPA 608, R-410a and TracPipe certifications that will propel you through the hiring process.
Best Choice For: Furthering HVAC education
Michigan HVAC Vocational school is one that flies under the radar.
Their online presence is sparse, with only a Facebook page and Google business listing. However, the education received here is nothing short of complete.
With preparation for EPA 608, R-410a, and HVAC tech certification, you'll leave the school ready to take on anything.
The field-instructor led classes are small, giving you plenty of 1-on-1 experience and attention to detail, leaving you with solid understandings.
Best Choice For: Transferring to 4-year university
Kirtland Community College also offers a 2-year AAS degree in HVAC.
However, the preparation goes well beyond granting your degree and sending you out into the workforce. While this is certainly an option, it isn't your only one.
Once you complete the course, Kirtland pushes you to continue on to a 4-year university, with all credits transferring (in state) so you can pursue a bachelor's degree in HVAC at the Michigan university of your choice.
Best Choice For: Obtaining a BAS degree in HVAC
Ferris State University also offers an AAS program for HVAC techs. This course, though, requires 15 FSU credits, which may not transfer to a 4-year university. However, if you plan to obtain your AAS and enter the workforce, there isn't a better option.
You can stay with FSU, though, and pursue your bachelor's degree, which is a rare occurrence in Michigan.
FSU focuses more on theory and future-proofing the industry. With classes in green and solar technology, you will be ready for whatever the HVAC future holds.
You also maintain the current standards, so you aren't obsolete out of the gate. Plenty of hands-on training in the labs will help you get a firm grasp of diagnostics and repairs, too.
Best Choice For: Nomadic technicians
Northern Michigan University is known across the country for its academics programs.
What you may not know, though, is that their HVAC graduates are also highly sought-after. With post-graduate programs, you are all but guaranteed a job as soon as you hold your degree.
The program focuses more on hands-on training while maintaining enough classroom work to satisfy most other state's theory requirements.
If you are currently in Michigan and want to start your career, though, know that while you may not be in the state forever, this school helps you take your career with you when you move.
Best Choice For: Entering the HVAC workforce
Grand Rapids isn't one to be left out. With GRCC, you can also pursue your AAS in HVAC and transfer credits to a 4-year college for further studies.
Here you will get a mix of hands-on lab work along with plenty of classroom theory and future industry technologies.
The degree grants you the ability to work in the field upon graduation, though you will still need to obtain your EPA certification.
If you plan to continue on a bachelor's degree, GRCC will help you make the transfer and offers a plethora of post-graduate programs to help you continue your HVAC education.
Best Choice For: Engineering students
While the University of Michigan doesn't have a straight forward HVAC career course, students of engineering can complete specific classes that cover HVAC and apply these studies to their future careers.
Most students in this category want to enter into a specialized field of HVAC.
This field is used to design new technology or HVAC systems in order to make the future of HVAC better.
Learning the current standards and future potential of the industry is crucial, and UoM has everything you need to make an HVAC engineer career a real possibility.
Best Choice For: Full certification and degree programs
Delta College is a school of options and choices. Among those choices is the ability to select a certification program or an associate's degree program.
Each one is designed to further your career and get you started in the industry with everything you need when you leave the campus.
Post-graduate programs and financial aid are available. When you graduate, you will have all the required certifications and the ability to seek out further certifications without any more study.
However, if you plan to take on the bachelor's degree program at another school, Delta College will help you transfer.
HVAC Training School Costs in Michigan
HVAC school is an investment. The cost of tuition and tools will only go towards furthering your career. But how much are you paying for this education? In Michigan, the average school cost will fall between $3,000 and $30,000.
The large range is due to the various types of schools and your expectations. Trade schools generally last from a few weeks to several months. Most courses are completed in less than a year, and their cost is lower. Schools that offer the required exams and get you fully certified before graduation will have a higher cost than the schools that only instruct you and prep for the exams.
Likewise, if you plan to pursue a degree in HVAC, you will need to attend a community college or university. These costs are generally higher because of the length of the program. When looking for a degree, you can expect a course to last 18 to 48 months.
Is HVAC a Good Career Choice in Michigan?
HVAC is a good career choice in any state. Across the board, HVAC has one of the highest national averages for job growth and demand. The BLS expects a steady growth rate of 13% for the next 10 years.
Michigan Entry Level HVAC Salary
Michigan is one of the top paying states when it comes to HVAC. Fresh graduates and techs with less than 2 years experience can expect a starting salary of about $28 to $30 per hour. This will depend on the location, region, and type of company you end up working for.
Michigan HVAC Tech Salary
After you have time on the job, more experience, and find better opportunities, you will notice the increase in salary. It isn't uncommon for techs with 5 or more years on the job to see annual salaries top $60,000.
On the highest-end, well experienced technicians can see wages top over $85,000 per year. Compare this to the national average of $65,000 per year, and you can see why Michigan is a hotbed for HVAC technicians.
Michigan HVAC Return on Investment
The HVAC career in Michigan doesn't have to stop at technician. A simple fee and one-time exam can land you a contractor's license. This enables you to strike out on your own, or start your own HVAC repair company.
The wages offset the tuition costs of schools, and the entire process is streamlined and straightforward. Michigan offers some of the most lucrative HVAC prospects, and with higher wages, more opportunities, and a higher demand for techs, the ROI is well worth it, even at double the cost.
Demand for HVAC Jobs in Michigan
Michigan stays true to the national average. Job growth and HVAC technician demand remains around 13%. Over the next decade, the need for well-qualified HVAC techs will increase, according to state and federal stats.
This demand is due to the ever-changing industry that is always looking and more efficient ways to make systems and products better. Green and solar technology are going to drive the industry for the next decade, moving forward.
How do I get an HVAC job in Michigan?
To become gainfully employed as an HVAC technician in Michigan, you are only required to have a high school diploma or GED and be certified EPA 608. It is highly recommended, though, that you continue your education and become certified through a trade school or college. This will make you more viable in the crowded industry.
Can I get an HVAC certification license online?
You can do most of the schooling requirements through online classes. However, to be officially certified, you must also meet certain lab or hands-on hours, which cannot be completed through a computer. You can complete the classroom learning and then continue to an internship or apprenticeship to get eh hands-on training, but full certification online isn't generally possible.
Are there HVAC apprenticeships in Michigan?
There are plenty of apprenticeships in Michigan. You can use the resources at your school, job placement programs, or a simple internet search to locate the best HVAC apprenticeships near you.
Can I get into HVAC with no experience?
It is difficult to get into HVAC without prior experience, either through school or internships. However, it is possible. Several jobs cover HVAC within their job description, which can give you the experience you need to go further with this industry. Maintenance jobs, general repair or contracting jobs, and smaller retailers that do their own maintenance, for example, will all have HVAC opportunities within.
How long does it take to get a degree in HVAC?
Depending on the type of degree you are after, the process can take anywhere from 18 months to 4 years. Any prior college credits you maintain, of course, will go towards those hours, making the processing time shorter.
When is online HVAC programs advisable?
If you cannot physically travel to a campus or have other obligations during the school class hours, it may be prudent to start your career training online. Trying to do the entire certification process online yourself is difficult and rare. However, you can get most of the bookwork and theory learning out of the way with online classes.
What is the highest HVAC degree?
There are only two degrees in HVAC available. You can obtain the 2-year associate's degree or the 4-year bachelor's degree.
HVAC technicians in Michigan are in high-demand and should be ready to jump in with knowledge and experience. Gaining this knowledge and expertise starts with school. Finding a high-quality school in Michigan isn't that difficult.
Finding the right school for you, however, can be a challenge. Hopefully, this guide helps you narrow your choices and gave you considerations to ponder when making your final choice.