The HVAC industry is one of the largest, steadiest, and fastest-growing technical industries in the country. Becoming an HVAC technician in Tennessee is one of the best career moves you can make right now.
It all starts with the best HVAC school. This article will cover the best HVAC schools for you, show you what to look for when choosing the school, and give you everything you need to learn how to become a well educated, highly qualified technician.
HVAC Certification Requirements in Tennessee
For certification purposes, Tennessee doesn't require technicians to hold any specific certifications. However, the EPA does require that anyone working with refrigeration holds the EPA 608 certification.
The 608 certification has four types (Type I, II, III, and Universal), and the exam must be taken in a specific time, monitored by a certified proctor, and done in person.
For those wishing to start their own business or hold a contractor's license, Tennessee requires the CMC certification in the field you want to contract for. Each exam is separate and required a 70% passing grade or higher. You must also hold 3 years experience in the field for the exam type you are taking.
How To Become An HVAC Technician
Becoming an HVAC technician in Tennessee is a straightforward process. In fact, the only requirement is that you obtain your EPA 608 certification. Once you have this, you are free to begin applying for jobs.
However, if you are looking for a career, you may want to pursue the longer, more established method of gaining employment. The first step of which is to hold your high school diploma or GED.
Next, you should attend an HVAC school. This can be a trade school offering prep for the certification exams (or one that includes them), or you can attend a college or university if you wish to obtain an HVAC degree.
Using your post-grad programs to get field experience with an internship or apprenticeship should be your next goal. During this time, you can take your exams for the EPA 608 certification, NATE, or HVAC Excellence.
After these steps (which should take between 12 months and 4 years), you will have training, education, certification, and real-world experience. Everything a potential employer is looking for will already be obtained, and you can start your new career off on the right foot.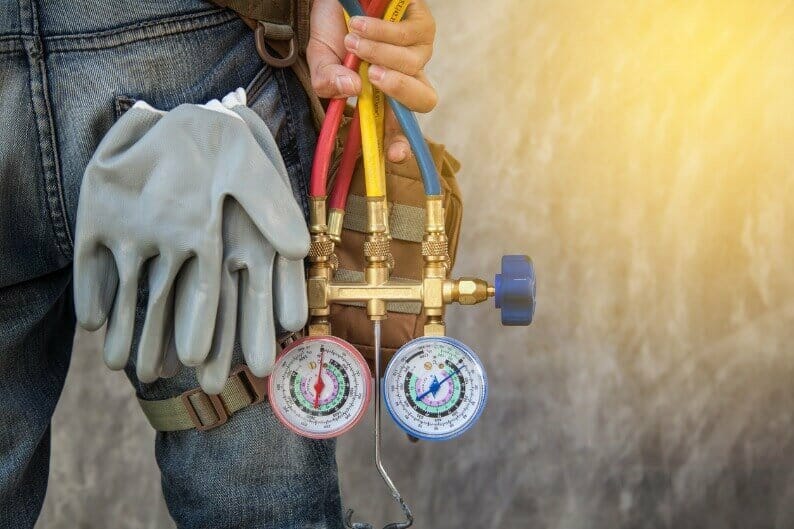 Quick Guide in Choosing Your HVAC School
Below you will find several consideration factors for choosing the right school. Most of these are logical but often overlooked. Make sure you think of as many factors as possible when making your final decision.
The physical location of your school is important. You will want a campus that is close to you, but you also want to consider where you will be when class time draws near.
For example, if you choose a school because it is close to home, but you work further away, you may want to instead choose a campus closer to work. Don't forget to account for things such as time of class and the resulting traffic around the campus at that time.
School accreditation is a process of the school proving to the governing bodies that they offer a level of education and student standards that meets or exceeds minimum qualifications.
While this isn't the litmus test to determine how good a school is, it does mean that you will have a diploma or degree that is worth something down the road. Non-accredited schools usually don't offer anything to potential employers.
If you plan to continue your education and head for a higher degree, non-accredited credits won't transfer, resulting in a loss of time and money.
Quality education comes in many forms. You should always visit the campus before enrollment and talk to faculty, instructors, and current students. Try to get a feel of how well you will fit in as well as what the school does to teach their students.
This can include things like lab time (see below) but also extends to the HVAC books used as well as the HVAC software. You also should account for the atmosphere and the gut-feeling you have while on campus.
Hands-on training, or lab hours, is one of the most important aspects of HVAC training there is. With hands-on educations, you get to know the systems, tools, and equipment used daily by technicians.
This knowledge is more valuable than what you learn in the classroom (not to ignore classroom studies). You should make sure that your chosen school offers plenty of lab hours to take the most advantage of the learning.
Connects You to an Apprenticeship/Internship Program
Post-grad programs help you get placed in apprenticeships, internships, and job interviews. This resource is free and usually lasts for the life of the graduate.
You will want the connections and assistance the school has built up with companies and organizations over the years. Make sure you take full advantage of them. Start by making sure the school offers these programs.
Offers Customer Service Skills Training
Customer service is a skill set that every technician needs. It isn't challenging to learn, but if you don't have any prior customer service training, you should ensure that the school offers at least one portion of the course devoted to customer service.
6 Best HVAC Schools in Tennessee
Below you will find the best HVAC schools in Tennessee. Each is reviewed and compared to give you a better idea of what they offer and the important aspects of the schools. Scroll through and find your ideal HVAC training center.
Best Choice For: Certification preparations
Fortis Institute has campuses all over the country, and the Nashville campus is one of the best. You will get a full education with plenty of lab hours and one-on-one training due to smaller class sizes.
The course completes with you able to enter the workforce ready to go. The exam prep is among the best in the country, and you will have no problem taking or passing your EPA certifications or any other certification you decide to pursue.
Best Choice For: All-inclusive HVAC education
Lincoln College of Technology is another country-wide school that has campuses all over North America. They also offer room and board for out-of-state students. The courses are intense and hands-on, which is exactly what you may need.
With instructors that know the filed with years of experience, you will learn at an accelerated rate, giving you confidence in and knowledge of the trade. The lab hours are some of the longest in the state, which provides you with plenty of hands-on training with today's leading HVAC systems.
Best Choice For: Multiple degrees or certification options
Moore Tech offers two courses to fit your schedule and needs. Both courses are 2-year courses completed either in the day time or at night. The day course will end with either a diploma or an associate's degree. Meanwhile, the night course is a 2-year certification course.
The labs are state of the art and feature today's leading manufacturers. You will get plenty of hands-on training and classroom work on theory, mechanics, diagnostics, tool usage, installation, and repair. Credits will also transfer to most Tennessee colleges for those wishing to continue their education.
Best Choice For: Total HVAC training coverage
Remington College offers an HVAC associate's degree program that is geared towards the commercial sector. If you wish to learn about residential and commercial HVAC applications, this is the course for you. The 2-year program focuses on electrical theory, future technologies, and current systems.
The hands-on lab work is overseen by some of the most influential professionals in the industry. You also get plenty of classwork to cover all the HVAC essentials needed in today's marketplace. This includes customer service and vendor communications.
Best Choice For: Hands-on learning with HVAC theory
Total Tech focuses on a technician view-point learning metric. You start in the class, cover the theory and application of the lesson, and move to the lab to practice live systems and cover what was learned in the books. This process is repeated for each lesson giving the tech a firm grasp on the concept as well as the application.
Each student here is treated as if they were the only one in the class. With plenty of real-world applications, hands-on training, and instructor-led lab assignments, the education is thorough, complete, and easy to digest.
Best Choice For: Campus selection
Tennessee College of Applied Technology (TCAT) is a state-wide curriculum covering every aspect of HVAC education. Form entry-level learning to continuing education certification, the TCAT school tree is thorough, well rounded, and intense.
You will learn theory, installation, diagnostics, future technologies, customer service, and practical application. The best part is that there are plenty of TCAT campuses for you to choose from. Each campus offers the same courses and covers the same learning experience. You won't have to travel far to get started in your new career.
HVAC Training School Costs in Tennessee
The cost of tuition has a lot of variables. Knowing if you are getting a good deal or not will require some research and comparison shopping. In Tennessee, though, you can expect fees slightly higher than the national average. Financial aid is available for most.
Trade schools generally offer a single-cost tuition fee. This fee can range from about $1,250 to $9,000. The determining factors are the length of the course, what is included (room and board, books, software, tools, etc.), and whether certification exams are covered.
If you are searching for a degree, you will need to pay for the credit-hours required by the school to obtain the degree. Sometimes the schools will accept credits earned earlier, cutting down on your school time and cost.
You also have to account for the fee ranges between resident and non-resident statuses. On average, though, a degree will range from $25,000 to $45,000. It also depends on if you are after an associate's (2-year) degree or a bachelor's (4-year degree).
Demand for HVAC Jobs in Tennessee
The current market for entry-level as well as experienced technicians is relatively open. With over 400 current listings on Indeed.com, the industry state-wide is open and booming. The demand is going to increase in the industry as well.
With an expected growth of over 40,000 jobs per year and newer technologies pushing the industry forward, techs with the future tech knowledge will be in high demand.
How long does HVAC certification take to complete?
Certification in Tennessee boils down to how much you want to achieve. The minimum is the EPA 608 certification, which is a three hour exam and can be taken at any time for only the exam fee. There are several other certifications you can obtain, including NATE, HVAC Excellence, and EPA R-410a. All combined, these certifications can take a few months to several years to complete.
How much does an HVAC license cost?
Once you meet the minimum qualifications to obtain the HVAC license, you will only need to pay for the license exam, which costs $50. The cost of training, apprenticeships, and tuition are not included in that cost.
Can I get an HVAC certification license online?
You can study for your certifications online. There are also many schools switching to a hybrid format where the classroom portion is done online. However, you are still required to attend lab portions in person and be present when taking the certification exams.
Can I get into HVAC with no experience?
You can begin a career in HVAC within Tennessee without any prior experience or education. It isn't advised as there aren't a lot of positions that take new employees without some form of education or prior experience. However, the positions that are available don't pay the best and may not be an optimal experience for furthering your career.
Are there HVAC apprenticeships in Tennessee?
There are plenty of HVAC apprenticeship and internship opportunities available in Tennessee. Your best option is to use the post-grad programs from your school. If you wish to go it alone, you can look for opportunities through the Tennessee Labor and Workforce website.
What is the highest HVAC degree?
There are two degrees you can obtain in the HVAC industry. The 2-year associate's degree is the most common. However, for those looking to start their own company or expand their education to the maximum can also achieve the 4-year bachelor's degree.
How do I get an HVAC job in Tennessee?
To get a job in the HVAC industry in Tennessee, you need to first obtain the EPA 608 certification. This is the only state-mandated requirement. However, employers are looking for those with experience, training, and education in the HVAC industry. Going through a trade school and an apprenticeship or college degree program are your best options for gaining a full-time position.
HVAC training is an intensive course that requires hands-on training, learning about electrical theory, future technological advances, and systems in general. The right school will give you the best chance of finding a suitable position in this growing field.
This article has shown you the best HVAC schools in Tennessee, along with several consideration factors and other points of interest to help you make a well informed and conclusive decision.