Now more than ever before, it seems, people are focusing on careers that are always in demand and reliable. No one wants to spend years of their time only to realize later on that there's not much room out there for their career.
HVAC technicians don't have this problem, as it's a niche that always needs more workers. If you're curious to know the pros, cons, and opportunities for HVAC techs, don't go anywhere because we are here to tell you everything you want!
HVAC Technicians: Who Are They?
HVAC (heating, ventilation, and air conditioning) techs do a lot, but generally speaking, they use their knowledge and skills in electrical, mechanical, and plumbing systems, along with various HVAC/R gear.
They're required to keep a Section 608 Technician Certification from the US Environmental Protection Agency (EPA) to handle refrigerants, chemical solutions in AC units, and refrigeration equipment so you can rest assured they work to the highest safety standards.
There are a wide variety of specific tasks they take on, but here are some of the most common:
Testing pipe/tubing joints for leaks
Testing electrical circuits and components
Repairing/replacing defective components/equipment
Improving HVAC performance through replacing filters, cleaning ducts, etc.
Installing/hooking up thermostats, humidistats, timers
Assembling and mounting HVAC equipment
Main Tasks of an HVAC Technician
HVAC System Installation
Usually, the techs will hook up a unit based on the specs offered by the architect/engineer. Before this, the tech will have to calculate which HVAC system is right, testing the piping and connections of the equipment and then connecting it to the ductwork or distribution system.
HVAC System Maintenance
Maintenance is crucial to ensure the equipment lasts as long as possible and operates properly. HVAC techs will perform regular maintenance check-ups at least two times a year that consists of testing and cleaning the blower fan, checking coolant levels, thermostat, and overall operation.
HVAC System Repair
This is an obvious one, as issues are bound to happen eventually with HVAC units, thermostats, air handling systems, compressors, and so on.
Different HVAC Career Paths and Opportunities
Entry-Level Positions
As you can imagine, this is the level that HVAC techs enter right out of the gate. This is ideal for people who have recently finished an HVAC/R training course or those who haven't yet obtained 2 years of relevant experience.
HVAC/R Tech
These can help inspect the equipment, ensuring it's operating to the unit's manufacturer's standards. This involves checking that it starts correctly, runs safely and as efficiently as possible, and helps record info needed for the warranty.
Due to this, it's ideal that they have solid writing and reading skills and are able to troubleshoot basic issues well.
HVAC/R Maintenance Tech
At this level, the techs work in performing general maintenance work to keep the HVAC units functioning well but also making sure they last as long as possible. As maintenance is at the forefront of their job, they must be able to revise and identify what needs to be fixed or replaced/cleaned.

Mid-Level Positions
For an HVAC tech to move up into a mid-level position, it's typically required that the person has at least 8 years of relevant training and experience, along with performing managerial/leadership positions in their place(s) of work.
HVAC Refrigeration Technician
As you can probably tell by the name, these technicians work mainly with refrigeration mechanics. Not only do they perform maintenance on them, they repair, install, and troubleshoot them.
They work with refrigeration machines like HVAC units, ice machines, beverage machines, and more. They usually get calls from businesses like restaurants, fast food shops, bars, and more.
HVAC Maintenance Manager
Maintenance managers perform all kinds of maintenance as well as manage techs at a lower level when it has to do with maintaining HVAC units. They oversee all maintenance-related procedures such as installation, reparations, and keeping units running as efficiently as possible.
They should also have excellent customer and interpersonal skills.
HVAC Controls Technician
Controls techs install new HVAC controls or fix already-existing units. You'll perform tasks like installing panels, wiring, thermostats, sensors, and more. If you're confident and enjoy working with computers, then this may be a great choice for you.
HVAC Service Manager
Service managers help oversee the operation of their HVAC company or department, assign job duties, ensure employees are performing their jobs correctly, and so on.
Due to this, the person ideally should have great interpersonal skills to be able to manage this without creating conflict or tension. Along with that, they should have great technical knowledge.
Senior-Level Positions
Chief Mechanical Engineer
Mechanical engineers work to design heating, AC, cooling, and ventilation systems along with the occasional refrigeration system. However, this may vary a bit depending on where you work. Some places may require you to take part in installing, maintaining, and repairing HVAC units.
HVAC Maintenance Director
Maintenance directors take on a lot of responsibility managing an organization's entire maintenance department. These people are at the very top of the food chain, overseeing, leading, and ultimately have the final say in everything that has to do with maintenance.
HVAC Control System Engineer
While they do design just like the chief mechanical engineers do, they instead work on designing control systems. Not only that, but they may modify and perform maintenance on them, troubleshooting problems, and even showing customers how to use their HVAC unit's controls so they can use it properly.
HVAC Service Director
HVAC service directors must have excellent interpersonal skills and be able to lead well. They oversee techs who install, repair, and maintain HVAC units.
These people are typically working in a residential setting, offering leadership, guidance, and technical knowledge to ensure customers are happy and things are done the right way.
6 Reasons Why HVAC Technician Is a Good Career Path
Jobs are in high demand
It's great knowing that you'll be entering into a career that isn't going out of style. It seems like residential and commercial buildings are popping up now more than ever, and with more buildings, more HVAC techs are required as they'll install and maintain these structures' heating and cooling systems!
Lower up-front costs (compared with college degrees) and attractive compensation
Not only is it reliable but working as an HVAC technician is also well-paid! The median pay for one in 2019 was $48,730 annually, with the average hourly pay being $23.45. Of course, the higher up you go, the more you'll make, and in many cases, you'll have the option of working overtime.
Multiple work settings & environments
Many people aren't fond of the idea of working in an office, and as an HVAC tech, you won't have to! You'll be active, going from various job sites in one day. You'll find that most times, you're called to homes, restaurants, hospitals, stores, and more. There's a good chance then you never have two identical working days.
Job security
While automation is ever-increasing, HVAC technicians don't have to worry about this affecting their work. People will still need a human being who can help install, maintain, and fix their equipment.
Training given while earning
In-job training is part of the trade, even when you're at entry-level. This means that you'll get paid while learning, which is not something we can say for a large number of careers. The more skilled you become, the more you'll get paid!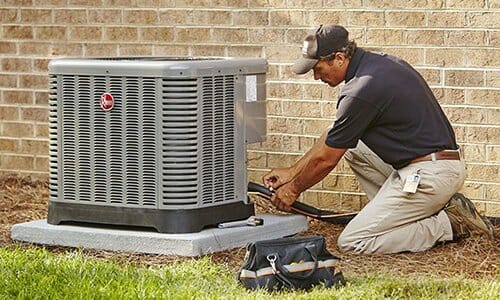 Drawbacks of Being an HVAC Technician
Occasional long hours
This definitely isn't a 9-5 office job, including the hours. As we mentioned, there's almost always the option to work overtime as there's always someone who has an issue with their HVAC equipment! Sometimes, though, you have to keep working until the issue is fixed, which can extend into lengthy hours.
Has occupational safety hazards
As you're dealing with heavy equipment, electricity, extreme temperatures, etc., you will have to navigate around occupational safety hazards. Of course, your training will help you keep yourself and others safe.
Constantly changing technology
Technology is moving quickly, and you'll have to continually keep update and work to educate yourself on the new tech. This will usually come in the form of certifications and classes, so you remain relevant and aware of potential issues.
How to Start a Career in HVAC
Have at least a High School Diploma
Getting a high school diploma is a must for most careers. If you can't do that, then at least try to get your GED. This will allow you to start applying for an accredited HVAC program.
Join and complete an accredited HVAC program
This will help you find employment and tells potential employers that you have the skills and knowledge to get the job done. Not to mention, it shows that you're dedicated enough to finish the program.
Complete an apprenticeship
If you don't want to or can't go through an accredited HVAC program, you can try to work as an apprentice. This is an opportunity for you to learn the skills hands-on and see how things are really done.
Achieve professional certification
These certificates will let you work with all kinds of materials. It will show to your potential employers that you're serious about your work and are also able to handle (legally and technically) anything that comes your way while on-the-job.
People Also Ask (FAQ)
What is the difference between an HVAC tech and an electrician?
HVAC techs install and maintain heating, ventilation, and AC systems. Electricians more maintain electrical systems above anything else.
Are jobs in HVAC dangerous?
To be honest, they kind of are. As you're going to come into contact with wires quite often, there's a risk of being burned or even electrocuted.
Where are HVAC technicians most in demand?
Florida, Texas, California, North Carolina, New York, and Colorado are the top states in the US seeking HVAC technicians.
How hard is HVAC on the body? Is this a stressful job?
It is rather stressful due to the mental and physical challenges that occasionally come with it. Not to mention, you may find yourself working in tight, dark corners full of dust. However, if you enjoy challenges and working with your hands, then it is great.
Is there a lot of math in HVAC?
Maybe not a lot, but it's definitely needed to calculate proper load requirements and more, depending on the exact role of the technician.
Conclusion
Now that you know all about what you can expect while pursuing a career as an HVAC technician, are you ready to get started? It does have its challenges, but the pros greatly outweigh the cons for most people.