Finding out the best LG AC can sometimes feel challenging and overwhelming if you know little about what to look for. There is a range of things to consider such as square footage (room size you plan to put your unit in) and BTUs.
In addition, which type of air conditioner do you want: portable, window, or a mini split. Moreover, you also have to choose an AC with increased energy efficiency and better CFM ratings so you get effective airflow. Some of the LG models also offer smart assistants and dehumidify features.
Want to know more about the best LG air conditioners, read on!
Quick Guide – Our Favorite Models
Who Makes LG Air Conditioners?
With its origins dating back to 1958, the Korean electronics giant LG now spans all over the globe. LG's vast range of products and appliances can be found in homes and businesses everywhere, from Home Entertainment and Mobile Communications to Home Appliances and Air Solutions. LG has grown consistently and is now one of the brand leaders globally for air conditioners.
With their wide range of air conditioning products, including portable, wall-mounted and window-mounted options, LG aims to keep you cool and comfortable — even when Mother Nature turns up the heat. LG air conditioners give you the power and technology you need to maintain the perfect temperature inside your home all year round, no matter how hot and steamy it gets outside.
LG AC Models Compared
Image
Model
LG Portable 115V Air Conditioner - Rooms up...
LG LP1419IVSM Smart Dual Inverter Portable...
LG 8,000 BTU Smart Window Air Conditioner,...
LG 10,000 BTU Smart Window Air Conditioner,...
LG 7,500 BTU Window Air Conditioner with...
LG LT1037HNR 10000 230V Through-The-Wall with...
Image
Model
LG Portable 115V Air Conditioner - Rooms up...
Image
Model
LG LP1419IVSM Smart Dual Inverter Portable...
Image
Model
LG 8,000 BTU Smart Window Air Conditioner,...
Image
Model
LG 10,000 BTU Smart Window Air Conditioner,...
Image
Model
LG 7,500 BTU Window Air Conditioner with...
Image
Model
LG LT1037HNR 10000 230V Through-The-Wall with...
More Features of LG Portable AC Units
Smart technology is the future and many AC brands are incorporating it in their models – LG is no exception!
Some LG products allow you to stay cool and in control with their LG SmartThinQ® technology. It lets you control your model remotely, so you can start or stop cooling, change the mode, or set the temperature from anywhere.
Even if smart technology isn't for you, you can still benefit from the many other features offered by LG such as remote operation, energy-saving features which keep the temperature at a set level without working constantly, and variable fan speeds to control the noise level of the AC and rate of cooling.
LG Versus Similar AC Brands
LG Vs Haier (For Portable Air Conditioners)
A top alternative to our pick for an LG portable AC is this unit from Haier which combines compact size and performance. Its 12000 BTU cooling power will cool a room up to 450 sq ft. It includes remote, a digital settings panel, and three cooling speeds.
Being minimalist in size and styling, it doesn't intrude on living space unduly, and it performs well in terms of energy efficiency. It also has helpful features like auto-start and a 24-hour timer, which make it easy to 'set and forget.'
Another feature is its self-evaporative draining system, which means you don't have to empty the tank every day – one less thing for your to-do list. As with all portable air conditioners, it's easy to install, with a 6ft power cord and a 5ft single exhaust hose, both of which give some flexibility on where it can be sited in your room.
In general, the Haier HPC12XCR receives good feedback, especially considering the average reviews for most air conditioners. Most users note that the cooling performance is about what they expected or better.
LG Vs Koldfront (Through-the-Wall AC)
This through-the-wall AC from Koldfront is an excellent alternative to our LG top pick. It offers superb value for money and has both heating and cooling functions. With a 12,000-BTU rating, it can cool a space of up to 550 sq ft, and the 10,600 BTU heating element can heat an area of up to 450 sq ft.
Although it doesn't offer the 'smart' control technology, it has remote operation, an electronic digital thermostat, a sleep mode, a 24-hour timer, and an energy-saver mode. The louvers in the output vent can be adjusted to direct air in 4 directions, and there are three fan speeds plus 'auto.'
It also has a 'Dry' mode for dehumidification which extracts about 2.5 pints of water from the air per hour. The lack of a self-evaporative function means that you need to empty the tank regularly.
LG Models Versus Each Other – Portable Vs Window Air Conditioner
One of the best features of a portable air conditioning unit is that it's super-easy to install. These products plug into a wall socket and come complete with a window kit – effectively a pipe through which the heat is removed from the air inside.
Some homeowners' associations don't allow the use of window air conditioners because they protrude to the outside. Portable air conditioners have the advantage because the small exhaust pipe won't violate any such rules.
The most obvious benefit is that you can move it quickly from room to room so you can enjoy its cooling effect wherever it's needed. A window air conditioner doesn't offer that flexibility. If it's not possible to vent through a window for some reason, ceiling vent kits are also available for portable air conditioners.
A small window unit, by contrast, removes the possible problem of the space taken up by a freestanding portable unit which is particularly relevant in homes where space is tight. Sitting in the existing window opening, without taking up any valuable floor space, window units undoubtedly reduce clutter.
Also, window air conditioners use energy more efficiently than portable air conditioners. This means, you get more cooling power per BTU.
A top tip is to pay attention to the BTU rating when looking at window units. The higher that number is, the bigger the room the unit can cool.
Both window and portable AC units can come with many features such as digital thermostats, remotes, and timers. The presence or absence of these factors may help your decision-making process.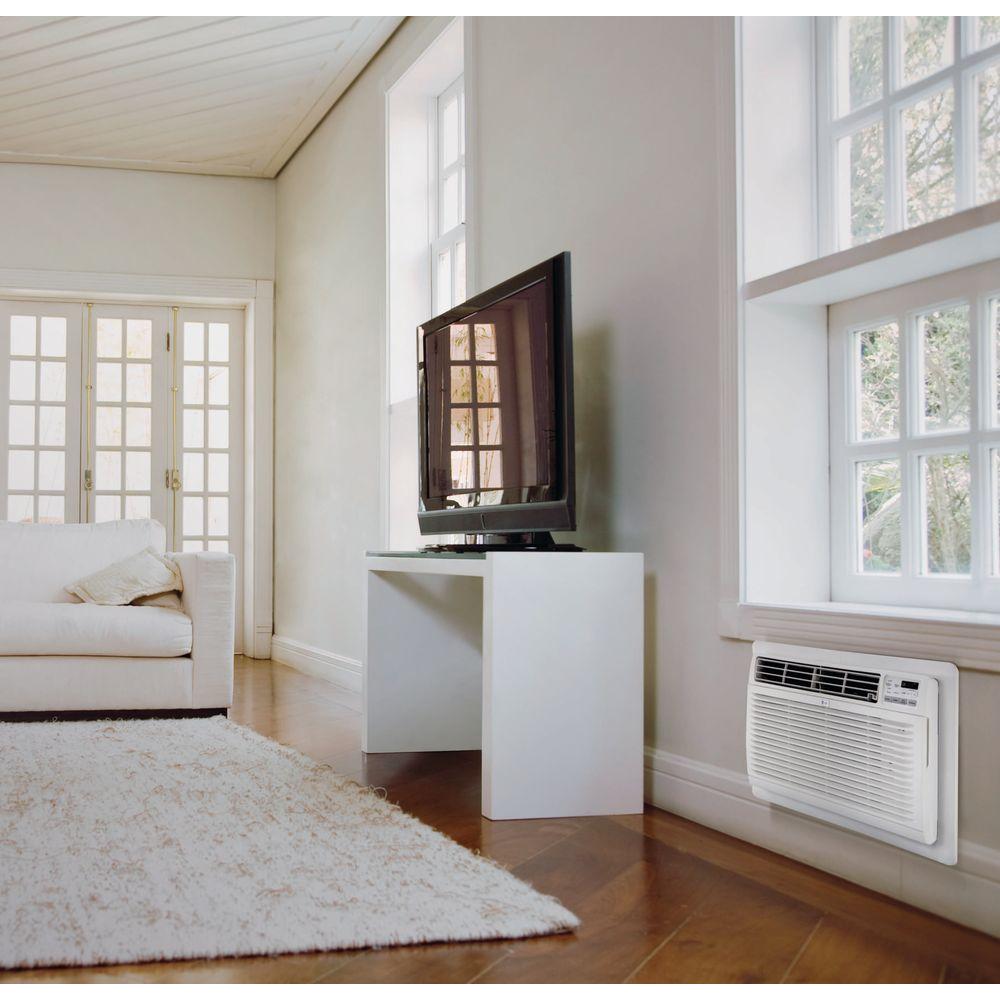 LG Window Vs Through-the-Wall ACs
Window and through-the-wall ACs are easy to compare because they're effectively similar in cooling capacity and size. Through-the-wall units, however, tend to be more energy efficient because they create an airtight seal in the room.
The significant differences between these types of AC units are their installation and way that they vent. Window ACs fit through casement windows or others and don't require permanent installation. Through-the-wall ACs, on the other hand, are built into the wall. They are ideal for windowless rooms or for those who prefer not to interfere with the existing windows.
Wall air conditioners typically only vent (or exhaust) warm air through the back of the unit to the outside, while window units vent from both the sides and back. This is why the two types are not interchangeable, even if they are identical in size. Simply put, since a window model needs to vent from both the back and the sides, if it's installed in a wall, the side vents will be blocked, and it will overheat.
Key Considerations Before Buying An LG Air Conditioner
British Thermal Units (BTU) Explained
A British Thermal Unit (BTU) is a precise measurement that represents the amount of energy required to change the temperature of a single pound of water by 1 degree Fahrenheit above or below the current temperature. It's the most commonly used way to measure the effectiveness of heating, ventilation, and air conditioning systems.
Nearly all air conditioners have a tested BTU rating. A higher BTU rating means that the air conditioner is capable of cooling a larger area more effectively. LG air conditioners include products suitable for both cooling in both large and small spaces.
Though it may be tempting to think that a higher number of BTUs will cool your room more effectively and quickly, it won't be energy efficient if it's the wrong size for the space. A potent air conditioner with more BTUs than necessary will cool the area quickly. The problem is that the unit will then cycle on and off frequently throughout the day in short bursts to maintain this temperature. This can damage internal components and shorten the operational life of the AC.
Here's a guide to help you to calculate the optimum number of BTUs for the space you wish to cool:
LG Air Conditioner Troubleshooting
Water is leaking from the window or through-the-wall AC unit
If water is coming from the AC unit, this may be due to regular operation, condensation process, or proper leveling. Follow this link to LG's resolution center to identify and solve the problem.
Sometimes the unit will cool at night but not during the hot day, which indicates that there is a performance issue. Alternatively, it may have ceased to function correctly at any time. Look here for a solution to the problem.
The error code is showing on the display
An error code can usually be resolved by performing a few simple troubleshooting steps. Click here to start the process of identifying the problem.
How to maintain your AC unit and keep it functioning efficiently
As with any household appliance, regular maintenance will keep it performing optimally. You'll find maintenance tips from LG for portable, window and through-the-wall AC units, by following this link.
How do you install an LG portable air conditioner?
We find it's better to show than to tell, so we suggest you follow this link to a video installation guide for your portable AC.
How do you drain LG portable air conditioner?
This video guide helps explain how to drain your unit.
How do you clean an LG AC filter?
Pull the inlet grille forward.
Remove the air filter from the front grille by pulling the air filter up slightly.
Wash the filter using lukewarm water (below 104 degrees).
Gently shake away the excess water, leave it to air dry and reinstall the filter.
There's no doubt that home appliance market leaders LG has covered all the bases with their range of split system, portable, window and through-the-wall air conditioning units, incorporating smart technology for many of them.
From the vast range they offer, we have done the hard yards of research and narrowed down the options. We've selected some of the top performing LG air conditioners so you can keep your home cold (or warm) and comfortable through the seasons.
If you're looking for a high-performing portable AC which will blend into any décor, then our top pick would be the LG LP1417WSRSM. It ticks all the boxes and gets on with doing its job of cooling your home, wherever and whenever you need it.
The addition of LG's innovative SmartThinQ® Technology puts you in complete control, so your home can be cool and comfortable when you arrive home at the end of a long hard day.
Our Rating:
(4.7 / 5)
Last Updated on July 9, 2022