Quick Guide – Our Top Picks
This 6000 BTU air conditioner has an EER of 11.2 and an estimated year cost of $50 (high setting).
Most Energy Efficient Window AC Unit
This 5000 BTU air conditioner has an EER of 11 and an estimated year cost of $45 (high setting).
This 6000 BTU air conditioner has an EER of 12.2 and an estimated year cost of $44 (low setting).
Energy Star Air Conditioners Compared
Image
Model
AMANA 5,000 BTU 115V Window-Mounted Air...
Friedrich Chill Series Window Air Conditioner...
LG 8,000 BTU Mounted Window Air Conditioner,...
Frigidaire 12000 Btu Cool Connect Smart...
Haier ESAQ406T Serenity Series 6, 000 BTU...
Arctic Wind 2016 Energy Star 6,000 BTU Window...
Image
Model
AMANA 5,000 BTU 115V Window-Mounted Air...
Image
Model
Friedrich Chill Series Window Air Conditioner...
Image
Model
LG 8,000 BTU Mounted Window Air Conditioner,...
Image
Model
Frigidaire 12000 Btu Cool Connect Smart...
Image
Model
Haier ESAQ406T Serenity Series 6, 000 BTU...
Image
Model
Arctic Wind 2016 Energy Star 6,000 BTU Window...
*Estimated/approximate costs per year based on brands testing, information and specifications
The Most Efficient Window ACs
After researching and analyzing 40 units from manufacturers like Danby, Friedrich, Frigidaire, GE, Haier, Kenmore, LG and more, we found several units that stood out based on their efficiency – as well as overall performance and customer satisfaction.
Although we focused primarily on the EER ratings of each unit, we also took into consideration the industry and customer feedback on each product. For example, if a unit had an excellent EER ratio but poor reviews and feedback, we didn't include that model in our final analysis.
Finally, we recommended window AC units based on their cooling performance and the size of the rooms being cooled. This means we chose a high-performing efficient AC for small bedrooms (6,000 BTUs), medium-sized rooms (8,000) and large spaces (10,000+ BTUs).
Here are the most efficient window air conditioners based on their energy efficiency ratio, overall performance, industry reviews, and user feedback.
The Amana AMAP050BW is our Editor's Choice for overall performance, efficiency & value for money.
The Friedrich Chill CP06G10B is ideal for small rooms, the LG LW8016ER is great for medium-sized rooms, and the Frigidaire FGRC1244T1 is our top choice for large rooms.
Finally, the Haier model is our pick for the quietest option, and the Danby DAC080BGUWDB is our budget pick for those looking to buy a solid, efficient window AC at a lower cost.
Why It's Smart to Go Efficient
Because cooling a home is such a large expense for households, using energy efficient appliances can make a significant difference in energy use, cost and performance over time.
Some of the main benefits to using the most efficient AC units include:
Lower energy bills

: these units have better parts and materials that make better use of energy, which lowers your usage rate and thus, your energy costs

Improved environmental footprint

: using less energy can help reduce the overall energy use of your home, and decrease your carbon footprint in the big picture

Increased cooling performance

: using an efficient unit will cool the same room down quicker than a less efficient model, which means you get more comfortable, faster

Better quality

: models with higher efficiency are typically made with better parts, which means the unit may be quieter than others and will have to run less to cool the air (also see: the quietest portable air conditioners)

Smarter features

: ENERGY STAR® compliant window units must have "smarter" features like an energy-saving mode and automatic reminders to replace the filters, both of which can make a significant dent in the energy you use each year (also see: the smartest air conditioners with wifi)
Understanding Cooling Power
Before explaining how energy efficiency works, it's important to know how cooling power is measured with window ACs. These units' power is measured in BTUs or British thermal units. This is calculated in terms of how much a unit can cool the air around it in an hour.
On the lower end of the spectrum, there are 5,000 and 6,000 BTU units that are meant for small rooms and spaces. On the larger end, you'll find 10,000 and 12,000 BTU units meant for larger areas like living rooms, offices, and master bedrooms. There are also commercial and heavy-duty units that go up to 25,000, though they are rarely as energy efficient as smaller air conditioners, so we'll be focusing primarily on smaller residential options.
So why's it so important to get the right sized air conditioning unit for your space? Because a bigger unit isn't necessarily better.
"In fact, a room air conditioner that's too big for the area it is supposed to cool will perform less efficiently and less effectively than a smaller, properly sized unit," says the Department of Energy.
If you buy an efficient 12,000 BTU unit but place it in a small room that's smaller, it doesn't matter how efficient that model is – you're essentially reducing your efficiency because the unit doesn't match the size of the room.
Instead of focusing on pure cooling power, then, it's ideal to match your room size to the BTU rating needed to cool that space. The Department of Energy says a general recommendation is about 20 BTUs per square foot, and ENERGY STAR® offers this helpful breakdown of room sizes.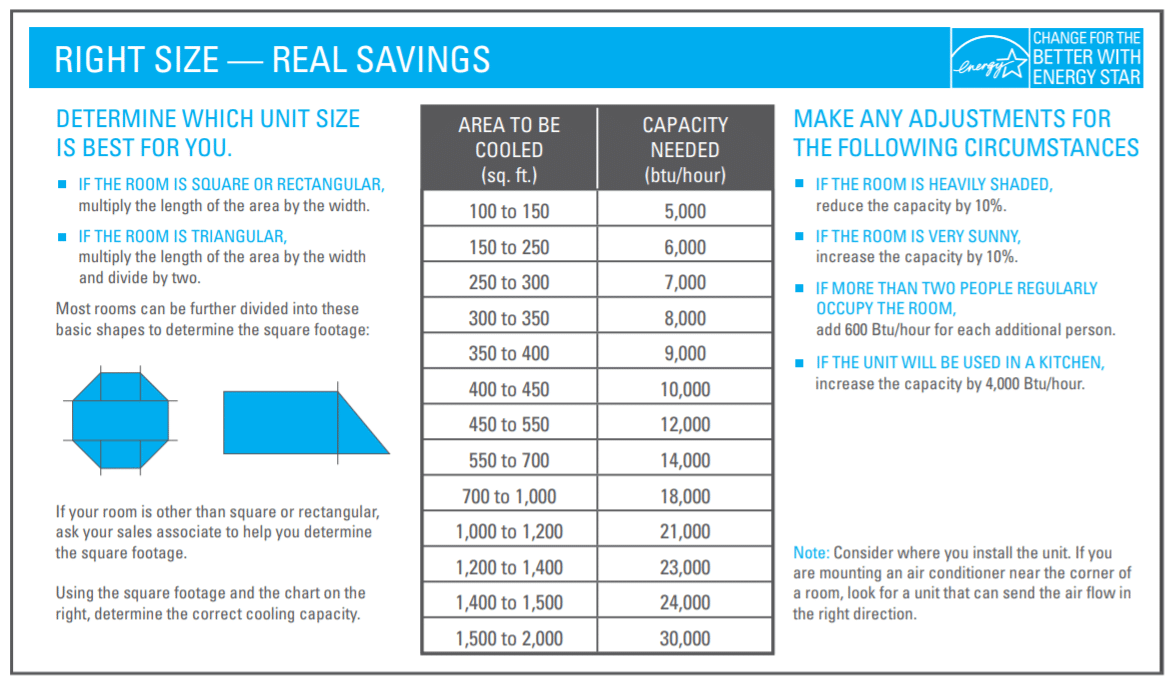 Source: ENERGY STAR
What is Energy Efficiency Ratio (EER)?
Now that we've discussed BTUs, we can look at a metric that looks more at the actual efficiency of a window unit.
To find the most energy-efficient units, you can look at the unit's EER number, or energy efficiency ratio. "The EER is the ratio of the cooling capacity (in British thermal units [Btu] per hour) to the power input (in watts)," says the Department of Energy.
The higher the EER, the more efficient the air conditioner.
As an example, let's say you have an air conditioner that's rated to 6,000 BTUs, and it takes 600 watts to run. The calculation would be 6,000 divided by 600, which equals 10. This unit's EER would be 10.
In general, the most efficient window ACs have an EER of 12 or above, though this depends on the size and cooling power of the unit. In general, it's a lot easier for a smaller 5,000 BTU or 6,000 BTU unit to have that type of efficiency than it is for a 12,000 BTU unit that's larger, bulkier and requires more heavy-duty parts to cool larger rooms and spaces.
"An air conditioner's EER rating is best used to objectively compare air conditioners or to do any type of load or engineering calculation," says Tim at All Systems Mechanical. "Because it is not diluted by additional inputs, the EER value, in my opinion, is the most accurate way to compare two different HVAC units."
As we've discussed in our research on small portable air conditioners, many air conditioners actual cooling power in terms of BTU is often lower in real-life settings, which means the EER should be used as a benchmark more than anything else. A unit with an EER rating of 12 or above will be more efficient than one below the mark, even taking into consideration changes and differences in real world cooling power.
The most energy efficient models are also ENERGY STAR® compliant. To receive this label, an air conditioner must meet higher-than-normal standards for energy use and efficiency. These standards are set by the government and include criteria like:
at least 10 percent higher efficiency than government standards
better materials and parts for more efficient energy use
better performance for consumers nationwide
reduced energy costs in order for users to recoup upfront expense of purchase
features like energy-saving mode and filter reminders
Manufacturers can meet these and other requirements by assembling window ACs that have higher quality compressors, fans and surfaces that more efficiently use the energy it takes to run the unit.
Click here to learn more about how appliances can earn the ENERGY STAR® label, or view the Key Product Criteria for room air conditioners.
Tips for Further Reducing Your Energy Costs
While operating an energy efficient window AC is a great start, there are other things you can do to reduce your energy use and help your unit perform at an optimal level.
First, try to keep your thermostat as high as comfortably possible. Although this is easier said than done, the difference in temperature between the inside and outside environments will determine how hard your AC has to work.
A small temperature difference of just a few degrees will make it easier for your air conditioner to maintain a good working level, but keeping your room extremely cool while its cool outside will make it work harder.
Next, try to keep your air conditioner's filters as clean as possible. You may have to replace them every few months, depending on how often it's used, but you can clean them often to keep the air circulation going strong.
The Department of Energy estimates that not cleaning and replacing your filters appropriately can cost you between 5 and 15 percent more in energy costs. Thehomedweller.com has an excellent article on clearing smoke in the home.
Finally, when you install your air conditioner, do your best to seal and plug any air leaks in the window and installation kit. Often, you'll need to use duct tape or another adhesive to really seal all the leaks. Even great window installation kits are still made to fit multiple sizes, so they won't be "perfect" for your window without a little extra work on your part.
Are window AC units efficient compared with other types of ACs?
Window AC units fall right towards the end of the air conditioner efficiency spectrum – being less efficient than central air conditioning systems and split system air conditioners. However, the high upfront cost of purchasing and installing central and split systems work in the favor of window units.
How many watts do these air conditioners pull?
Air conditioners of different type require various watt ranges, depending upon their power and build. Window ACs fare the lowest watt usage, ranging from 1000 watts to 1750 watts.
What voltage do they usually run on?
Smaller window AC units usually run on 110-120-volt service, whereas some larger ones may require 208-240 volt.
Does the highest EER mean the most energy savings?
While EER is a good parameter to judge the energy efficiency of an air conditioner, it doesn't always translate to the highest energy savings. There are several other factors that contribute such as the set temperature point, the condition of your air duct, and maintenance intervals to name a few.
How much noise can I expect from these window AC's?
Windows AC units are more inclined towards producing noise, but there are some things you can do to quiet a window AC. The noise is mainly due to the fact that the loudest components of the air conditioner (the fan and the compressor) are packed in the same division and sit on the ledge. On average, a window air conditioning unit can range in the 50-80 dB range.
Can I install the unit or do I need a contractor?
Window air conditioners are comparatively easy to install, requiring 2 people at max to end the job in less than an hour. However, some units come with complex installations and require a professional contractor to ensure the job is undertaken safely. Unless you have prior experience in installing such units, it is best to opt for a contractor. If you buy through amazon you can also use their home services for an additional installation fee.
How do I install a window air conditioner?
Once you've bought a window air conditioning unit, the first step involves setting the window kit up. After ensuring a tight seal between your room and the outer environment, secure the seal with screws. All that is left after attaching the seal is placing the unit and fastening the bracket. For a detailed understanding of the process, go through this guide.