Camping is a great activity that takes us away from everyday life, work, and other stresses. This article reviews our favorite air conditioners for tents to help you pick the right one for your camping needs.
It is easier to fall asleep and stay asleep when the area you're sleeping in is at a lower temperature. So next time you're invited on a summer getaway but feel hesitant because you don't want to sleep in the hot, sticky air, just come equipped with one of these awesome, true air conditioners.
We cover all types of air conditioners for camping with the main goal of providing quality products that are guaranteed to keep you cool.
Our Reviews of the 8 Best Tent ACs For Camping
Below are our list and reviews for the best tent air conditioners. Each has several unique features that may appeal to different camping scenarios so be sure to check them out and find the top AC units for camping and tent.
5. Frigidaire FFRA051WAE – Best Window AC For Tents
| | |
| --- | --- |
| Max Tent Area | 150 sq.ft. |
| BTUs | 5000 |
| Noise Levels | 51.3 – 56.5 dba |
| Dimensions | 16 x 15-1/4 x 12″ |
| Weight | 46.55 lbs |
| Heating Option | No |
I love that this little window-mounted air conditioner is about as easy of an appliance as they come. The temperature and mode dials are simple, and you basically plug it in and you're up and running. It is 46.55 pounds, but it's compact sizing makes it easy to carry.
I highly recommend this one for camping if your tent has a ground vent made to fit an air conditioner – it will be perfect!
This "little guy" easily cools off an area of 150 ft indoors, but if you're in a tent will need to work a little bit harder since air will obviously escape more easily.
For that reason, I would recommend this for a 4-person to 6-person tent at most and areas of approx. 100 square feet. Larger BTU options are available for bigger tents.
The Internet praises this product too, with 92% of customers saying they would recommend it to their friends. One thing that should be noted is that this one must be completely ventilated to the outdoors.
The back blows out warm air and failing to vent this would defeat the purpose of the product.
If using in a tent you also need to make sure that it's not sitting on the level ground. It needs to be up on at least bricks to vent properly. It does come with a pleated window kit although in my experience, some stable wooden blocks or bricks will do the job just fine.
Also be aware and keep an eye on the draining condensation as this can build up at the base of your tent.
Pros
The best air conditioner for 4 to 6 person camping tent
Remote control
Provides cold air, even in hot days
Cons
Bulkier than other camping air conditioner models
6. Black + Decker BPACT14HWT – Portable AC + Heater For Camping
| | |
| --- | --- |
| Max Tent Area | 350 sq. ft. |
| BTUs | 14000 |
| Noise Levels | 65 – 75 dBa |
| Dimensions | 17.1″ x 13.8″ x 28.1″ |
| Weight | 83 lbs |
| Heating Option | Yes (11000 BTU) |
Black & Decker has been a trusted brand for many years, and their portable camping air conditioners are high quality and long-lasting.
I first used a unit just like this one when I was living in an apartment in NYC. It was perfect because the exhaust hose was five feet long, which allowed me to point the air conditioner towards the living room during the day, and into the bedroom at night.
This 14000 BTU cooling power tent air conditioner is great at cooling a 350 square foot indoor space. It would easily keep a large family tent cool if you keep the indoor "walls" open to each other.
This portable air conditioner is 83 lbs and must be stored upright, so you'll have to consider this when packing for your camping trip and making sure you give it enough space in the tent too.
But perhaps the best feature of all is that this air conditioner doubles as not only an AC unit but a heater, which makes it ideal for going camping in places that blows hot air during the day and super cold at night.
This is a superb choice for a commercial tent as well and once set up correctly can cool (or heat) large enclosures. It is not as quiet as the window AC although because it is best suited to larger spaces because it does not need to be drained and noise is then less of a concern.
Some of the unique features of this true air conditioner include three fan speed variations, 24 hour time, remote control, effective cooled air, trendy design and more.
Pros
Low power consumption than most of the best camping air conditioners
Offers remote control, three fan speed for even air circulation, exhaust hose, and 24 hour timer
Quiet operation than other tent AC units
Dehumidifies humid air to provide cooled air
Corded electric power source
Cons
Comparatively heavier than other small portable air conditioner models for tents and camping
7. Emerson Quiet Kool EAPC8RD1 – Best Portable AC For Tents
| | |
| --- | --- |
| Max Tent Area | 150 sq. ft. |
| BTUs | 8000 |
| Noise Levels | 52 dBa |
| Dimensions | 17.3 x 12.8 x 27.4 " |
| Weight | 53 lbs |
| Heating Option | No |
For smaller tents (that fit 2 to 4 people), the Emerson Quiet Kool is a fantastic option, especially for those searching for a portable air conditioner. There are a lot of features packed into this true portable air conditioner that make it ideal for a camping situation.
First, although it does weigh 53 pounds, it has both side handles and wheels for easy maneuverability. It will need a little space of its own inside your tent, but its nice ventilation system is can easily be put in a window or door vent of your tent.
And it might need to work a little harder in extremely humid climates, but the Emerson Quiet Kool tent air conditioner is also a dehumidifier.
Unlike some air conditioner/dehumidifier combos, this evaporative cooler has a built-in evaporation technology, which means you don't have to empty a drip pan every 4 to 6 hours on a humid day. Win-win!
Most of the other reviews I read commented on just how quiet this portable air conditioner is, and it's true! I would compare the noise that it makes to that of a refrigerator or 52 dBa which is the lowest of any system we have reviewed.
The remote control and timer options allow you to set and forget this system when out boating, hiking or fishing on your camping adventure.
8. Nakatomi X Uninex KoolZone – Large Evaporative Cooler For Big Tents
| | |
| --- | --- |
| Max Tent Area | 75 sq. ft. |
| BTUs | 6143 |
| Noise Levels | 60 – 62 dBa |
| Dimensions | 27.4 x 20.2 x 11.7 " |
| Weight | 58 lbs |
| Heating Option | Yes (max 104 F) |
I love evaporative coolers because they are just like bringing mini-versions of your home AC along with you (and they also come in extremely handy when your home AC isn't working, too!)
Unlike the units from the Portable AC section above, a spot cooler like this Nakatomi X Uninex will sit on the outside of your tent and will vent cool air inside the tent. That means more tent space for everyone and industrial strength cooling. This model is a top choice for smaller areas and comes with heating options for cold nights.
This evaporative cooler does have a dehumidifier that works like a charm, but unlike some of the other models the condensation will need to be drained every few hours in extra humid climates.
These units are quite bulky but are generally not too loud with a dBA of around 60. Due to their large size and the fact that they sit outside your tent, don't be surprised if your camping neighbors want to come over and check this one out!
Great not only for camping, but many people find that evaporative coolers are essential to outdoor gatherings like weddings and celebrations.
There are many commercial grade portable AC systems available for large tents, such as our recommendation of the Movincool Classic Plus 26 Commercial Portable Air Conditioner.
Camping Air Conditioners Compared
Image
Model
Zero Breeze Mark 2 Battery Powered Portable...
IcyBreeze Portable Air Conditioner and...
GoCool 12V Portable Semi Truck Cab Air...
Ontel Arctic Personal Air Cooler, White
Uninex SAC1800 Indoor/Outdoor KOOLZONE Mobile...
Image
Model
Zero Breeze Mark 2 Battery Powered Portable...
Image
Model
IcyBreeze Portable Air Conditioner and...
Image
Model
GoCool 12V Portable Semi Truck Cab Air...
Image
Model
Ontel Arctic Personal Air Cooler, White
Image
Model
Uninex SAC1800 Indoor/Outdoor KOOLZONE Mobile...
Types of Air Conditioners Best For Camping in Tents
For camping, tent AC units require some planning and setup. Electric air conditioners will require a little more work on the set-up side of things but are more reliable than their battery-operated counterparts. Because most small portable air conditioners are also completely functional for home or apartment use, they are easier to purchase and there are more products on the market.
There are a few different options for electric AC for camping:
These units are literally the same units that supply air to a bedroom or small apartment. They run on about 5000 BTUs and can keep an area of 150 square feet cool, which would make this the ideal choice for an average-sized tent.
This option, however, does require a ventilation spot that fits the entire unit, so you may have to alter your tent to accommodate it. If you are a serious camper these provide cooling comfort for most tent sizes.
You will also need a power source, either in the form of a regular electrical outlet or a camping generator.
Generally more powerful than window air conditioners, the best portable air conditioners are known to cool spaces up to 400 square feet at 12000 BTUs. The models themselves can be quite bulky (weighing up to 100 lbs) but are often set on wheels to help you maneuver them around.
Portable air conditioner units still require ventilation, but usually only a smaller hose instead of space for the entire unit. Most of these portable air conditioners also work as dehumidifiers and have an internal tray that collects water. If the water bucket fills up, the air conditioner will automatically turn off until it is emptied.
Spot or evaporative coolers are the heavy-duty models of portable air conditioners, and they often even resemble their full, permanent in-home cousins. Running at 15000 BTUs these air conditioners are the most powerful of the portable options.
Most people who buy an evaporative cooler are probably looking to use them for a more permanent location like a garage or workshop, but if you're willing to put in the heavy lifting and extra setup, then they can be perfectly suitable for camping as well.
Battery-powered tent air conditioners are easier to setup and use but are less reliable and powerful than electric versions. Most 12V portable camping AC units are compact, so they are good for smaller spaces.
The main way that these battery-powered units work is that the user will fill the unit with ice (or water, in some cases) and a small fan will work to convert that energy into cool air. These air conditioners are recommended for smaller tents and personal use. This includes portable air conditioners for cars.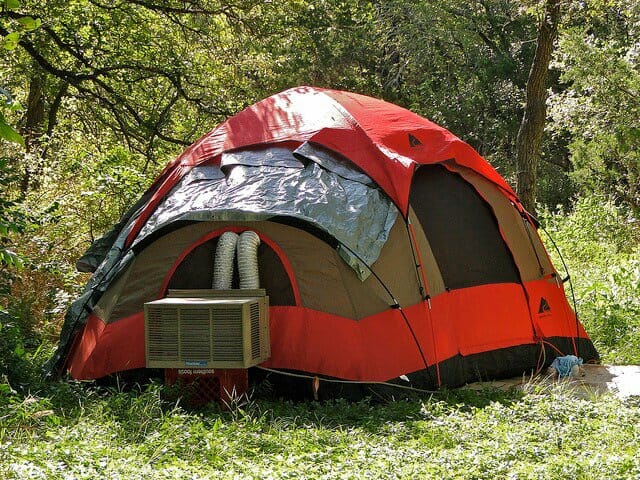 What To Look For When Buying A Tent AC
Key Camping Question: Do You Have Electricity?
Yes – Most public campgrounds have electricity hook-ups, but it will be best to make sure ahead of time that you will have access to AC. With electricity, you will be able to use any kind of portable air conditioner that you like, from small window units to full tower units.
No – If you're heading off-grid to where there isn't an electricity hook-up, you can still have a portable tent air conditioner.
Several tent air conditioner models on the market run on 12V batteries and many have options to be charged in your car. These truly portable air conditioner units are usually less reliable and obviously won't run as long, but they are still better than the alternative.
Portability is an interesting factor in choosing a camping tent air conditioner, because what one person deems as portable will not always be the case for everyone. For example, some people will have no problem at all bringing an 80 lb tent air conditioner to the camping where they can pull up to the campsite and easily get it out of the back of their pickup.
For others, this task is going to seem nearly impossible. Before purchasing your portable tent air conditioner, ask yourself how much you're willing to carry, how big of an evaporative air cooler are you able to transport, and how will you maneuver the tent AC throughout the trip.
AC power levels is in close connection with our power source. A BTU is a British Thermal Unit, and are numbers given to appliances that indicate how much energy an appliance will use to either cool or heat a given space.
It's right to assume that the higher the BTUs, the more power it has, and in general the more space it can cool. But when it comes to best tent air conditioner, the key thing to remember is that you would like a constant, cool temperature in your tent.
If you have a small, two-person tent but you have a large portable air conditioner that runs at 15000 BTUs, it will get your tent to the desired temperature faster but then will shut off until the temperature dips below that number again causing itself to cycle repeatedly.
This action will shorten the lifespan of your product because it is not working at a level that it was intended. Find the appropriate BTU outputting before you purchase your portable air conditioner.
Your tent size will greatly influence the type of portable air conditioning unit that you will need to buy. This article points out that tents are usually listed as either 4-person, 6-person, etc. but that they don't often take into consideration extra space for gear such as portable air conditioners, or even extra baggage.
For this reason, you will want to know the square footage of your tent and how much space you will require for an air conditioning unit. In general, each person that you're traveling with will require about 30 square feet of space to be comfortable.
You'll also need to consider how many people will be sleeping in a shared space. It will be much easier to cool an area with one person than with eight because the air conditioner would have to work harder to surpass all the body heat being put off.
The first thing to consider when looking to purchase a portable air conditioner for tent camping is whether you will have electricity at your campsite. Many public campsites offer electricity hook-ups, but the voltage may vary by location.
If you are planning to go to a specific location with your tent air conditioner, make sure you understand how many amps their hook-ups allow.
In general, this number will range from 5 amps to 16 amps. Knowing this number will help you choose the right appliance for your trip and will save you from blowing a circuit (or worse, cutting the power for not only yourself but also your camping neighbors!)
If you decide to take the electrically sourced route, you will also need to consider buying an outdoor extension cord to reach your appliance. If you decide to use a 12V battery for your tent air conditioner, you will want to consider back-up batteries and/or how you will recharge the unit.
As with any tent sleeping experience, you will need to consider the airflow and ventilation for your air conditioner. 12V battery-powered tent air conditioners won't require any extra ventilation other than what is built into your tent.
On the other hand, electric tent air conditioners will require ventilation to the outside. Window units require large vents, as the AC literally fits half in/half out of the tent.
Portable air conditioners and evaporative coolers require a smaller vent for a tube to exit the tent. Fortunately, tent air conditioners are growing in popularity and many tents are now being manufactured with a large vent to accommodate an air conditioner built right in. If your tent doesn't have this feature, you may be able to work something out within one of your existing doors or windows.
The level of noise any AC emits is a key concern for buyers. When camping, however, this is less of a priority because your natural surroundings will likely soak up most sounds that come from your air conditioner.
Nevertheless, always look at a units decibel level or dBa. As a general rule, anything under 60 is good and won't bother you or your neighbors. Once you get above 70 dBa it starts to become more of an issue.
Nearly all things come for a price and as the saying goes "you get what you pay for." Having a portable air conditioner with you on your camping trip, though growing in popularity, is still considered a luxury item with units ranging from moderately expensive to very expensive.
As with every other consideration though, the higher the price does not necessarily mean the better product. You need to look at all the considerations to choose the right portable air conditioner for your needs. And if all else fails, you can always do the tried and true DIY camping air conditioner of filling a 5-gallon bucket with ice and hoping for a breeze.
Is AC Even Needed When Camping?
Air conditioners for camping have benefits and drawbacks. We've made a list of the big influencers that might sway you one way or the other, to help you best decide your own cooling needs.
Keep your tent cool
Sleep better at a lower temperature
Multi-functional: the best tent air conditioners are good at doing many things besides camping
A portable camping air conditioner is easy to use and require almost no regular maintenance
Runs on standard electricity, no special hook-ups needed
Built to last: some of the best tent air conditioner units come with warranties guaranteeing that you will be able to enjoy them for years to come
The comfort of home in the great outdoors
Unlike window air conditioners, portable tent air conditioners are easy to move around
Sometimes hard to transport/heavy/take up travel space
Set-up and installation take time away from other camping activities
Required to use a camp-site with electricity or bring back-up batteries
Cost of the camping AC
Noise of the camping AC
Considered a Cooling Fan Instead?
If you're not quite ready to purchase an air conditioner for camping, it doesn't necessarily mean that you need to go without any cooling relief. There are many portable fans on the market that cool as well as ACs. Some are even more portable than other tent air conditioners.
My favorite fan for camping is this HAITRAL 2IN1 Portable LED Camping Lantern with Ceiling Fan. It sounds like a mouthful, but this little fan is super small and super powerful. It has a special clip that allows you to hang it up in your tent or even on your hiking backpack. It takes just two D batteries and can last up to 50 hours, which I find quite impressive.
I also recommend this O2COOL 10-inch Portable Camping Fan with Light as a travel option because it will completely fold up and fit in your backpack. The only downside to this one is that it requires 6 D batteries instead of 2.
How To Set Up A DIY Tent AC
If you consider yourself a handyman or gal, then a DIY Tent AC is not out of the question!
Many YouTube videos will show you how to make a tent AC (electrical, solar or battery powered) that will keep you cool for hours, indoors or outdoors.
Cooler chest
PVC pipe
Ice or frozen water jugs
Small fan – can be electric or battery powered
A drill and saw to create the openings in the cooler
Duct tape
Outdoor extension cords for an electric fan
A weather-proof electrical box to protect your cords, like this one
A solar panel kit, like this one
How To Set Up Small Window AC In A Tent
A tent vent large enough for window air conditioners
A standard size window air conditioner
A 12" milk crate to rest the window AC unit on – The air conditioner must not sit on the ground or it will not work correctly. Bricks are also a suitable choice.
Items to seal any gaps: extra tent material, small towels, etc.
A large drip-pan to collect the condensation from the unit so that it doesn't run under your tent and create a damp environment
Common Tent Air Conditioner Questions
How will humidity levels affect my air conditioner?
Humidity will cause the air conditioner to work a little harder to cool you off and potentially have more 'run off'. Many models have a built-in dehumidifier that can be extremely helpful. Be aware of which area your AC unit is draining towards.
How can I insulate a tent to help the AC?
For safety reasons, it is not recommended that you alter the tent in any way that would insulate it beyond its original specifications. It would be best to purchase a tent more suitable to your needs or to find an AC unit that will work more efficiently with the space you have. In saying that, place your tent in a shaded area is a smart idea. Consumer reports suggest blocking the sun so use a darker colored and waterproof 'fly' will help cool the space inside.
I have a larger tent. Which is a good choice?
Portable ACs and evaporative coolers both work well for larger tents. We highly recommend this Black & Decker model that can double as a heater. This is because of the higher BTU's (14000) it provides. This option should sit close to the front door out window cutting so it can drain any excess fluid.
I have a small 1-2 person tent. Which AC should I use?
If your tent has a proper vent, installing small window AC units for tents like the hOmeLabs Window Air Conditioner would be ideal and will keep you plenty cool. This is because it is slightly smaller than the Frigidaire option. If you are squeezed for space, you might consider looking at one of the 12V options instead.
Is it safe to use AC inside a tent?
Many portable tent air conditioners are safe to use inside a tent if you follow the instructions and use proper ventilation.
Which tents come with a hole for my Air conditioner?
As portable AC units become more popular, many tent manufacturers are adding vents specifically designed to fit AC units. We recommend this family sized tent by Ozark Trail.
Camping has come a long way from the bare bones outdoor adventure that it used to be, and now we can even bring along our portable AC units for a little home comfort and better rest. We hope this guide has served you well in your search for a portable air conditioning unit for your next camping trip.
We highly recommend both small camping air conditioner units like the Frigidaire FFRA0511R1 and larger units like the Nakitomi Spot Cooler. For those with a bigger budget and serious camping needs, check out the ZeroBreeze. Whether you're traveling alone or with a group of twelve people, there is a portable AC unit that will be just right for your next trip.
Last Updated on July 8, 2022