With temperatures rising each year, an air conditioner has become more of a necessity than a luxury. As a result, the number of air conditioning units being shipped out has also seen a steady rise.
If you're looking to buy a new air conditioner, you need to consider how much you're willing to spend and what brand suits your needs best. Efficiency, quietness, and most of all running expenses are features that should be paid special attention to.
The increasing demand for more efficient and sleeker air conditioning units means that the market needs much more than just powerful cooling from the top air conditioning brands out there.
One common name among these top brands is Rheem; boasting of a 7.9% market share. Rheem Air Conditioners are popular explicitly because of their cheap units and long warranty periods.
Rheem was incorporated in 1925, and quickly earned its place in the market because of its reliability and affordability. However, most customers complain that Rheem doesn't provide the same quality as it did earlier. Instead, Rheem now offers high SEER, sleek, and cost-effective solutions for air conditioning.
Here, we will look into Rheem Air Conditioner reviews and determine if this is the best fit for you or not.
Quick Look at Rheem Air Conditioners
With 3 different series and 7 different air conditioner types (available in different tonnages) between them, Rheem has a unit for everyone. However, where Rheem excels in costs and efficiency, it lacks in customer support, durability, and reliability.
Rheem is the perfect choice for you if you are looking for a cheap and efficient unit, and if you aren't going to use the unit extensively. Colder climates suit Rheem air conditioners better as it reduces the chances of the unit breaking down.
However, people living in hotter climates may be forced to spend on maintenance and repairs of the unit, sooner than they think. In exchange, however, you get efficiency, quiet operations, and sleeker designs.
Price Guide & Running Costs
The initial cost and relatively lower running costs are what Rheem excels at – something that most people consider to be the most pressing matter when it comes to purchasing a good air conditioner.
Rheem's Prestige series is somewhat expensive, yet it offers users a range of unique features and technologies that can enable you to save even more with a minimum of 20 SEER!
On average, Rheem AC units have a SEER of 17.12, the 7th best in the HVAC market. The lowest SEER of Rheem's air conditioners is that of the RA13 (Classic Series), offering 13 SEER, higher than most HVAC manufacturers' least efficient unit.
In contrast, the Prestige and Classic Plus series allow users to buy units with up to 17 – 20 SEER, thus the good average. These units are somewhat expensive, yet offer great efficiency compared to other, lower-tier units. However, there are a range of options other than Rheem, with better SEER, that you can easily get if you're not afraid of putting a dent on your wallet.
Cost efficiency is good when looking from afar, but if we dig into Rheem air conditioner's customer reviews, we find that this low cost is covered, if not exceeded, by post-purchase labor and repairs. Rheem's products lack the durability and post-sales service that other manufacturers offer.
The following table compares Rheem air conditioners' initial purchase cost, installation costs, and average running costs of each unit type. Remember, each unit is available in varying tonnage and the cost varies depending on the size you buy.
| Model | Price* (w/out Installation) | Price* (w/ Installation) | Estimated Running Cost** | Tax Breaks |
| --- | --- | --- | --- | --- |
| Rheem Prestige RA20 | $1,850 | $3,900 | ~$441 | $300 |
| Rheem Classic Plus RA17 | $1,480 | $3,620 | ~$519 | $300 |
| Rheem Classic RA17 (NC)* | $1,390 | $3,530 | ~$519 | $300 |
| Rheem Classic RA16 | $1,205 | $3,505 | ~$551 | $300 |
| Rheem Classic RA14**W | $1,150 | $3,450 | ~$630 | – |
| Rheem Classic RA14 | $1,050 | $3,350 | ~$630 | – |
| Rheem Classic RA13 | $990 | $3,100 | ~$678 | – |
*Prices are estimates for the following: 2.5-ton condenser, 1300-1400 cfm air handler plus a programmable thermostat.
**Running costs based on 21 cents/kWh and 2000 hours of cooling per year. Based on 2.5 ton AC unit.
Note – Other exterior factors can also influence the price; Based on national average
The price of each type of Rheem AC increases as you increase the size of your unit. If you live in a warm climate where you have to run your unit continuously, high SEER units are better suited for you, and if you live in a relatively colder area where summers aren't as long, you don't need to focus as much on efficiency.
Unfortunately, the low durability, difficult customer support procedures, and the presence of untrained installers in the market mean that Rheem is usually avoided by customers. As much as people save on buying a cheaper unit, something that Rheem offers wholeheartedly, they usually end up spending almost double on repairs and maintenance of their unit.
Following is a table that shows the general price range of different Rheem AC prices based on tonnage.
| AC Unit Size | Cost (Unit Only) * | Cost (With Installation) * |
| --- | --- | --- |
| 1.5 ton Rheem AC | $1,045 | $3,095 |
| 2 ton Rheem AC | $1,190 | $3,310 |
| 2.5 ton Rheem AC | $1,290 | $3,570 |
| 3 ton Rheem AC | $1,490 | $3,850 |
| 3.5 ton Rheem AC | $1,645 | $4,145 |
| 4 ton Rheem AC | $1,800 | $4,420 |
| 5 ton Rheem AC | $2,390 | $4,990 |
*Based on RA14 unit types
Rheem boasts its Prestige Series to be the most cost-effective in the long run because of its high SEER and EcoNet™ technology. The RA20's body is powder coat painted to ensure that it resists rust and corrosion. The unit also dampens sound to make the noise as low as 57 decibels and is thus, the most sold unit Rheem has in the market.
Rheem air conditioners are also eligible for tax rebates, of up to USD 300, if they have a SEER of 16 or above. This lowers the cost of these units even further!
The Importance of A Quality HVAC Contractor
Most customers have complaints about Rheem's units not being able to withstand weather conditions or work for long hours. Usually, this is because of poor installation methods. These include exposed wires, air vents facing the wrong direction, holes in the side of vents, and many others.
Air conditioners are expensive, to say the least, and handling one without proper care is like throwing thousands of dollars into the rain. Air conditioners need to be installed by people with proper training and knowledge about what they are doing. If the slightest of misalignments occur during the installation process, it can drastically reduce the life of your unit (usually 15 years) down to 5 years, or less.
To get experts and contractors that are experienced and well-versed in the art of installing HVAC units, visit Networx through the form below! The website contains a vast database of HVAC contractors near you, who can upgrade or install your Rheem air conditioner quickly and appropriately, all while following the relevant state codes.
At Networx.com, all contractors are sorted in accordance with their relevance to your query, ratings, and level of trust people put in them. All the contractors are verified, with strict rules for contractors updating their profiles regularly. This means that you won't have to 'vet' the contractors before hiring them!
Answer the questions below to start the process of finding a high-quality HVAC contractor.
Rheem Model Numbers Explained
Rheem air conditioners have simple names such as the RA14, RA20, etc., that can indicate the SEER of the unit easily. However, these names aren't as self-explanatory as some others in the market and thus, can cause some confusion.
Rheem models are distributed into three series:
Prestige Series (including Rheem RA20)
Classic Plus Series, (Including Rheem RA17) &
Classic Series (Including Rheem RA17, RA16, RA14**W, RA14, and RA13)
All three Rheem series offer something that the other doesn't, be it efficient running costs, low purchase costs, or a focus on quietness. Following is a table to give detailed insight on how each unit is distinct from the other.
| Model | Tonnage | SEER* | Noise Levels** | BTU's | Compressor |
| --- | --- | --- | --- | --- | --- |
| Rheem Prestige RA20 | 2-5 | 20 | 55 dB | 24,000-60,000 | Two Stage |
| Rheem Classic Plus RA17 | 2-5 | 17 | 58 dB | 24,000-60,000 | Two Stage |
| Rheem Classic RA17 (NC)* | 2-3 | 17 | 58 dB | 24,000-60,000 | Two Stage |
| Rheem Classic RA16 | 1.5-5 | 16 | 69 dB | 24,000-60,000 | Two Stage |
| Rheem Classic RA14**W | 1.5-5 | 16 | 70 dB | 24,000-60,000 | Two Stage |
| Rheem Classic RA14 | 1.5-5 | 16 | 65 dB | 24,000-60,000 | Two Stage |
| Rheem Classic RA13 | 1.5-5 | 15.5-13 | 72 dB | 24,000-60,000 | Two Stage |
*up to
**as low as, based on optimum conditions
Features of the Rheem AC Range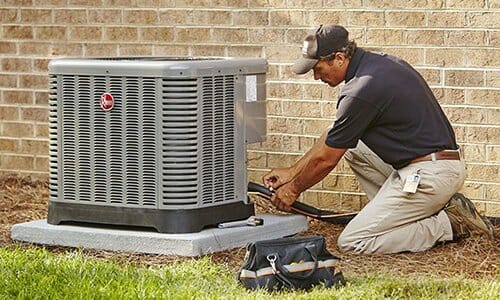 The Seasonal Energy Efficiency Ratio or SEER is the rating of how efficient an HVAC unit is.
The terminology was first introduced in 2008 by the Air Conditioning, Heating, and Refrigeration Institute as a way to measure how much energy is consumed by the unit against its BTUs (British Thermal Units) consumed when cooling.
It is important to note that the ratio is calculated when cooling or heating.
One-stage compressors usually turn off once the room is cooled down and SEER rating doesn't take that into account.
Many HVAC manufacturers also use EER in place of SEER. This eliminates the S (Seasonal) to measure the unit's efficiency, not only in the cooling season but throughout the whole year! This includes both, cooling and heating.
It is important to remember that higher SEER or EER (we also have a guide for EER to SEER for you) means increased efficiency. The top-tier Rheem air conditioners such as the RA20 are efficient and thus take up less energy when running for longer periods.
However, there are some HVAC brands including LG, Lennox, and Mitsubishi, that offer more efficient air conditioners as well.
Compressors are by far the most expensive and important piece of equipment within an air conditioner. Although any missing or damaged part can impair the proper function of your air conditioner, a missing or damaged compressor means that your air conditioner is a glorified air blower!
Compressors are usually responsible for cooling a refrigerant gas within an AC and cycling it throughout the coil. Rheem air conditioners use DuPont's trademarked HCFC refrigerant, Freon, to cool down the hot intake air.
To cool Freon down, the gas needs to be compressed – and that is the job of a compressor.
There are two types of compressors: single and two stages.
Rheem air conditioners don't have any single stage compressors, thus focusing on lowering energy costs. Single stage compressors only run at full speed to cool the hot air and shut down once the intake is no longer hot.
These high-speed compressors are very quick to cool the house down but are very costly because of the voltage spikes when turning off and on, thus resulting in higher electric bills.
Rheem AC units contain two-stage, variable speed compressors. These compressors contain sensors that allow them to make an adjustment to the compressions based on the desired temperature. They run at full speed when cooling, and slow down in order to maintain the room's temperature. Their capability to slow down lets them conserve energy and avoid those voltage spikes.
However, two stage compressors are somewhat slower at cooling the room.
A condenser is a unit used in central air conditioning systems to 'exchange heat' from the hot air into the coils. This is possible with the combination of compressed refrigerant, cold coils, and a condenser fan that blows outside air through the exchange section.
These fans are of two types, depending on the type of compressor, i.e., single and double speed. Apart from blowing outside air in, these fans are also responsible for keeping the compressor cool when running.
All of Rheems' AC units feature double-speed condenser fans.
While most air conditioners don't feature a heat pump (much like Rheem air conditioners), they do have the ability to act as heaters. This is possible because of the compressor's capability to act in reverse, and instead of putting positive pressure on the Freon gas, the compressor puts negative pressure on it, heating the gas and in turn, the coils, which then heat the cold intake air.
Rheem air conditioners perform in a somewhat mediocre fashion in terms of quietness. The Prestige RA20 has a powder coated body made of metal and thermosetting plastics. And to enhance the insulation, manufacturers have also added rubber linings around the moving parts to give it an even quieter function. The RA20 can go as quiet as 48 decibels under optimum conditions!
However, there are a number of quieter units available in the market, however these are typically portable AC models. The quietest AC is currently produced by Haier; capable of functioning at 25 decibels during normal operation and even lower under optimum conditions!
Other versions of Rheem aren't as quiet either, at the outer units make a lot of sounds once the condenser fans start blowing air. They can go up to 82 decibels when under pressure!
Warranty & Why It's Important
Warranty is another aspect where Rheem AC units fall behind its competitors. Other HVAC manufacturers such as Goodman, Lennox, and Trane, offer users as long as lifetime warranties on parts and compressors.
Rheem air conditioners offer only 10 years of limited warranty on parts and compressors if you register your product within 90 days of purchase. Some customers aren't sometimes made aware of this requirement and miss out on this warranty as well.
With all that said, Rheem is notorious for its poor customer support. Customers often complain about unfriendly support staff, inexperienced technicians, and most of all, the unreliability of products. Rheem air conditioners often find their way to any wholesaler that can afford it, which results in poor installers entering the market.
Whether these bad reviews and low durability of parts and compressors are actually Rheem's fault or the poor installers, that remains yet to be found. However, you can hire experienced and trusted technicians with the help of Networx and make sure your investment gives you the best return.
Government Tax Breaks Explained
Since February 2018, all high-efficiency equipment was granted a tax rebate upon purchase. For HVAC units, all units with SEER 16 or above are eligible for a tax rebate. Rheem's air conditioners, including RA16, RA17 (NC), RA17, and RA20 are all eligible for a tax rebate of 10% of installation costs, up to USD 300.
Usually, Rheem is compared to Goodman because of the similarities. The most efficient unit of Rheem will cost you the same as Goodman's premium air conditioner, however, the SEER of both is extremely different. Goodman's GSXC18 offers 18 SEER, while Rheem's RA20 is 20 SEER. This means more efficiency and thus, more savings.
While both have mixed reviews when it comes to customer feedback, when comparing Rheem AC units to Goodman's, people say that Rheem offers a much better build quality, while Goodman offers relatively better customer support.
Pro's & Cons of Rheem AC Units
Every AC brand has pros and cons and Rheem, owned by Ruud, is not perfect in any sense of the word, either. While some customers often stay away from Rheem AC, some people find it suitable for their needs. Following are some pros and cons of Rheem air conditioners hold.
Pros
Low purchase cost
Low running costs – High efficiency
Eligible for tax rebates
Relatively good efficiency at lower costs
High-end models are rust and corrosion resistant
Cons
Poor customer service
More efficient brands available in the market
Shorter warranty periods and no labor compared to competitors
Expensive compared to its competitors with the same SEER ratings
Not durable or reliable
Wholesaled to external HVAC installers without checks, allowing inferior installers to enter the market
The only premium unit is quiet, while all the rest are somewhat loud
Other Customer Reviews of Rheem Air Conditioners
The internet has become one of the most popular forms of pre-purchase research, and customer reviews are often what steer the final decision of whether or not a customer is going to buy that specific unit. Following are some reviews by people who purchased Rheem AC units.
Bought the unit in 2016, after 1 yr the coil leaked. Was charged over 1400 to install with freon, after 1 year it went again. Do not purchase a Rheem! Horrible. Very disappointed with the performance of this unit. John, Selden, NY. Consumer Affairs
I have had this Rheem Heat Exchanger now for 4 years and was just told by my service man we will have to replace the AC coils. After loading a dye into the system, they are leaking. This will be the third set of A coils installed in the past 4 years because of leaking. These units are made in Mexico and are extremely unreliable. Never buy a Rheem anything. They are cheap junk. After reviewing a lot of glowing reviews, I noticed they were mostly done by the retail outlets and service providers selling the units. They are cheaply made and very profitable to the dealers, and they love them. We contacted Rheem about this issue again and got a solid, "I am sorry that is out of warranty." Besides we did the first replace under warranty parts only and the tech waived his installation charges. I will never buy anything made by Rheem. – Jay, Gainesville, GA. Consumer Affairs.
Two years after moving into a new home with a new Rheem ac unit the coil began to leak. It seems that everyone is having this issue in my subdivision and this piece of trash company is refusing to cover it. Do not buy their junk overpriced ACs; they will not last you more than two seasons without needing major repairs. Their customer service sucks too – R, Miami Beach, FL. Yelp.
Customers who bought Rheem have complained a lot on online forums and have had to pay extra to get them fixed, despite the warranty. Poor reliability and matching poor customer support, both add up to give customers a reason to stay away from Rheem air conditioners.
However, when comparing efficiency and price ranges, there is no equal to Rheem. Its most prestigious unit, the RA20 is silent, efficient, and sleek. Its warranties (if registered) is also a good 10 years, much better than most brands in the market. However, as mentioned above, there are a number of HVAC manufacturers that can give you better warranties and a much better after-sales support, such as the one Bryant boasts.
In order to fully enjoy your new and expensive air conditioner, you need to make sure it is installed correctly. And you need a trusted and experienced HVAC installer in order to do so. To find certified and verified technicians, visit networx.com. Finding a quality HVAC installer has never been easier; all you have to do is scroll and click!
As can be seen from the reviews above, customers are often dissatisfied with Rheem's reliability and customer service. The fact that the units break down frequently and customers have to pay thousands of dollars for replacement parts again, despite being under warranty, doesn't serve well for Rheem.
Although Rheem is mostly bashed because of its poor reliability and durability, people believe Rheem to have better build quality when compared to Goodman, especially on Reddit.
Our Rating:
(4.3 / 5)