Heat pumps are among the most efficient home climate control systems available right now. If you want to know what a heat pump is or how it operates, we have you covered over here. However, if you are looking for the right brand for your home needs, Rheem heat pumps may be the answer.
In this article, we will look at all Rheem heat pump models and help you decide which one is the best option for your needs. We also explain SEER and tonnage and what to look for when shopping for the ideal heat pump.
Overview Of Rheem Heat Pumps
Rheem categorizes their heat pumps in line with their air conditioner systems.
That is why you will notice the "series" in the model name even if there is only a single heat pump unit in that series.
The Prestige series is the top of the line for Rheem and features high-quality components and excellent energy efficiency.
The other models in the line include the Classic and Classic Plus series models. With three-stage and single-stage compressors, these models are aimed at smaller budgets that still need high efficiency.
What Rheem lacks is a long lineup. With fewer options than almost every other brand, Rheem focuses more on dependability and high-quality parts.
You save more money in the long run, and their warranties rival the best in the business.
Comprehending Heat Pump Tonnage & SEER Ratings
Heat pump capacity and output are measured in tons. This has nothing to do with the weight of the system itself, which can be confusing. In the HVAC world, a ton is the equivalent of 12,000 BTUs. It is a quick way to note how large of a capacity your system has. Each ton can effectively and efficiently cool between 600 and 900 square feet (give or take).
Most heat pump manufacturers have options from 1 to 5 tons (12,000 to 60,000 BTUs), and the larger the unit, the bigger the space it can heat or cool. Most homes in the US will use between 2 and 3 ton units, with 2.5 tons being the most common.
However, you also need to understand efficiency ratings. Heat pumps have two, SEER and HSPF. The Seasonal Energy Efficiency Ratio (SEER) is the ratio of wattage intake against BTU output over the summer months when the system is in cooling mode.
A higher SEER rating means a more efficient unit, with heat pumps known for their efficiency. An average heat pump will have between 16 and 18 SEER, great models will fall between 18 and 20 SEER, and exceptionally efficient units can exceed 21 SEER.
Like SEER, the Heating Season Performance Factor (HSPF) is the ratio (watts vs. BTU) over the winter months when the heat pump is in heating mode. Similarly, the higher the HSPF, the more efficient the model.
HSPF is a much lower ratio, though, and you want to look for an HSPF between 8 and 10 for good efficiency. Anything over 10 HSPF is considered exceptional.
Rheem Heat Pump Range (Side By Side Comparison)
In the chart below, you will find all 5 Rheem heat pump models compared. We cover the SEER and HSPF ratings, their available tonnage and corresponding home sizes, as well as unit and installation costs (based on a 3-ton unit with full install).
| Heat Pump Model | SEER | Ton | Home Size | Compressor Type | HSPF | Cost (Unit Only) | Cost + Install |
| --- | --- | --- | --- | --- | --- | --- | --- |
| Rheem RP20 | 20 | 2 – 5 | 1200 – 3200 sq. ft | Variable Speed | 11.5 | $2250 | $6200 |
| Rheem RP17 | 18.5 | 2 – 5 | 1200 – 3200 sq. ft | Three-Stage | 9.5 | $2000 | $5700 |
| Rheem RP16 | 16 | 2 – 5 | 1200 – 3200 sq. ft | Two-Stage | 9.2 | $2000 | $5700 |
| Rheem RP15 | 16 | 1.5 – 5 | 900 – 3200 sq. ft. | Single-Stage | 9.0 | $1900 | $5600 |
| Rheem RP14 | 15 | 1.5 – 5 | 900 – 3200 sq. ft | Single-Stage | 8.2 | $1550 | $5300 |
| Rheem RP14-F | 14.5 | 1.5 – 5 | 900 – 3200 sq. ft | Single-Stage | 8.5 | $1250 | $5000 |
Here we will look at all six Rheem heat pumps and give you a better idea of what you are getting. Should you end up selecting a Rheem heat pump, either as a new install or an upgrade, you won't be disappointed.
Rheem Prestige Series: Variable Speed (RP20)
The top of the heat pump line is the Prestige Series. It holds only a single model, the RP20. This model is compatible with the Rheem EcoNet for wireless communications, smart thermostats, and more.
The only downside to this model is it is not made for smaller homes. The smallest size available is a 2-ton unit, so homes needing 1 or 1.5 tons are out of luck here. However, this unit does offer up to 20 SEER and an impressive 11.5 HSPF, which is among the highest HSPF ratings in the industry.
While the RP20 is Rheem's most expensive model, it is still priced much less than most other brands with a compatible unit. Add on top of that a relatively low installation cost, so you have one excellent heat pump that fits most budgets.
The RP20 has Rheem's best warranty, too. When paired with a compatible air handler, you get a 10-year parts coverage and a 10-year replacement. While you don't get extra coverage for registering, it is still needed to complete the warranty process.
Rheem Classic Plus Series: Three-Stage (RP17)
Like the Prestige Series, the Classic Plus Series also only has a single model. This is done because Rheem groups all of their equipment into the same series. So while you only see one heat pump, there are several air handlers, air conditioners, and furnaces that fit the same series.
Unlike the RP20, the Classic Plus RP17 has a three-stage compressor instead of a variable speed. It has a high SEER (18.5) but not as high as the 20 SEER of the better model. Still, you save a few hundred dollars on unit cost and install, which can translate into getting your heat pump sooner.
The monthly savings are negligible between 18.5 SEER and 20 SEER, as long as you have professional installation. You will still see a significant drop in your electricity bill with the new heat pump, and you get the same warranty coverage (10 years) but without the unit replacement warranty.
Rheem Classic Series: Two-Stage (RP16)
The Classic Series holds four models, but only the RP16 has a two-stage compressor. It also has the highest SEER and HSPF ratings of the remaining models. The RP16 may be the most economical purchase from Rheem. It has a two-stage compressor to be more efficient, run quieter, and perform better.
It also costs only a little more than the rest of the Classic Series, but a lot less than the Classic Plus or Prestige Series models. For that, you also get a 5-year parts and compressor warranty, which doesn't get doubled with registration, as some brands offer.
However, the low-maintenance heat pump is easy to keep clean and functional. With proper, annual maintenance can last well over a decade.
Rheem Classic Series: Single Stage (RP15, RP14, RP14-F)
The remainder of the Classic Series, then, all have a single-stage compressor. These entry-level units are designed to be an upgrade from a less efficient central air system and work well to lower your energy bill compared to what you are used to.
As long as you don't expect miracles when you open your next energy bill, you should be pleasantly surprised. The 5-year warranty isn't the best in the industry, but it is enough. Paired with a labor warranty from your HVAC installer, you will have at least 5 years of worry-free, cost-free service.
What you will get is up to 16 SEER and 9 HSPF ratings while saving over $1,000 on the unit and installation fees (compared to other brands). The Rheem Classic series is arguably the most affordable heat pump lineup on the market right now. And while it won't wow you with features, it will save you a lot of money now and in the future.
Rheem Heat Pump Buying Guide
Noise levels, measured in decibels (dB), are a part of any machinery. Heat pumps are no exception. Many top brands and high-end units will employ some sort of noise reduction technique, either through rubber mountings, compressor blankets, insulation, etc.
Rheem saves you money and doesn't have a lot of noise reduction applications as a result. However, their systems aren't exceptionally loud, either. As long as you realize they aren't the quietest heat pumps on the market, you will be fine.
On average, running on high, all 6 models will reach about 75dB or higher. The actual range for all models and all speeds is between 56dB and 79dB.
The size of your heat pump will also be important. We covered the importance of tonnage above, and it is critical that you get the right size for your space. Your HVAC installer will ensure you order and receive the correct size, but the general rule is 20 BTUs per square foot of the home.
Smaller homes or condos may not find what they are after with Rheem. While all six models over 2 to 5 tons, only the Classic models have a 1.5 ton option. If you have a home less than 900 square feet, the 1 ton options aren't available here.
A 2-ton, high SEER unit like the RP20 may be too much power, causing you to see lower SEER values and have a unit that ends up costing you more.
The unit cost of the heat pump will also be a factor. When comparing costs, there are two prices you need to plan and budget for. The first is obviously the cost of the heat pump itself. Rheem has affordable options that are designed to fit most budgets.
The more significant price, though, is the cost of installation. Depending on where you live, the time of year, and what the installation will entail (removal of the old system, for example), you can end up paying quite a bit for the installation (though it is worth it, as outlined below).
Knowing the total costs and fees will help your budget and point you to the best model in your price range.
Professional installation is highly recommended. Some brands even require it for warranty coverage. The option may not even be up to you, depending on what needs to be completed for the install.
For example, it is illegal to handle, charge, empty or refill refrigerant in an HVAC system unless you are EPA 608 certified. This limitation alone may mean that you need to call in an HVAC contractor for the job.
The only heat pump types that can be DIY install are mini-split systems. However, even then, knowledge of electricity, proper line routing, and the heat pump's mounting on a concrete slab may be out of your skillset. When in doubt, it is always best to go with a pro.
As you have a choice in individual models, you also have a choice in brands. If the brand you are currently looking at, for example, doesn't offer the features, efficiency, or cost that you are looking for, another brand might.
While it is good to have choices and options, sometimes too many can become frustrating. Our brand reviews are designed to help you find the right brand that meets your needs so you can focus on model and feature selection.
Warranties are also important. One of the biggest causes of efficiency loss (aside from improper installation) is a heat pump with a worn or damaged part. Sometimes this happens in the first few months or years of ownership, and a warranty will help offset the cost of replacement.
You always want to check the warranty paperwork to know what is covered and for how long. You also want to understand what is required on your part to take full advantage of the warranty. Many brands, for example, offer a warranty extension as long as you register your purchase within a specific time frame (60 days, usually).
The federal tax credit program is an incentive to purchase a high-efficiency unit and have it installed in your home. This program started in 2018 and was scheduled to run for only two years. It has since been expanded to include all purchases and installs from Jan. 1, 2017, to Dec. 31, 2021.
There is currently legislation trying to extend the program further to include all purchases through 2026 and double the credit amount. Currently, for heat pumps, that credit is a flat rate of $300.
To qualify, you must meet all of the following requirements:
You must own the home and live in it full time. Rental properties and new construction do not count.
The heat pump must be Energy Star certified and professionally installed.
For split systems, the minimum efficiency ratings are 15 SEER and 8.5 HSPF.
For packaged systems, the minimums are 14 SEER and 8 HSPF.
Unit must be purchased and installed on or before Dec. 31, 2021.
If you meet the requirements, you only need to fill out tax form 5696 and file it along with your annual income taxes. Once done, you will enjoy a $300 tax credit.
Heat Pump Power Consumption: How To Calculate It
Calculating your heat pump power consumption (running costs) is fairly straightforward. You need to know four variables and perform some simple multiplication.
First, you need to find out the wattage intake of the heat pump. This will be found in the spec sheets, on the information label on the unit itself, or by calling customer service for the brand of your heat pump. You want to divide the wattage by 1000 to get the kilowatts (kW).
Next, take a look at your most recent electric bill to determine how much you pay per kilowatt-hour (kWh). After that, the other two variables will depend on your usage. You want the number how hours per day the system is running. During winter and summer, that average is between 4 and 6 hours.
Finally, you want to know the number of days you are calculating the costs for. If you are looking for the costs over summer or winter, for example, you will use 90 days. If you want to know how much it will cost you next month, use 30 days, etc.
The formula looks like this: kW x $/kWh x hours x days. For example, if we have a system that uses 3600 watts (3.6 kW) and we pay 12 cents per kWh, we can find the cost of running the system 4 hours per day for 90 days.
That will make the formula look like: 3.6 x $0.12 x 4 x 90 = $155.52.
Why You Should Hire A HVAC Professional: Installing A Heat Pump
Hiring a professional HVAC technician to install your heat pump has a single downside: cost. However, that is offset by the many benefits it offers. The installer is going to be licensed, insured, and certified in handling refrigerants. These certifications and licenses along cost more than the installation fees.
There is more, though. Let's look at some of the top benefits of having your Rheem heat pump professionally installed.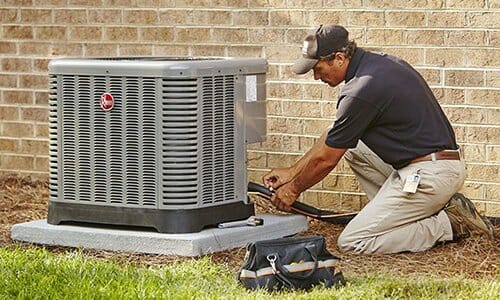 System Warranty Will Be Guaranteed
Not only will you ensure you maintain your warranty status, but you can also even get a labor warranty that will further minimize out-of-pocket expenses if something goes wrong in the future. If a component does break or there is damage, Rheem will replace the part or (in some cases) the entire unit. However, installation, replacement, and labor fees are not included.
A labor warranty from your installer will cover those costs, helping you get back to fully operational with minimal cost to you.
Safety Measures Will Be Taken
With a pro install, you are also ensured certain safety measures. Your personal safety is taken into account, of course. Since you won't be involved in the install, you will be out of harm's way in the event something bad happens.
Your home and structures are also safe. This includes the heat pump and equipment, as well. A professional installer will ensure your install is planned, safe, and executed without damage or compromising structural integrity.
Correct Model Will Be Supplied
When you hire a professional for the install (unless you do it after ordering your heat pump), you are getting several assurances. First, the contractor will come to inspect your home and take measurements. Many will perform a calculation called a Manual J. This tells the contractor exactly what sized unit you need.
After the inspection, you will sit down with the contractor and discuss options, models, brands, etc. When you have your decision, they place the order, handle shipping, delivery and make sure the right unit is brought to your home.
Efficiency Could Be Increased Due To A Correct Setup (Lowering Energy Costs)
Each heat pump has an efficiency rating, but that rating is only as good as the unit performs. An improper setup, installation, or malfunction will result in lower efficiency.
A professional install is needed to ensure you get the best performance and reach the expected efficiency ratings. Once the install is complete, the trained HVAC tech will run through the setup, test connections and ensure everything is working as expected.
Troubleshooting Tips & FAQs
In this section, we will look at some of the most common issues that happen with Rheem heat pumps and offer things you can do to fix them (or when to call a pro). We also answer some of the more frequently asked questions about Rheem heat pumps in general.
Rheem heat pump blower doesn't run
If your Rheem heat pump blower isn't running, there are only a few causes. The most likely is a burnt-out motor. You can look at the blower motor and see if any of the wires are burnt, charred or loose (remove power supply before touching!).
You also want to check the simple things. Make sure the thermostat is on and in the proper mode. The air filter isn't clogged, and the unit isn't frozen up at the coils or compressor (see below). If everything else checks out, you probably need to have the blower motor replaced.
Rheem heat pump not heating or cooling correctly
If the system is running, but it isn't cooling or heating properly, you will need to check several simple things. First, of course, is the thermostat. As odd as it seems, it is usually that the thermostat got bumped to the wrong position.
After that, you want to check airflow. Inspect the filter for clogs or damage and the vents for blockages and high air output. If all of these are working correctly or are clean, look at the outside unit for ice build-up or a stuck fan motor.
If there is ice, you will most likely need to call a professional (more below). If the fan motor isn't spinning or the system has overheated, you will need to have the motor replaced or wait until the system cools down to try again.
Rheem heat pump trips breaker or freezes up
If the heat pump continuously trips your breaker, it is due to a power draw that is too excessive for the unit. Most of the time, this is caused by a system with no airflow. Check your air filters and vents for clogs and clean or replace them accordingly.
The other option is if the unit is freezing up, which will block airflow and cause the unit to work harder, drawing more energy. If a unit is icing over, it is almost always because of a refrigerant leak. When you don't have enough refrigerant, it cools too much, too fast, forming ice.
The leak will need to be located, repaired, and refrigerant levels refilled. This takes a professional contractor's skills and should not be attempted by anyone not trained in HVAC repair.
Rheem heat pump error codes
Rheem has quite a few error codes, and they are almost identical for heat pumps, air handlers, and air conditioners. The codes come in numerical form, upper and lower case, so it is important to note if you are looking at Code c or Code C.
One of the most common codes is Error Code 1. This is a code that means the compressor is running too long. Specifically, it has run continuously for 18 hours. Many things can cause this, including leaking air ducts, dirty or clogged air filters, dirty outdoor coils, or low refrigerant.
Once you check the cause of the error code, you can replace the filter, patch the ducting or clean the coils. For refrigerant, though, you will need an HVAC technician.
Rheem heat pump red light flashing
Under regular operation of your heat pump, you will see two LED lights on the front of the heat pump module. One light is green and the other is red. When the green light is lit, it means everything is running normally.
However, if the red light is lit, it means there is an issue you need to investigate. The red light will either come on and stay on or begin flashing. If it is flashing, this is a trouble code. You need to count the number of flashes between pauses, which will tell you the trouble code and point to what is wrong.
The trouble code list is found in your owner's manual and will outline exactly what is wrong with the system and how you can fix it, based on the number of flashes.
Are Rheem heat pumps quiet?
Rheem heat pumps are fairly loud compared to other brands. With an average decibel rating of 70, they are among the loudest models on the market. However, they aren't the absolute loudest, and when running on low or medium speed, they are much quieter.
How do I reset my Rheem pump?
Resetting your Rheem heat pump is down to your circuit breakers. The heat pumps do not have a reset switch, though some models do have a red limit switch that can trip if pressures are too high.
To reset your system, you need to turn the unit off at the thermostat first. Then locate the two circuit breakers that supply power to your system. Once located, shut them off and wait at least 3 minutes. Restore power to the breakers, and then turn the thermostat back on to the correct mode.
Are Rheem heat pumps good?
Rheem heat pumps are good. They offer an affordable solution with plenty of energy efficiency. While they may not be the most feature-rich models available, they are among the most affordable.
With a simple install, low maintenance, and easy diagnostics, they are less expensive to work on and come with a great warranty to help with costs and out-of-pocket expenses.
Rheem heat pumps fall in line with the Rheem air conditioners. They use the same components and series names for identification. However, the heat pumps are much more efficient, affordable, and long lasting.
You will find a suitable model for your needs, even if that means going without some of the more advanced features. In the end, though, if you are looking for a cost effective solution or an upgrade to an older central air unit, Rheem is a viable option.
Our Rating:
(4.3 / 5)