Homeowner's around the country know the importance of a durable and reliable air conditioning system. If you are remodeling, building new construction, or just upgrading your existing system, you can quickly get overwhelmed with the brands, styles, and options of HVAC systems out there.
One of those brands is Tempstar. A lesser-known brand under the Carrier umbrella, Tempstar keeps things simple, offering a smaller line up to give you enough flexibility without being overwhelmed.
This article will examine the brand, their history, options, and what makes them a worthy choice for your AC installation. We will also look at the good and the bad, so you can make the most well-informed decision possible.
Quick Look At Tempstar Air Conditioners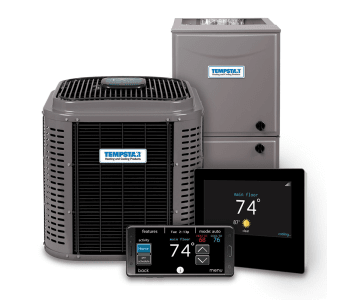 Tempstar is part of a larger umbrella of companies that produce HVAC systems and components.
You have probably heard the name Carrier before. They also work under the same umbrella. The parent company, United Technologies Corporation group, has a few names and brands under their control.
What does this mean for you? It means you get quality components and systems for a fraction of the cost. Tempstar is made and stored in the same manufacturing plants as Carrier and Heil.
The difference is that the Tempstar labeled products sell for much less, even though they have a lot of the same parts inside.
Not every part is the same, though, and you aren't secretly buying a Carrier for a lower price. This is part of the bad news. However, with air conditioners, furnaces, and fan systems all using similar (and in some cases the same) parts, you are still getting a reliable unit at a fraction of the price.
Price Comparisons & Cost Expectations
There are several costs associated with a central AC system. The most common costs are the unit itself, installation, and running costs. Each of these will vary significantly between model, installation location, and labor fees in your area.
Tempstar has several models that currently range across two lines: Premium and Value. The Premium units cost more, but are also much quieter when running, offer higher quality compressors, and even use Ion System Controls.
Ion Controls allow the unit to talk to Ion air handlers and thermostats wirelessly. They also monitor the slightest changes in temperature, weather, and other variables to maintain a more reliable and constant temperature range.
The Value Line is more affordable. While it doesn't offer wireless communications, they still have an excellent efficiency rating and lower noise production than other budget-friendly brands or models.
The basic formula looks like this: (Wattage / 1000) x (hours used) x (cost per kWh).
If we use the national averages then, we can plug in our values as such (based on 13 cents per kWh, running the system for 5 hours a day, with a wattage rating of 3500):
(3500/1000) x (5) x (0.13)
The first part, dividing the watts by 1000, will give us the kilowatts, or 3.5. We multiply this by 5 and know the kilowatt-hours, 17.5kWh. Multiply this by the cost per kWh, and you will get a running cost of $2.28.
The $2.28 is what it will cost to run the system for 5 hours. You can then multiply this number by 7 to get a weekly total, or 30 for a monthly total. You can also multiply by the total number of days used during the year for an annual cost.
The Importance Of A Quality HVAC Contractor
One of the biggest causes for loss of efficiency is an improperly installed system. This is also the main component for the rebate programs requiring a professional install.
Finding a quality HVAC contractor can be difficult, though. You may not know if the company you hire actually sends out a licensed installer or an apprentice on his second day of work.
To help with this, we use Networx via the form below. This company uses a lot of algorithms to show you the most relevant and promising results. Each contractor has a thorough background check and will show your results based on geographic proximity, level of experience, customer reviews, and trustworthiness.
Using the form below, you will get instant results from licensed, reliable contractors that will not only install your system correctly but will help you determine what is needed for you to get the most out of the government rebate program.
Tempstar AC Model Numbers Explained
As mentioned above, Tempstar has two lines of air conditioners. The Premium Line boasts their better machines. They have a higher SEER rating, better warranty, and are generally quieter while running.
There are four models in the Premium line, including the best of the best TVA9 model. The Value line offers more choices, with 8 models. This line also includes the compact NH4A4 models, made specifically for homes without a lot of room for an outside unit.
| Model | Ton | Seer* | Noise Levels** | BTU's | Compressor |
| --- | --- | --- | --- | --- | --- |
| TVA9 | 2 – 5 | 19 | 56dB | 24000 – 52000 | 5-speed variable |
| TCA7 | 2 – 5 | 17 | 70dB | 24000 – 52000 | 2-stage |
| TSA5 | 2 – 5 | 15 | 74dB | 24000 – 52000 | Single stage |
| N4A7 | 2 – 5 | 17 | 71dB | 24000 – 52000 | 2-stage scroll |
| NH4A4 | 1.5 – 5 | 14 | 66dB | 18000 – 52000 | Single-Stage Scroll |
*up to
**based on normal operation
What To Look For In a New Tempstar AC
The SEER rating, or Seasonal Energy Efficiency Ratio, is the rating given to electrical appliances that determine how energy efficient it is. The ratio is determined by taking the input in watts compared to the output in BTUs. The higher the number, the more efficient the unit is.
Tempstar doesn't offer the highest SEER ratings in the industry, but it also doesn't have the lowest. The Premium series models range between 15 and 19 SEER, which is pretty good. The TVA9 model is the best with 19 SEER.
The Value line ranges from 14 SEER to 16 SEER, with the compact and stackable NH4A4 leading the way with options up to 16 SEER.
Compressors are not all built the same. The most common type of compressor is a single stage compressor. When it is on, it has one speed, and it compresses and controls the flow of the refrigerant at that single speed. These, though, are the least efficient types of compressors.
Dual stage compressors are more efficient, and scroll compressors offer a longer life span. However, the best of the bunch is a variable speed compressor. Since these technically never shut off, they don't require as much energy to start, and the variable speed allows the compressor to work only as hard as needed, saving you energy and improving performance.
Tempstar offers a 5-speed variable compressor in their top of the line TVA9 model. The rest of the Premium and Value lines are either single or dual stage compressors, which also come in scroll compressor options.
The condenser fan is responsible for removing the heat from the refrigerant that it brings from inside the home. Without the condenser fan, the refrigerant never cools, cannot be pressurized into a liquid, and the compressor will overheat. Most condensing units have a single speed fan that comes on with the system and shuts off when the AC turns off.
Tempstar has other plans. They use variable speed fans in their Premium line that use between 2 and 5 speeds. The speeds are designed to match the compressor's speed, so you always have the perfect amount of heat removal.
The Value line still maintains the single-speed fan, though. While this isn't a bad thing, it does nothing to improve the performance or lifespan of the AC units.
Almost all central air conditioners will have heating capabilities. This can range from electric to natural gas heating, but the process is generally the same. The interior air handler will have a heating element, gas burners, etc., that heat up when the system is on.
Instead of blowing warm air over the evaporator coils, the air is moved through or over the heat source and warms the air. Tempstar has several heating options, including gas furnaces, electric furnaces, and the Ion series air handlers with electric heat.
The Ion series is compatible with all condensing units, but only the Ion Premium line models will communicate wirelessly with the air handler.
All air conditioners are going to make noise. Some will be much louder than others, and you will have to understand the difference. Noise is measured in decibels (dB). The higher the number, the more noise is produced.
The decibel rating is based on several factors, including distance. For example, a hairdryer may rate 68dB at 5 feet but only 57dB at 20 feet. A normal conversational tone in a quiet room is about 46dB.
Tempstar does have quiet condensers. Like the TSA5 and the N4A7, some models can be quite noisy, though, reaching over 71dB. However, the higher-end models and smaller units will average between 55 and 67dB, or about the same as a hairdryer.
Warranty (This Is Important)
Warranties are important for HVAC systems because they are quite expensive. However, that isn't the only reason to look for a great warranty. Parts replacement may not be overly costly, but it must be done by a licensed professional.
Having to pay for the part, plus labor and expenses, can get out of hand. Luckily, Tempstar offers a no-hassle warranty. This warranty covers the entire system, and if any major component (read as compressor, coils, or heat exchanger) fails during the warranty period, the entire unit is replaced.
Tempstar offers this no-hassle warranty for 10 years on all top-tier products, 5 years for mid-range products, and 1 to 3 years for standard-level products. They also offer entry-level products on furnaces and some split systems. However, these are covered under the standard warranty and not the no-hassle warranty.
Before you make a final purchase, talk with your Tempstar dealer to figure out which models and options are best for your size, needs, and warranty concerns.
The government tax credit and rebate program have been extended through 2021, and it is pushed to extend to at least 2026. However, you shouldn't wait. If you plan to get a rebate or credit, you should purchase now to avoid the hassle if the legislation doesn't push through.
With the current program, non-business cooling systems are eligible for up to $300 tax credit or rebate. However, to fully qualify, you must meet two important criteria.
First, your system must be new, installed, and Energy Star rated. A used system, refurbished system, or one that is not Energy Star rated will not qualify.
Second, the system must be installed by a licensed professional. Part of the rebate program is to ensure the systems are correctly installed. Improper installation is the leading cause of lowered efficiency ratings in residential HVAC systems.
If you meet both of those requirements, you can apply directly with the IRS by using Form 5695 (direct link to PDF).
Once the IRS verifies your purchase and installation, your taxes will be credited accordingly.
The Pros & Cons Of Tempstar AC Units
Tempstar has a lot going for it as a brand and AC manufacturer. However, there are also a few downsides. Knowing both will allow you to make a better informed decision.
What We Like
Higher than average SEER values
Affordable options for most budgets
No-Hassle Warranty on select models
Energy efficient units
Government tax rebate eligible
Lower decibel rating than a lot of other brands
What We Didn't like
Warranty periods are a little low
Brand dealers/retailers not available in all areas
Must use compatible interior and exterior units
Corrosion resistance not as high as other brands
Comparing Tempstar With Other Central AC Brands
Tempstar is a brand that, quite honestly, not many have heard of. Those that have, though, rarely find fault in the performance, warranty, and overall value of the machines. How does the brand stack up to other, more well-known options? Let's take a look.
Comparing Tempstar to Carrier is almost unfair. It's like comparing a son to his father. Carrier is the biggest name in the United Technologies Corporation group stable, which Tempstar is a part of, too. However, this "son" hits back.
Both companies are made in America and mostly in Indiana. There are several plants where both brands are manufactured side by side, though the two lines never cross. The major components are almost identical, though, with Carrier taking a slight edge in performance and longevity.
Tempstar has better pricing, on average, though, and you can expect the same level of quality from all models in each brand's line ups. The most significant difference here is that Tempstar focuses on affordability, and Carrier's primary focus is on performance.
With an average across the board SEER rating of 16.6, Carrier is more efficient and better equipped for warm and humid climates. Tempstar is a better option in hotter areas and has one of the best compact and stackable models (NH4A4), giving you more install options than Carrier.
When it comes to Trane, you have high quality, high value, and high cost. While Trane makes several residential and non-business models, its primary focus is on commercial and industrial HVAC systems.
Because of this, their install costs and requirements in a residential setting are much higher than that of Tempstar. You do get what you pay for, though. Trane is known to run at a high performance for much longer than many other leading brands. They even out produce some mini-split systems with SEER ratings over 22.
Trane wins hands down in terms of warranty coverage too. Initially, the machine and labor are covered for a lowly 12 months. However, once installed, if you register your unit online with Trane, they will extend your warranty for 19 more years, giving you total coverage for 20. The highest Tempstar will cover is 10 years.
Where Tempstar wins is in the cost. The purchase price for comparable models will always go to Tempstar. This includes installation and repairs as well. The biggest win, though, is in average running costs. Across the board (including all models), Tempstar averages just over $400 a year, where Trane tops $500 per year.
Searching for a new HVAC system can be a nightmare. Luckily we try to make it easier for you. Not every brand or model is going to be suitable for every homeowner out there.
When it comes to Tempstar, you are getting an affordable yet high-quality system. While more expensive units can be expected to last up to 20 years or more, Tempstar will come in at about half that. However, they have a good energy efficiency rating, are simple to use and control, and you won't have to worry about it breaking down thanks to the no-hassle warranty.
If you do decide on a Tempstar HVAC system (or any of the other brands we have covered here), make sure you check out Networx to locate the best possible contractor for your installation needs.
Our Rating:
(4.4 / 5)