If you are looking for a new air conditioner for your home, you know how daunting it can be to find the right brand. Not only does each brand have several models to choose from, but they each offer different features and options that can quickly get confusing.
In this Goodman vs. Trane review, we will take on two of the largest brands in the home climate control industry and compare them against each other. We will cover the brands, the models, and all of their features and options to help you make a final decision you can be proud of.
Goodman Vs. Trane: Which AC Is Better?
Residential air conditioners aren't as cut and dry (in most cases) where one brand is always better than another. Each home has different needs that may or may not be satisfied by a particular brand or model. Let's compare Goodman and Trane on several important aspects.
Reliability and Expected Lifespan
There is a common misconception about brand names in the AC industry. That misconception is that you need a big name brand like Trane, Lennox, Carrier, or Bosch to get premium service, reliability, and dependability.
The truth is that most brand names are just labels and the internal parts all come from the larger brands. Umbrella companies like Carrier own several HVAC brands for different ventures, regions, and reasons. Goodman is a brand that has grown quite popular in recent years.
This popularity is because of affordable pricing but also because Goodman is a reliable and dependable HVAC name. With an average life expectancy between 10 and 20 years, it rivals Trane on that front.
Winner: Tie, both Trane and Goodman should last you well over a decade.
All brands offer some form of customer service. How easy is it to get in touch with someone to get questions answered, tech support or just general brand information is vital for many consumers.
Trane has a simple customer service system where you can call or email the company with any questions. Trane offers free professional consultancy, full-range service assistance, feedback collection (and improvement), and professional delivery (optional).
Goodman customer service also offers feedback collection and improvement services, tech support, and question answering. They do not offer professional delivery or Goodman brand consultancy, though.
Winner: Trane offers slightly more in terms of customer service.
One thing that both brands are known for is their prices. Trane is a premium brand with premium pricing, and you get a lot for the dollars you spend. However, that doesn't always equate to a better AC unit.
Like anything else, you need to do diligent research on all models that interest you based on your own list of needs and wants. What works well for you may not be the best solution for your neighbor.
One of the reasons, though, for Goodman's rise in popularity, is their pricing. Goodman offers similar technologies, advancements, and features at a fraction of the price as some premium brands. While it isn't the case 100% of the time, most Goodman models will be less expensive than their Trane counterparts.
Winner: Goodman has amazingly affordable pricing.
Warranties for HVAC equipment are one of the most important aspects when buying your new system. If you don't get good warranty coverage, you could be out of pocket for thousands of dollars if something goes wrong.
Both Trane and Goodman offer better-than-average warranties. Trane gives you 10-years on all parts, wiring, systems, and features. You also get 12-years on the sealed system that includes the compressor.
Goodman also offers 10-years coverage for all basic parts, defects, wear and tear, and electrical components. However, they offer a lifetime warranty on the sealed system, including the compressor. No other brand offers anything close.
Winner: With lifetime coverage included, Goodman has the best warranty in the business.
Costs of Parts and Future Repairs
There is a saying that tells us if it is electrical, has moving parts, or performs a mechanical function; it will break at some point in the future. HVAC equipment is all three. So, it stands to reason that eventually, your AC is going to break down and will need repair or parts replacement.
With Trane and Goodman units, the extended warranties help alleviate some of those concerns. However, there will be instances where you need to pay out of pocket for the parts and repair services.
The good news is that the parts not covered by the warranty are relatively affordable and don't take long to repair, saving you on HVAC technician labor fees. Things like contactors, fuses, fan motors, and capacitors are all affordable for both brands.
Winner: Tie. Both Trane and Goodman are easy to repair on a budget.
Range of SEER Ratings Available
When consumers research new air conditioners, energy efficiency is one of the top factors when deciding which model to buy. It stands to reason, then, that brands offer a wide range of SEER ratings throughout their models.
For Trane, this means ranging between 14 and 22 SEER. The average for the brand, though, is 16 SEER overall, meaning they offer more lower end (14, 15, and 16 SEER) models than higher efficiency units.
Goodman has AC ranges of 13 to 24.5 SEER, bringing you a wider range of options. However, it should be noted that almost half of the US population is required by state or federal law to install a minimum of 14 (or 15 in some cases) SEER units.
Winner: Goodman has a wider range and higher SEER rating overall.
Charge Assist is a Trane specialty item for installers and technicians. This device helps get the perfect charge for the system during installation or after repairs. While it helps keep the right amount of refrigerant in the system, it is not an essential part of the HVAC process, and it isn't something you need as a homeowner.
Because you must be certified by the EPA to work with or handle refrigerant, your average DIYer isn't going to be able to work with their own HVAC system. However, this device is handy for certified persons and can help minimize overcharging of the refrigerant system.
Winner: Trane, since Goodman doesn't offer a charge assist device.
Air conditioners, by default and functionality, do remove excess humidity from the air and can lower the overall humidity level in your home.
If you wish to take more advantage of this, you will need a way for the system to monitor and control the humidity levels. This is done through smart thermostats. A standard thermostat will run the system to a set temperature. Smart thermostats can tell you the weather, run only certain parts of the system, and learn your habits.
To make your entire HVAC system more efficient, smart thermostats are available for both Trane and Goodman units. You will need a thermostat with humidity sensors, room sensors, and other features, though. Make sure your chosen device is also compatible with the system you buy.
Winner: Tie. Both brands offer smart thermostat control options.
Noise levels are measured in decibels (dB) and come on a few different scales. The attenuated scale (dBA) is one of the most commonly used, and it gives you a more accurate "human ear" level measurement.
Higher dB numbers mean louder systems, and if they are too loud, they can even disturb your day-to-day life. All HVAC systems make noise, and most are fairly loud. Anything above 80dB would be considered too loud, and anything under 55dB is near silent (as far as HVAC installs go).
Goodman is not the quietest brand on the market and averages a low-70 dB rating. However, when running on high, you can expect most mid and high-tier Goodman models to average about 74dB.
Trane offers some of the quietest models on the market, emphasizing their variable speed compressor models. Trane ranges between 55 and 70dB, with the average of all models falling at about 65dB.
Winner: Trane is a quieter brand with silenced compressors.
Variable Speed Systems (Compressors)
One of the newer advancements in efficiency and performance is a variable speed system. Combining a variable speed compressor and a variable speed fan, you can save a lot of energy and increase efficiency.
Essentially a variable speed fan runs only as hard as needed to maintain the set temperature. They also never truly shut off, which makes getting them started and running at higher speeds easier, faster, and with less energy.
Trane offers a variable-speed compressor with 1RPM increments that range between 5 and 750 cycles. Goodman also offers a 750 cycle compressor, but it takes even less energy to run. However, this model is only found on the more premium Goodman Units.
Winner: Trane. While Goodman has a better performing variable system, it is only found on a single model.
Single Vs. Two-Stage Cooling Options
While variable speeds are the way of the future, they are still quite expensive for the average homeowner. For this reason, 2-stage models are available. They are more efficient than the older single-stage compressors but less refined than variable speed options.
The bulk of Goodman units offer single and two-stage compressors. They also come in at about the same price. Trane also offers several single and two-stage options, but the pricing is quite vast between the two. You will pay noticeably more for a two-stage model from Trane than a single-stage model.
Winner: Goodman. While both offer each version of the compressors, Goodman has more pricing levels.
Technology Integration and Developments
Advancements in technology help make our HVAC systems easier to use, more efficient, and even give us control options like turning them on when not at home, voice activation, and even mobile app monitoring.
Trane has a lot of technological features. Things like ComfortLink II, which helps the system communicate between parts, Weatherguard that protects against debris and corrosion, and sound dampening to make their systems even quieter.
Goodman, on the other hand, Offers more user-accessible features. Things like ComfortNet communications for mobile app integration, ComfortAlerts for instant diagnostics, and optional parts installed at the factory (filter driers, line filters, etc.).
Winner: Tie. Both brands have technological features that will appeal to specific consumers.
Financing Options Available (Via The Brand)
Both Goodman and Trane offer financing for new system purchase and installation. However, neither brand offers financing directly. Instead, you will be routed to a local authorized dealer that will take your financing application and get you approved.
Bad credit can be an issue because of the 3rd party financing. However, it doesn't mean you will be disapproved, so you should consider applying anyway. With Trane, once approved, your new system will be delivered and installed with a down payment. You get low monthly payments and service protection during the payment period.
Goodman offers the same situational setup with down payments and low monthly payments to get started. However, their credit levels are increased to include covering the Asure extended service plan, which works with the warranty to help cover repair and labor costs.
One thing you will find when doing online research is that customers and consumers love to leave reviews. What you may fail to notice, though, is that consumers are more likely (up to 70% more likely) to leave a bad review than a good one.
Essentially if one person has a bad experience, they are highly likely to complain online. Likewise, if someone has a great experience, they are much less likely to go online and compliment. When reading reviews and ratings, it is wise to keep the entire situation in mind.
Trane has an average overall rating. Consumer Affairs has 205 total ratings posted with an average of 3.3 stars (out of 5). Reading through most of the reviews, you can see that while Trane takes the brunt of the negativity, the actual fault is with the homeowner, installer, or delivery.
Goodman has a slightly higher than average rating with 3.4/5 stars. This includes 222 ratings posted on Consumer Affairs. Like Trane, reading through the comments will show you that hiring the right installer and HVAC tech is most important.
Winner: Goodman has a little better average with more ratings and posted reviews than Trane.
Comparing Popular Goodman and Trane Model Numbers
While we do offer in-depth reviews for Trane air conditioners and Goodman AC reviews, let's cover the more popular models from each brand. Here we will look at the popular options and compare them on SEER ratings, cooling stages, and potential energy savings.
| Model Number | SEER Ratings | Cooling Stages | Energy Saving (%) |
| --- | --- | --- | --- |
| Goodman GVXC20 | 24.5 SEER | 750 | 72% |
| Trane XV20I | 22 SEER | 750 | 64% |
| Goodman GSXC18/DSXC18 | 19 SEER | 2 | 55% |
| Trane XV18 | 18 SEER | 750 | 56% |
| Trane XL18i | 18 SEER | 2 | 56% |
| Trane XR17 | 18 SEER | 2 | 56% |
| Goodman GSXC16/DSXC16 | 17 SEER | 2 | 54% |
| Goodman GSX16 | 16 SEER | 1 | 55% |
| Trane XR16 | 17 SEER | 1 | 54% |
| Trane XR16i | 17 SEER | 1 | 54% |
| Goodman GSX14 | 15 SEER | 1 | 52% |
| Trane XR14 | 16 SEER | 1 | 50% |
| Goodman GSX13 | 13 SEER | 1 | 48% |
| Trane XR13 | 14.5 SEER | 1 | 42% |
Overview of Goodman Air Conditioners
Started in 1954 by Harold Goodman, Goodman Manufacturing Company, based in Houston, Texas, grew to one of the largest and most successful HVAC companies in the US by the mid-1960s.
In 2012, Goodman was acquired by Daikin Industries and became one of the many umbrella companies of the Fortune 1000 brand. This helped propel Goodman into the future with technological advances and new features.
Maintaining stability in Technology Park in Houston, Texas, has helped the brand stay local, become more innovative, and help keep prices low.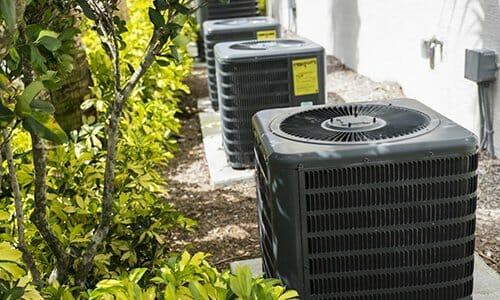 Quick Look At Goodman Air Conditioner Features
Goodman is still seen as a budget brand or a mid-tier HVAC system, but the truth is they are more innovative and take more initiative in the space than many other brands. What they don't do is waste their time or your money.
If a feature is too expensive to implement, they simply don't do it "just because they can." You will find useful and cost/energy saving features on all Goodman units, and nothing more.
Things like filter driers, which can cost about $150 – $300 to have installed during a new HVAC set up, are installed for you at the factory. They also include lugs on their contractors to make wiring connections safe, simple, and almost impossible to wire incorrectly.
You will also find that their models are all finished with a baked-on powder coat paint, which resists the elements, protects against scratching and denting, and helps prevent corrosion. The louvered coil guards further diminish built-up debris and help general cleaning and maintenance go faster.
Pros & Cons of Goodman AC Units
Goodman has a lot of pros to look at and admire. Like any brand, though, they will have some negative aspects, too. As they say, you can't have the good without the bad. Take a look at the pros and cons listed below to see if your needs make the advantages side and if you can live with the negatives.
What We Like
Paint and finish protected against corrosion
Factory-installed filter driers
Easier to install
Lower labor charges
Lifetime compressor warranty
SEER ratings up to 24.5
Made in the USA
Wireless communications (certain models)
Things We Don't
Only 1 variable speed option
Drain pan can clog easily
Access panels are not user-friendly
Inferior installation possible due to Wholesale options
Overview of Trane Air Conditioners
Trane is older than Goodman, starting in Michigan in 1885. Starting as a plumbing shop, James Trane and his son Ruben started manufacturing radiators and cooling equipment in the late 1800s. By 1913, they were incorporated and began radiators and air conditioners — moving quickly into the future.
The Trane company has changed hands a few times, first to American Standard in 1984 and finally to Ingersoll Rand in 2008, where the brand was allowed to flourish back to its innovative roots.
Since then, Trane HVAC has grown to one of the largest top-tier brands in the country and is recognized worldwide as an innovator and energy-efficient-focused brand.
Quick Look at Trane Air Conditioner Features
Unlike Goodman, who focuses on saving the consumer money, Trane focuses on making the consumer happy. While their units may cost more, they also offer more.
You can find new features like ComfortLink II, which is an internal communications system that helps the entire setup run smoothly and efficiently. You can also opt for one of many variable-speed models that can increase the overall energy efficiency rating from 14 to 20 SEER.
An all-aluminum spine-fin coil system is more expensive to install for the brand but offers the end-user a faster cooling and overall more efficient system. The rustproof base and drain pan, along with the Weatherguard II topper, make the units equipped with them some of the most weather-impervious options on the market.
On the higher-end models, you will also find sound dampening insulation that covers the compressor and keeps noise levels below 60dB. All in all, Trane is a brand focused on saving money in the long term and building units durable enough to make it that far.
Pros & Cons of Trane AC Units
Trane has a lot of reasons to take a second look at their options. They also have a few reasons not to like what you see. Perhaps the advantages are worth the disadvantages, but only you can decide that for yourself. Let's show you both sides and let you choose.
What We Like
10/12 year warranties on parts/compressors
Highly durable units
Weather-resistant condensers
Rustproof tops and bottoms
All aluminum spine-fin coils
Variable speed options
Sound dampening insulators (select models)
Made in USA
Things We Don't
Higher initial cost
Most efficient rated systems require 7+ hours of daily use to earn savings
Higher labor fees for repairs
Does Trane make Goodman?
No. Trane and Goodman are unique brands in the same industry. Both are currently owned by a parent company, Ingersoll Rand for Trane and Daikin for Goodman.
Who makes Goodman evaporator coils?
Before 2015, Goodman made all their own parts in-house. Based in Houston, Texas, the company was an all-inclusive manufacturing brand. After 2015, Daikin made use of US Alumacoil as the manufacturer for Goodman's coils and air handlers.
Does Trane or Goodman make better heat pumps?
Trane is usually listed as the better heat pump brand by rating and review sites. Durability and cost-effectiveness are generally listed as the primary reasons. However, Goodman doesn't receive bad marks in these areas and are usually more affordable. The answer comes down to which model suits your specific needs and which one falls best into your budget.
Do Goodman and Trane both make gas furnaces?
Yes, both brands are all-inclusive when it comes to the HVAC industry. You will find air conditioners, heat pumps, gas and oil furnaces, and a lot more offered by both brands. Trane, however, has the larger gas furnace selection, but once again, Goodman has less expensive options.
When shopping for a new air conditioner for your home, you have many options. Not only are there dozens of features to consider, but also pricing ranges, model sizes, and brand names. Two of those brands are Goodman and Trane.
Each, in its own right, offers efficient units that will perform for years to come. Trane is more expensive but focuses on energy efficiency and future-proofing their models. Goodman, on the other hand, offers reliable units built to last with a customer cost focus.
Whether you need to save money now or later, Goodman and Trane offer solutions for you. Of course, which one is right will depend on the model you select and how much you can afford to spend on a new unit.
Last Updated on May 27, 2022