When your small tent, RV, or room requires more cooling effect than fans and where conventional air conditioners aren't an option, consider a portable air conditioner unit. And what better portable AC unit than Zero Breeze Mark II.
Believe it or not, Zero Breeze Mark II – the updated 'second' version of Zero Breeze Mark 1 (first version) – is among the best portable AC systems with little to no bad reviews.
The unit provides more power and the highest setting wherever even if you don't have a power source around you. It doesn't require constant maintenance as it uses a compressor that brings cold air.
We believe it's the best unit for camping or tent because it can utilize solar power to recharge with a proper battery. Even though it's an expensive model and requires a thousand dollars investment, it's worth taking.
Want to know more about this amazing air conditioner, read our Zero Breeze AC unit review!
Our Review of the Zero Breeze Mark 2 Portable AC Unit (Key Features Explored)
| | |
| --- | --- |
| Weight (lbs) | 16.5 lbs (including extra's) |
| Cooling capacity (BTUs) | 2300 BTUs |
| Power Source | AC/DC power adapter or smart battery |
| Noise Levels (dba) | 52 dba |
| Area Coverage (sq. ft) | 40 square feet (ideal) Max – 200 sq ft |
| EER Levels | ~3.5 |
| Working Temperature | Less than 104 ° F ( 40 ° C) |
Set-Up & Usage – Is It Easy?
One of the most recurring compliments relating to this AC unit is that it's close to being ready to use right out of the box.
There's a bit of setup required for the vent pipe so that condensation doesn't puddle up next to your Zero Breeze Mark model, but this is an easy process.
Like most ACs, Zero Breeze II comes with a drain hose that requires installation in a spot where it could drain without making a mess.
While it generates a long-lasting cooling effect, you'll notice heat exhaust system also discharges hot air. So, make sure to place the hose anywhere where it could expel warm air easily, without colluding the space.
Before powering the Mark 2 on, the manufacturer recommends that you let the unit sit upright for at least 2 hours. If it was shipped on its side, the refrigerant will need time to settle back in place.
For more info on setup, just follow the User Manual – it's pretty straightforward and easy to follow.
Charging Time and Battery Life
If a condenser is a core of a portable air conditioner, the battery is the bloodstream.
Mark II air conditioner has a unique 24V lithium-ion battery. While Mark I has a 12V battery (a major drawback), this model comes with an improved and advanced 24V voltage battery.
Unlike the previous model which has a 477Wh or 43 Ah battery capacity, the Mark II system has an impressive 840Wh or 35 Ah capacity.
The rechargeable 24V lithium-ion battery is what makes this the perfect portable cooling solution. Just be sure to choose the Mark 2 that comes with the battery included.
To reach a full charge, you'll need 5 full hours, and from there, you'll be able to get 5 hours of use. It's definitely recommended that you invest in an extra battery.
You can utilize the wall outlet or solar panels (solar power) or in-car charging if you are outdoors. Also, unlike Mark I, users can employ its battery to charge other devices through USB charging ports only. You can utilize it even for your laptop.
Overall, it has miraculous battery life. Having such batteries is a must if you want to run battery-powered models.
Cooling Capacity – Does It Provide Relief?
One of the most crucial features of air conditioners is cooling capacity. Battery-powered or not, the air conditioning system becomes useless if it doesn't bring temperatures down. With Mark II, you certainly can.
Air conditioners run on BTUs or British Thermal Units. In general, the higher the BTU rating, the more area the air conditioner can cover.
Most portable air conditioners run on 5000+ BTUs of cooling power, so the Mark 2's 2300 BTU rating is considered on the lower end of cooling capacity.
Because of its relatively low BTU rating, the Zero Breeze Mark 2 AC is only suitable for small spaces.
The company says that it's ideally used for 3-person tents measuring 70.9″ x 82.7″ x 40.9″, and in a space like this, it can reach the ideal ambient temperature in 10 to 30 minutes. It's ideal for spaces under 50 square feet but performs best in 25 to 40 square feet.
Also, under favorable instances like at night or with tight insulation, the model is a perfect cooling choice for RV or even a cabin.
Temperature Expectations & Area Coverage
Unlike most portable air conditioners, the Zero Breeze Mark II is not designed to cool an entire home or room to a set temperature. It is explicitly made to cool the area right in front of the fan for more personal comfort for you and your guests.
The company claims that the Breeze portable air conditioner achieve optimal operating efficiency between 82℉ to 95℉ and utilize a blowing air temperature that can be 30℉ lower than the surrounding air in 10 minutes.
But unlike other portable air conditioners, you won't find a built-in thermostat that allows you to set or reach a direct temperature.
Noise Levels – Can I Sleep With It Running?
Among many things, homeowners also look out for noise level when buying ACs. This is understandable as you choose a model that doesn't make much noise as you sleep.
Noise levels are measured in decibels, or dB. The Mark 2 emits noise at about 52 dB, which is significantly quieter than the original Mark 1. To give you a reference, 52 is about the same as a running refrigerator or a small electric fan.
The best portable AC units fall somewhere between 50 and 60 dB, and the Mark 2 operates on the lower end of this range when on the low setting. Even on the high setting, this AC falls within that range, which means you can enjoy quiet cooling anywhere, anytime.
Thankfully, Mark II comes with a sleep mode that is quieter and ideal for sleeping and night time.
EER, or Energy Efficiency Rating, is a measurement of how much energy a model uses while operating. The higher the EER, the better the efficiency. It's easy to calculate, just use BTU/wattage. Since the BTU of the Zero Breeze air conditioner is 2300 and has a cooling capacity of 240 watts, the unit's EER is around 10.
This is on the low-end of EER ratings for AC units, but it's important to keep in mind that this is the norm for portable cooling devices. Higher EER ratings are more common for large bulky units that have higher cooling capacities – not for small handheld portable ACs like the Zero Breeze Mark II. An added bonus this model offers is solar power that you can use even if you don't have electricity.
Additional Design Features
In addition to a 1-year warranty, Zero Breeze Mark II has a 30-day money-back guarantee. The company says that "if for any reason you are not satisfied with your gear in the first 30 days – enjoy no hassle returns."
If you experience trouble within the first year of owning your Zero Breeze Mark II portable air conditioner, they'll cover any defect that happens under normal use.
Price (and Finding Discounts Online)
In terms of price point, this Zero breeze model is costly. Even the basic package (without a battery) will cost you around $949. If you want to buy "The Plus" version, it will cost you $1299; whereas, the "Plus Extra" version that comes with two batteries will cost you a whopping $1799.
Compared to other similar models such as Whynter ARC-14S ($521) and evaCHILL ($99), this device is way pricier.
Nevertheless, the pricing for this unit varies depending on the accessories and add-ons buyers purchase. As a baseline, it starts at $1499 USD.
Pros of the Zero Breeze Mark 2 Portable Air Conditioner
The technology behind Mark II is certainly not lacking, especially with the noticeable improvements made to the newest model. Here are a few things that we like about the product:
More BTU/cooling power than the Mark 1
Only 16.5 pounds with easy to carry handle
Doubles as a dehumidifier
Can be used with smart battery pack or included AC/DC adapter
Easy-to-clean filter and drain hose included
Increased energy efficiency and quieter operation compared to the Mark 1
Multiple fan speeds for optimal comfort and turning summer heat into winter cooling
This unit comes with unique new features such as sleep mode, remote control, etc.
The battery can be charged with solar panels or wall outlet
Complaints With The Zero Breeze Mark 2
No air conditioner is perfect, including this battery powered model. There are mostly only good things to say about the Mark 2, but this doesn't mean that we have no complaints.
Here are a few things we don't like about Mark II battery powered air conditioner:
The units Smart Battery cannot be used with other products like other 24V batteries
Will require additional batteries for continued use
Cools best only in a small area (up to 50 square feet)
Battery life only 5 hours with 5-hour charging time
The exhaust exchange actually creates hot air out of the back of the unit, which over time mixes with the cool air from the front of the unit for a less desirable effect
Does not come with collection site for condensation/water (must use your own pan/bucket)
When used indoors, must be near a window for proper venting of condensation
Company is known to have long periods between ordering and shipping but they are usually prepared for summer period
Expensive to purchase
My Experience Using the Zero Breeze AC
AC units are becoming more popular with tent campers because we like comfort. Nobody goes camping with the intention of being hot and sticky all night! This 24V battery is great for tent camping because you don't need to be hooked up to a power source (except to recharge, of course).
The only caveat is that you will have to hook up your exhaust hose so that it is venting out of the tent. If you don't, the backside of the unit will essentially be blowing even hotter air into your enclosed space from the compressor.
Worse yet, the condensation will have nowhere to go, and you'll likely wake up in a puddle created by the dehumidifier. You'll thank us when you remember to use the venting kit correctly and also filter the runoff out of your tent!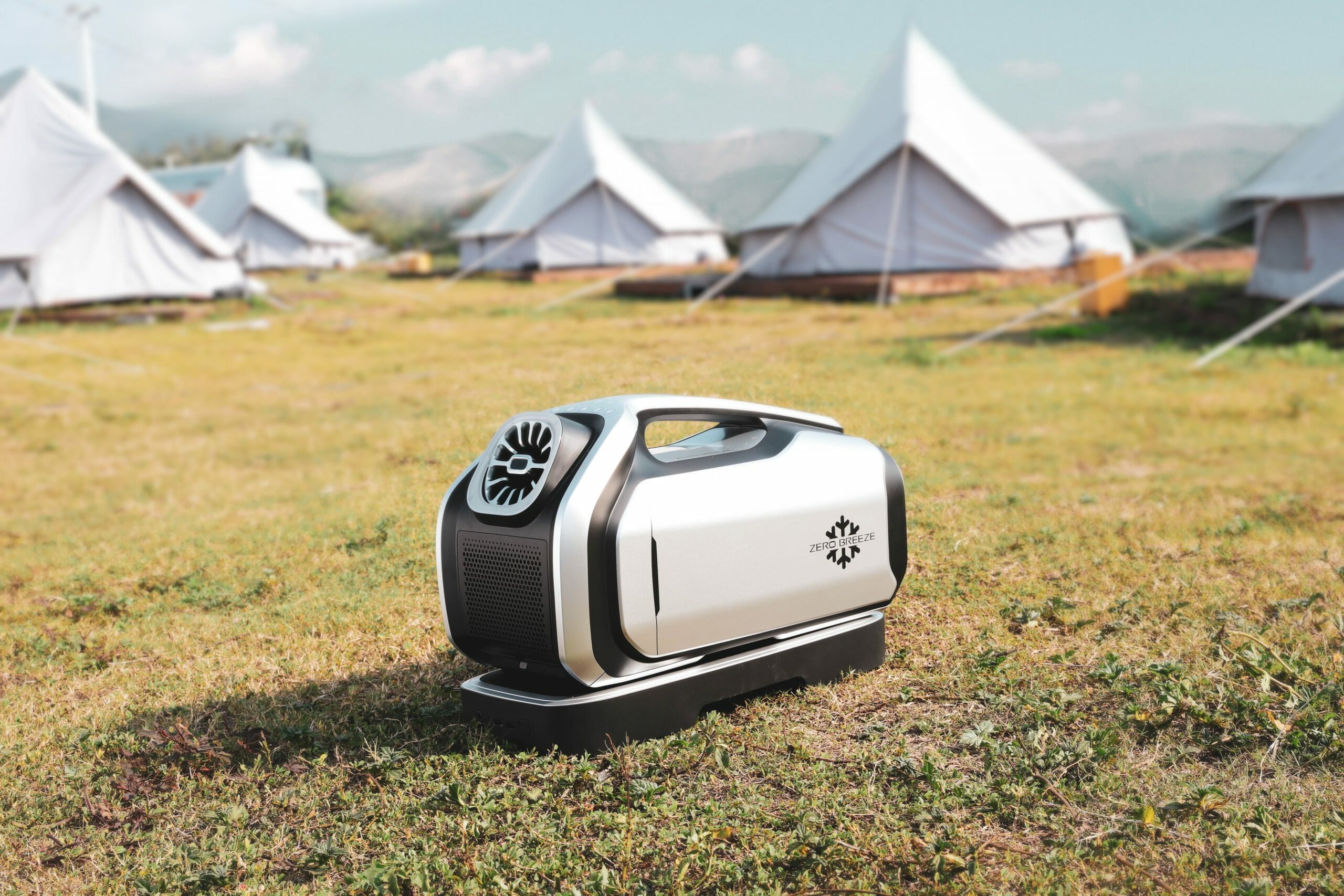 For cabins with electricity, it would be wisest to use the adapter to plug the system into a standard outlet. And don't expect that the device will completely cool your cabin.
At 2300 BTUs, this portable AC system is designed to cool only about 30 -100 square feet of space (think about the area of a small-sized bedroom).
It might not provide cool air to the whole cabin, but it can be a friendly bedside coolant on a hot summer's night. Making sure the battery is charged, you'll also have a cooling source with the 24V smart battery if the power happens to go out.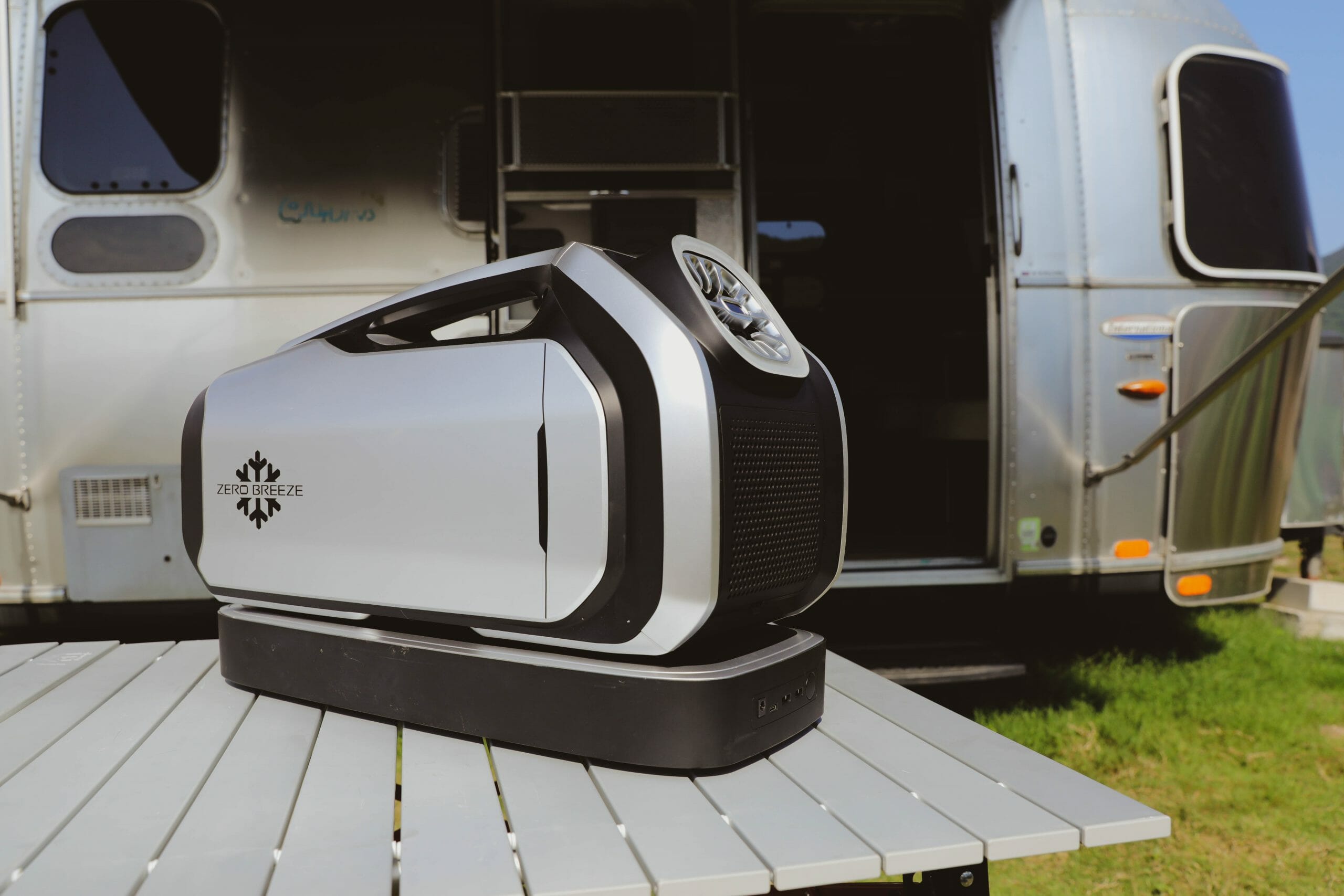 Using Mark II system in a car or truck for short periods of time is ideal for use with the 24V battery. After all, most cars already come equipped with an AC unit for while the car battery is running.
This product allows you to use AC in situations like waiting in the carpool line, eating lunch or grabbing a quick nap in your car during a work break. Of course, never leave your pet alone in a warm vehicle as this could lead to harm to your pet. For that reason, we do not recommend using the Zero Breeze for that purpose.
The Zero Breeze can also be used outdoors. With your smart battery, it can be easily used anywhere – whether you're at the beach or in your backyard. The specs will obviously be a little bit different when you're outdoors, as the unit will have to work harder to cool the surrounding area and the cold air will fast escape.
For best results, when using the Zero Breeze outdoors, we recommend using in the shade and right next to where you want to cool.
Comparing With Other AC styles
The Zero Mark II is a portable device that can be used either in an RV, camp, or in a small room for specific cooling.
Unlike other ACs such as central, window, or ductless, this portable model remains inside your home, camp/tent, or RV without the need of an outlet, unless it requires charging. After all, it's a freestanding model you can set anywhere.
Given the size and cooling capacity, the model is way expensive when compared to other AC styles. In the same price, you'll get better energy efficiency, performance and increased coverage area.
Nonetheless, Mark II is a perfect cooling device for campers or RV. You'll get spot cooling, excellent features such as sleep mode, etc. and lasting battery.
Comparing The Zero Breeze Mark 2 Vs Mark 1 Models
Although both share some similarities such as easy to carry handles and effective cooling, they differ in most aspects. The most obvious difference between the Mark 1 and Mark 2 is power. While the Mark 1 has only an 1100 BTU rating, the Mark 2 uses 2300 BTUs.
While the ideal cooling space of the Mark 1 is listed as 47.2″ x 78.7″ x 41.3″, Mark 2 can better handle 70.9″ x 82.7″ x 40.9″ (this is the difference between the standard 2-person and 3-person tent).
On top of that, the Mark 1 vents heat through a single hose system, but the Mark 2 has upgraded to dual-hose ventilation.
This directly correlates to the maximum temperature drop and the cooling time; the Mark 1 can drop the temperature up to 18 degrees in 30 to 60 minutes while the Mark 2 can drop the temp by 30 degrees in 10 to 30 minutes.
There are several minor differences between these two Zero Breeze models, but the other major difference that's worth noting is the noise output. One of the main complaints of the Mark 1 is the somewhat noisy 65 dB operation, but the Mark 2 is rated at just 52 dB. This is a significant drop, and Zero Breeze users have noticed the improvement.
One thing to note about the Mark 2 is that it doesn't come with some of the extras of the Mark 1, like the Bluetooth speaker and the USB ports. But some users actually see this as a perk since these extras were responsible for draining the battery faster than usual.
How Does the Zero Breeze Portable AC Work?
Operating the Zero Breeze Mark 2 is as simple as pressing the "On" button and enjoying the gentle breeze. But this doesn't explain exactly how the device works. Just like true units, this machine operates on a rotary compressor, which gives it a major advantage in cooling performance compared to other units on the market.
Most portable ACs use a more simplified evaporation system, which essentially just uses fans with ice or water to create that cooling effect. The Mark 2, however, is much more advanced than this with its built-in micro compressor and dual hose exhaust configuration. It has a cooling power of 2300 BTU and can reach the sought-after temperature in as little as 10 minutes.
Thanks to the cordless battery design, this is the ideal on-the-go cooling solution. Unlike the previous model that uses a 12V battery, the Mark 2 utilizes an upgraded 24V battery for more powerful performance. Once the battery is fully charged (this takes about 5 hours), you'll be able to stay calm and comfortable for up to 5 hours.
The battery can be charged by car or solar power. Because it does require 5 full hours of charging time, it's recommended that you purchase an extra one (especially if you're planning overnight camping trips). Zero Breeze gives customers the option to purchase the AC only, the AC with a 1x battery, the AC with a 2x battery, or the battery alone.
Frequently Asked Zero Breeze Mark 2 Questions
Was this product a Kickstarter project on Indigogo? How was it received?
Yes! Zero Breeze started on Kickstarter with a goal of raising $100,000. They quickly raised over $550,000 with over 1,100 backers. You can read more about their story here.
Who designed this product?
The Zero Breeze battery powered system was designed by a group of six self-funded guys led by Kelvin Ma, who remains the company's CEO.
Is this a paid review?
No, this is an independent and unbiased review. All opinions stated are my own and we did not receive anything from Zero Breeze for this article.
Does the Zero Breeze come with a warranty and returns policy?
Yes, Zero Breeze has a 1-year warranty on all of their products. Returns must be submitted within 30 days of receipt.
Where can you buy the Zero Breeze portable AC?
This battery powered model is currently only available for purchase on their company website. The older version is available on Amazon.com where you can read many in-depth reviews from verified buyers but keep in mind that this Mark 1 is a far cry from the newest version of this portable AC.
When it comes down to it, we think that Zero Breeze Mark 2 is a vast improvement on the initial model. Yes, it is expensive and it is best used for small spaces.
If cooling relief is needed, then this is a great solution for camping, in cars or trucks, in cabins or other small living environments.
Our Rating:
(4.7 / 5)