Grandaire Air Conditioners is a US-based heating and cooling company that produces affordable air conditioning units, heat pumps, package systems, and more. While they don't offer the variety and selection like other brands, they still manage to bring durability and affordability to the market.
This article will examine the Grandaire condensers and ACs to determine if they are a good fit for your home, climate comfort needs, and expectations. We will look at each model and find out where Grandaire stands or where they fall short. We also compare the brand to other well-known models to give you a complete evaluation.
Quick Look At Grandaire Air Conditioners
Grandaire is a part of a much larger brand network. Officially they are produced and manufactured by Watsco, Inc. for Baker Distributing Company. In 2009 Watsco and Carrier reached a bargaining agreement, which in terms of their conditions was much like a merger.
However, while the official paperwork claims Grandaire under the United Technologies Corporation group, the actual production and sales are left to Watsco and Baker.
The Grandaire brand offers four different models, which range from 13 to 16 SEER, have multiple BTU output capabilities, and are designed for the major regions of the United States. Like Tempstar, the brand has affordable unit prices and complete packages available but has a slightly higher than average installation cost.
The warranties and durability of the machines are decent and in-line with industry averages, and Grandaire makes a great upgrade from an older, less efficient unit.
Cost Expectations & Price Comparison
Costs for air conditioners from Grandaire are slightly lower than the industry average. The per unit cost will vary between models and between tonnage differences within each model.
You also should account for installation costs. Note, though, that any listed installation cost generally includes the unit cost. If you purchase the unit yourself and hire a professional to install it, the installation cost will go down since you are paying for the unit twice.
The chart below shows the average prices for each model, and the installation cost for 2 ton units, as an average, across the US. Your individual prices may be higher or lower, based on the actual rates for labor and availability in your area.
We also include the expected annual running costs, which are calculated below, and any government tax rebates that may be applicable.
| Model | Price* (w/out Installation) | Price* (w/ Installation) | Estimated Running Cost** | Government Tax Break |
| --- | --- | --- | --- | --- |
| WCA3 | $1590 – 1890 | $3590 – 3890 | $490 – 520 | None |
| WCA4 | $1650 – 1950 | $3650 – 3950 | $470 – 515 | None |
| WCA5 | $1780 – 2200 | $3780 – 4200 | $455 – 490 | None |
| WCA6 | $2180 – 2660 | $4180 – 4660 | $440 – 480 | $300 |
*Prices are estimates for the following: 2.5-ton condenser, 1300-1400 cfm air handler plus a programmable thermostat.
**Running costs based on 21 cents/kWh and 2000 hours of cooling per year. Based on 2.5 ton AC unit.
Note – Other exterior factors can also influence the price; Based on national average
Calculating Running Costs
The running cost estimates are based on the input and output plus cost formula. The formula itself is fairly easy, but know that it won't get you exact numbers.
Because the formula doesn't account for things like humidity, ambient temperature changes, or specific hours run, the formula is only an estimation device.
Put simply; the formula looks like A x B x C x D = Cost, where:
A is the kilowatts of the unit (Watts divided by 1000).
B is the cost per kilowatt-hour your electric company charges you.
C is the number of hours per day the unit actually runs (average is 4 to 5 hours) and
D is the number of days the unit runs for those hours.
If we look at averages, a unit will intake 3500 watts, or 3.5 kilowatts, and across the US, according to the BLS, you are charged $0.13 per kilowatt-hour (Kwh). Running 4 hours a day for the 90 days of summer, the formula then looks like this:
3.5 x $0.13 x 4 x 90 = $163.80
You can add more days or longer hours if it fits your specifics better, and you can use the formula to estimate daily, weekly, monthly, or annual energy costs.
The Importance Of A Quality HVAC Contractor
Having your system professionally installed is a requirement. Not only to ensure proper operation and qualify for any rebates but also to follow the law. Air conditioners must be installed by fully licensed professionals.
This is not a DIY project unless you have the extensive training, tools, and certifications to handle refrigerants and work with the systems. Finding a high quality professional isn't difficult either.
Networx gives you the opportunity to find up to 4 well-qualified professionals in your specific area. Each pro is fully vetted, checked, background tested, and reviewed before you ever see their name or contact information.
When you use Networx, you won't have to worry about vetting the contractors, as it is all done for you. You simply need to make the calls and set up the inspections for your quotes and estimates.
Grandaire AC Model Numbers Explained
As we have stated previously, there are four Grandaire models to choose from. Each comes with its own model number for identification purposes. But, what do those model numbers mean?
The four-digit model number will be specific enough to find the right model for you. However, the individual machines have a model number that is up to 11-digits long.
Here is how they are broken down:
Digits 1 and 2 represent the brand and type. WC stands for Watsco Condensing unit, WH would be for a Watsco Heat pump.
Digit 3 tells you the type and in this case, the A is for air conditioner.
The 4th digit is the SEER rating (more below) in a single number representation. A 6, for example, means 16 SEER.
The 5th and 6th digits on individual machines are actually four numbers. The first two tell you the lowest BTU rating of that system, and the second two represent the highest. So a "2436" would mean 2 to 3 ton unit (24,000 BTU – 36,000 BTU).
The 7th digit will always be a 4, which represents the refrigerant type (R-410a).
Digit 8 is only either missing or an M. The M represents the inclusion of a Mitsubishi Compressor.
Digit 9 is the voltage representation, which will be a K, for 208/230 volts.
Digits 10 and 11 are for internal use only and represent sales codes and the "extra digit" for use on special models, refurbished units, etc.
| Model | Tonnage | Seer* | Noise Levels** | BTU's | Compressor |
| --- | --- | --- | --- | --- | --- |
| WCA3 | 1.5 – 5 | 13 | 70 – 79dB | 18000 – 60000 | Single-Stage Scroller |
| WCA4 | 1.5 – 5 | 14 | 72 – 75dB | 18000 – 60000 | Single-Stage Scroller |
| WCA5 | 1.5 – 5 | 15 | 71 – 76dB | 18000 – 60000 | Single-Stage Scroller |
| WCA6 | 1.5 – 5 | 16 | 69 – 75dB | 18000 – 60000 | Single-Stage Scroller |
*up to
**based on normal operation
What To Look For When Purchasing a Grandaire AC
Energy Efficiency/Seer Rating
The Seasonal Energy Efficiency Ratio (SEER) is a rating that tells you how efficient the system is. It is a ratio value between the wattage input of the device and the BTU output capabilities. The SEER rating is used to tell which models are more efficient, cost less to operate, and determine if the unit qualifies for any rebates.
Grandaire models range from the 13 SEER WCA3 unit to the 16 SEER WCA6 unit. You should note that the 13 SEER models are not legally able to install in the south. You will need a minimum of 14 SEER in some areas, while hotter, more humid climates may require 15 SEER or higher.
See related article: What is SEER rating?
Compressors make up the majority of the energy usage and require a lot of volts to start operation. Having more efficient and smoother operating compressors will help lower running costs and raise SEER values.
Unfortunately, Gandaire only offers a single stage scrolling compressor. Unlike dual stage or variable speed models, these basic compressors do require a lot of energy. They are durable and long-lasting, though, but don't expect a lot of energy savings from them.
Like a compressor, condenser fan motors also come in variable speeds, matching the compressor speeds. This helps regulate the compressor temperatures and ensures the condensing unit can lower the refrigerant temperature sufficiently.
Because Grandaire only has single-stage compressors, they also only offer single speed fans. However, placing a multi-speed or variable speed fan on a single stage compressor would shorten its life and actually make the system less efficient.
If you need heat as well as AC, look for the Grandaire package units. The air handlers come with electric heat that matches well with the condensing units available.
If you are not happy with central heating and air, Grandaire also offers a heat pump and mini split systems as well as furnaces to meet all of your heating needs.
Noise is measured in decibels (dB) and is a numerical representation of the sound produced by an item compared to absolute silence. Quiet examples would be a normal speaking conversation between two people in a quiet room (about 45 to 48dB) or a ceiling fan on medium speed (about 46dB).
High noise production would be construction zones (exceeding 90dB) and city traffic (about 78 to 80dB). Grandaire condensing units aren't the quietest models on the market. Some options do have noise-canceling insulation (though you must ask for and order it specifically).
The noise range produced by the four models falls between 69 and 79dB. While you will be able to hear the unit starting and running if you are outside, it won't be loud enough to disturb conversations or television inside.
Warranty & Why It Is Important
Warranties are an important part of any major appliance purchase. Grandaire offers a multi-stage warranty for each of their air conditioner models. You get a 1-year replacement term that will give you a brand new unit in the first 12 months should anything go wrong.
You also get a 5-year warranty on the compressor and sealed systems as well as 5-years on the condenser unit and coils. However, if you register your purchase with Grandaire within 90 days, they will extend the 5-year warranties to 10-years each. The 12-month replacement does not get extended, though.
Government tax rebates is a program that gives you a tax credit for buying and installing a high-efficient air conditioner. Currently, through 2021, you can earn $300 for each qualifying purchase and install.
The system must be professionally installed, bought new, and be at least 16 SEER to qualify. It must also be installed in an existing home that you own and live in. Rental homes and new construction do not qualify.
If you do qualify (which is only applicable with the WAC6 unit), you simply fill out tax form 5695 (found online through the IRS website), and the rebate will be credited to your taxes.
The Pros & Cons Of Grandaire AC Units
There are good things and downsides to everything in life. Grandaire air conditioners are no different. Let's take a look at the pros and cons of the brand now.
What We Like
Affordable pricing
Easy to install
Ideal for upgrading outdated systems
Designed with regional differences in mind
Offers Heat Pumps and package units, too
Up to 10-year warranty on all parts
What We Don't Like
Few models to choose from
Lower SEER average (14.5) than other brands
Higher noise levels on average than most other brands
Not cross-compatible with other brand parts like some brands
Comparing Grandaire With Other AC Brands
Grandaire stands out as an affordable and low maintenance air conditioner brand. How do they compare to other brands, though? In this section, we compare Grandaire to Goodman, Carrier, and Payne to find out.
Goodman air conditioners are among the most popular residential and multi-family housing options available. With a decent cost per unit, Goodman also provides retail and wholesale options, making them a favorite when housing communities need to buy in bulk.
Goodman also offers great SEER ratings, with options going as high as SEER 18. While Grandaire only reaches SEER 16, they are also making a move on the multi-family housing market.
Both models are simple to install, relatively low maintenance and highly affordable. The main difference, though, is that Goodman is slightly better quality and tends to last a bit longer than Grandaire.
Goodman ACs are also quieter on average and have lower running costs compared to Grandaire. For affordable durability, reliability, and a reasonably good warranty, either option is great. Goodman, though, is still more popular, making replacement parts and technician knowledge a bit better.
Carrier is technically the parent company of Grandaire through the ICP and UTC acquisition from 2005. However, the two brands don't share facilities or processing plants, and each is its own entity. Carrier, though, is a premium brand and has much higher pricing than Grandaire.
They also offer many more models and styles to choose from, have higher SEER averages throughout the lines and run much quieter than Grandaire.
With Carrier air conditioners, you are getting all name-brand parts, extended warranties, and a name that has been there since the beginning. For Grandaire, their saving grace is the cost upfront and simple install features. While you may get better overall performance from Carrier in the long run, Grandaire is still a viable option for those on a tighter budget.
Payne AC units are also under the UTC group with Carrier, Bryant, Tempstar, and Comfortmaker. These budget and entry-level models are on par with Grandaire as far as options and pricing.
Grandaire has quieter models (especially with sound dampening options) but still doesn't match Payne's pricing. Payne also has SEER ratings that range from 11 to 17, which is slightly higher than Grandaire. You also get more models to choose from, including the PA17NA model, Payne's top of the line.
This 17 SEER unit offers a dual-stage compressor for smoother, longer operation and better efficiency than the WAC6 model, which is Grandaire's top model. If you need to save even more, opt for Payne, but if you want a slightly more reliable machine, Grandaire is a decent option.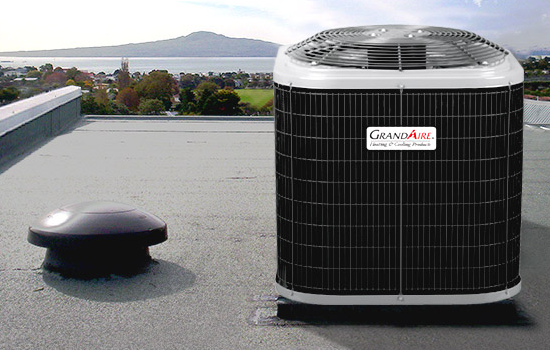 If you are looking for an upgrade to your current central air conditioner, Grandaire has a few options worth researching further. They offer affordable pricing and low maintenance with four different models to choose from.
While they aren't the quietest units available and only one will qualify for tax rebates, you can get a decent air conditioner that will save you money over your current model while providing the comfort you need.
We covered the Grandaire air conditioners and have given you all the information you need to make a well-informed decision. If you do choose Grandaire, expect a decent and durable system for a low up-front cost. It could be a great fit for your home.
Our Rating:
(4.1 / 5)